Report Scope & Overview:
The Sodium Benzoate Market size was valued at USD 1.34 billion in 2022. It is estimated to hit USD 2.12 billion by 2030 and grow at a CAGR of 5.9% over the forecast period of 2023-2030.
The market for sodium benzoate is driven by the rising demand for processed and packaged food products, especially in developing economies. The convenience and longer shelf life offered by these products have made them increasingly popular among consumers. Additionally, the expanding beverage industry, including carbonated drinks, juices, and energy drinks, has further fueled the demand for sodium benzoate. Sodium benzoate, a chemical compound widely used as a preservative in various industries, has become an essential ingredient in the food and beverage sector. This compound effectively inhibits the growth of bacteria, yeast, and fungi, thereby extending the shelf life of products. In recent times, there has been a growing concern among consumers regarding the safety of food and beverage products.
The powder form segment dominated the sodium benzoate market with the highest revenue share of about 61.4% in 2022. The powder segment's dominance is attributed to the convenience and ease of use. It can be effortlessly mixed with other ingredients, ensuring a seamless integration into various products. The powder form's ability to prolong the shelf life of perishable goods contributes significantly to its market dominance.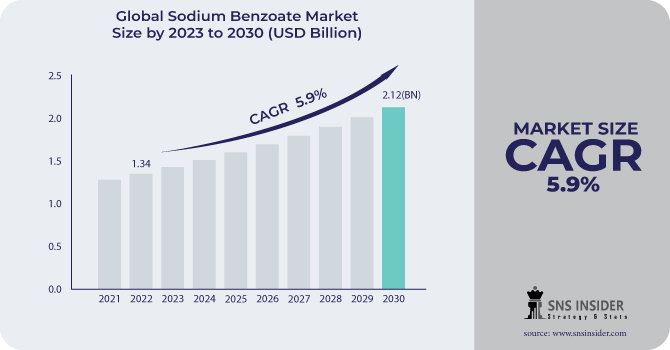 The food and beverage end-user segment dominated the sodium benzoate market with a revenue share of about 46.8% in 2022. Increasing demand for convenience foods and ready-to-drink beverages has propelled the growth of the food and beverage end-user segment. As consumers seek quick and easy meal options, manufacturers have responded by incorporating sodium benzoate into their products to ensure their longevity and safety. This has led to an increased demand for natural and organic preservatives. However, sodium benzoate continues to dominate the market due to its effectiveness, affordability, and wide availability.
Market Dynamics
Drivers
Growing demand for processed food and beverages

Rising awareness among consumers regarding food safety
Restrain
Sodium benzoate, a commonly used food preservative, has been linked to certain health concerns. Studies have suggested that when combined with certain ingredients, such as vitamin C, sodium benzoate can form benzene, a known carcinogen. This has raised concerns among consumers and regulatory bodies regarding its safety. The presence of potential health risks has led to a decline in the demand for sodium benzoate in various industries, including food and beverages. Consumers are becoming increasingly conscious of the ingredients they consume and are seeking alternatives that are perceived as safer and healthier.
Opportunities
In recent years, there has been a notable shift in consumer preferences towards natural and healthier food products. As a result, the food and beverage industry has witnessed a surge in the demand for preservatives derived from natural sources. Sodium Benzoate offers several advantages over its synthetic counterparts. It not only effectively inhibits the growth of bacteria, yeast, and molds but also extends the shelf life of food and beverage products. Additionally, it does not alter the taste, color, or texture of the preserved items, ensuring that the original quality is maintained. The Sodium Benzoate Market has witnessed a significant upsurge due to these factors.
Challenges
Impact of Russia-Ukraine War:
The conflict between Russia and Ukraine has had a detrimental impact on supply chains, resulting in a decrease in production and availability of sodium benzoate in the global market. One immediate consequence of this disruption is the rise in prices of sodium benzoate. The increased costs of crude oil and freight charges, caused by the Russia-Ukraine conflict, have driven up the price of sodium benzoate in the domestic market. For example, in Germany, the assessed prices of sodium benzoate were USD 1824/MT in January, steadily increasing until March 2022. In India, the price of sodium benzoate USP reached USD 2451.24/MT in March 2022. Similarly, in China, the price of sodium benzoate settled at USD 1670/MT FOB Qingdao in March 2022. The elevated prices of food additives and raw materials, due to the geopolitical unrest in Russia and Ukraine, as well as the volatile nature of oil prices, have caused concern among domestic traders and buyers throughout the quarter. With dwindling supply and relatively stable demand, prices have surged. This price hike presents a significant challenge for businesses that rely on sodium benzoate as a preservative in their products.
Impact of Recession:
The recession has had a significant impact on the sodium benzoate market, resulting in a decline in demand and subsequent decrease in sales. In the second quarter of 2023, sodium benzoate prices in the US market experienced a significant drop due to sporadic fluctuations between supply and demand throughout the month. The price was valued at the end of Q2 2023, representing an average quarterly decline of 3.75%. Similarly, the price of sodium benzoate in the APAC area saw a drastic decrease during the first quarter of 2023. This was primarily due to a fall in consumer demand from the food, pharmaceutical, and nutraceutical industries downstream. By the end of Q1 2023, prices were accessible at USD 1280/MT FOB-Shanghai, with an average quarterly decline of 2.40%. The downstream market demand was widespread, and the price of sodium benzoate remained low and stable. The sodium benzoate market is currently facing several challenges in the wake of the recession. Firstly, the reduced demand has resulted in excess inventory, creating a surplus that further hampers market growth. Additionally, the decrease in sales has forced manufacturers to reassess their production capacities, potentially leading to layoffs and downsizing. Furthermore, the economic downturn has also impacted the supply chain, causing disruptions and delays in the delivery of raw materials. These factors further exacerbate the challenges faced by the industry.
Market segmentation
By Form
Granules

Powder

Flakes

Others
By Application
By End-user
Cosmetics

Pharmaceuticals

Food & Beverages

Others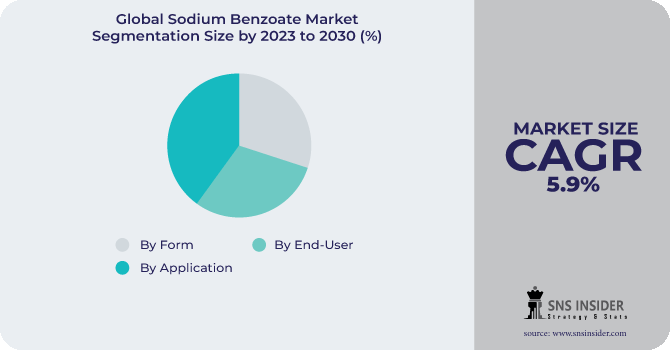 Regional Analysis
Europe dominated the sodium benzoate market with a revenue share of about 41.5% in 2022. Europe's strong regulatory framework and stringent quality standards have played a pivotal role in establishing its dominance. The European Union has implemented rigorous regulations regarding food safety and additives, including sodium benzoate. These regulations ensure that only products meeting the highest quality standards are allowed in the market, giving European manufacturers a competitive edge. Moreover, growing awareness among consumers regarding the importance of food safety and the harmful effects of microbial contamination has also contributed to the increased adoption of sodium benzoate in the region.
The Asia Pacific region is expected to grow with the highest CAGR of about 6.2% during the forecast period of 2023-2030. The Asia Pacific region boasts a burgeoning population, coupled with increasing disposable incomes. As a result, there is a rising demand for processed food and beverages, which often utilize sodium benzoate as a preservative. This trend is further fueled by changing lifestyles and a preference for convenience foods. Moreover, the Asia Pacific region is witnessing rapid urbanization and industrialization, leading to the establishment of numerous food and beverage manufacturing facilities. These industries rely heavily on sodium benzoate to extend the shelf life of their products and maintain their quality during transportation and storage.
REGIONAL COVERAGE:
North America
Europe
Eastern Europe

Poland

Romania

Hungary

Turkey

Rest of Eastern Europe

Western Europe

Germany

France

UK

Italy

Spain

Netherlands

Switzerland

Austria

Rest of Western Europe
Asia Pacific
China

India

Japan

South Korea

Vietnam

Singapore

Australia

Rest of Asia Pacific
Middle East & Africa
Middle East

UAE

Egypt

Saudi Arabia

Qatar

Rest of Middle East

Africa

Nigeria

South Africa

Rest of Africa
Latin America
Brazil

Argentina

Colombia

Rest of Latin America
Key Players
The major key players are DuPont de Nemours Inc., Lanxess AG, PENTA CHEMICALS, Merck KGaA, Avantor Inc., Foodchem International Corporation, Tulstar Products Inc., Wuhan Youji Industries Co. Ltd., Spectrum Chemicals, FBC Industries Inc., and other key players mentioned in the final report.
Recent Development:
In March 2023, LANXESS, a leading specialty chemicals company, showcased its extensive range of preservatives, multifunctional, and fragrances for cosmetics and personal care products at the prestigious In-Cosmetics event held in Barcelona from March 28 to 30.

In July 2022, LANXESS successfully completed the acquisition of the microbial control business unit of the renowned U.S. group, International Flavors & Fragrances Inc. (IFF). This strategic acquisition was valued at approximately USD 1.3 billion.
Sodium Benzoate Market Report Scope
Report Attributes
Details
Market Size in 2022
US$ 1.34 Bn
Market Size by 2030
US$ 2.12 Bn
CAGR
CAGR of 5.9% From 2023 to 2030
Base Year
2022
Forecast Period
2023-2030
Historical Data
2019-2021
Report Scope & Coverage
Market Size, Segments Analysis, Competitive Landscape, Regional Analysis, DROC & SWOT Analysis, Forecast Outlook
Key Segments
• By Form (Granules, Powder, Flakes, and Others)
• By Application (Antimicrobial Agent, Antifungal Agent, Preservative, Rust and Corrosion Inhibitor, and Others)
• By End-user (Cosmetics, Pharmaceuticals, Food & Beverages, and Others)
Regional Analysis/Coverage
North America (US, Canada, Mexico), Europe (Eastern Europe [Poland, Romania, Hungary, Turkey, Rest of Eastern Europe] Western Europe] Germany, France, UK, Italy, Spain, Netherlands, Switzerland, Austria, Rest of Western Europe]), Asia Pacific (China, India, Japan, South Korea, Vietnam, Singapore, Australia, Rest of Asia Pacific), Middle East & Africa (Middle East [UAE, Egypt, Saudi Arabia, Qatar, Rest of Middle East], Africa [Nigeria, South Africa, Rest of Africa], Latin America (Brazil, Argentina, Colombia Rest of Latin America)
Company Profiles
DuPont de Nemours Inc., Lanxess AG, PENTA CHEMICALS, Merck KGaA, Avantor Inc., Foodchem International Corporation, Tulstar Products Inc., Wuhan Youji Industries Co. Ltd., Spectrum Chemicals, FBC Industries Inc.
Key Drivers
• Growing demand for processed food and beverages
• Rising awareness among consumers regarding food safety

Market Restraints
• Potential health risks associated with consumption of sodium benzoate