Report Scope & Overview:
The Solar Battery Market size was valued at USD 0.23 billion in 2022 and is expected to grow to USD 0.78 billion by 2030 and grow at a CAGR of 16.45% over the forecast period of 2023-2030.
A solar battery, also known as a solar energy storage system, is a device that stores electrical energy generated from solar panels for later use. It plays a crucial role in maximizing the efficiency and reliability of solar power systems. The primary purpose of a solar battery is to store excess electricity produced during the day when the sun is shining, allowing it to be used during periods of low or no sunlight. This ensures a continuous and uninterrupted power supply, even during cloudy days or at night. Solar batteries are typically made up of multiple battery cells, which are connected in series or parallel to achieve the desired voltage and capacity. These cells store electrical energy in the form of chemical energy, which can be converted back into electricity when needed. One of the key advantages of solar batteries is their ability to reduce reliance on the electrical grid. By storing excess energy, homeowners and businesses can become more self-sufficient and less dependent on traditional power sources. This not only helps to lower electricity bills but also contributes to a greener and more sustainable future. Furthermore, solar batteries can provide backup power during power outages. In areas prone to blackouts or natural disasters, having a reliable source of electricity can be a lifesaver. Solar batteries offer a reliable and clean alternative to traditional backup generators, ensuring that essential appliances and devices remain operational when the grid fails.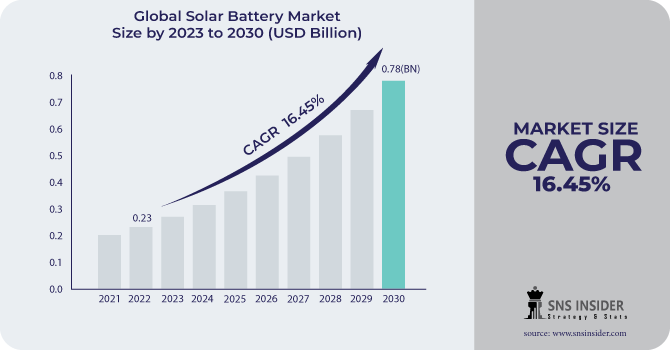 To get more information on Solar Battery Market - Request Sample Report
In recent years, advancements in technology have led to the development of more efficient and durable solar batteries. Lithium-ion batteries are more popular due to their longer lifespan, high energy density, and faster charging capabilities. These improvements have made solar batteries more cost-effective and accessible to a wider range of consumers. One of the key drivers behind the growth of the solar battery market is the rising awareness of environmental issues and the need to reduce carbon emissions. Solar batteries offer a clean and sustainable energy solution, enabling users to reduce their reliance on fossil fuels and contribute to a greener future. Moreover, advancements in battery technology have significantly improved the efficiency and reliability of solar batteries. Innovations such as lithium-ion batteries have revolutionized the industry, offering higher energy density, longer lifespan, and faster charging capabilities. These technological advancements have made solar batteries more cost-effective and attractive to a wider range of consumers. The solar battery market is not limited to residential applications alone. Commercial and industrial sectors are also increasingly adopting solar energy systems and integrating them with battery storage solutions. This allows businesses to reduce their electricity bills, enhance energy independence, and even sell excess energy back to the grid, providing an additional revenue stream.
Market Dynamics
Drivers
Increasing demand for renewable energy sources

Declining costs of solar technology
Restrain
High initial investment associated with solar energy storage system

Limited energy storage capacity of solar batteries
Solar batteries currently have limitations in terms of energy storage capacity. This constraint restricts their ability to provide an uninterrupted power supply during extended periods of low sunlight, hindering widespread adoption.
Opportunities
Growing awareness regarding the environmental benefits of solar energy

Advancements in battery technology
Challenges
Solar energy is dependent on sunlight availability, making it intermittent in nature. the intermittent nature of solar power generation poses a challenge for the solar battery market. Solar energy production is dependent on weather conditions, resulting in fluctuations in power generation. This variability makes it challenging to maintain a consistent energy supply, especially during extended periods of cloudy or rainy weather. As a result, the reliability of solar energy systems is compromised, impacting their attractiveness to consumers and businesses.
Impact of Russia-Ukraine War:
The war between Russia and Ukraine has had a significant impact on the global solar industry, causing a sharp decline in production and demand. Consequently, this has created a challenging environment for companies operating within this sector, resulting in lower prices for solar panels. Both Russia and Ukraine are key players in the solar market, with Russia contributing approximately 9% of global production and Ukraine accounting for around 4%. According to the International Renewable Energy Agency, "In 2020, Ukraine generated 11% of its electricity from renewable sources." Ukraine possesses a vast reserve of lithium, estimated to be around 500,000 tons. This valuable resource plays a crucial role in enabling the production of renewable energy, despite being classified as a non-renewable mineral. Lithium, a key component in batteries used for storing energy, is in high demand. However, due to the conflict, prices for both raw materials and finished products have increased, leading to disruptions in the supply chain for numerous manufacturers.
Despite the challenges, the Russia-Ukraine war has also presented opportunities for the solar battery industry. As countries seek to reduce their dependence on fossil fuels and transition towards renewable energy sources, the demand for solar batteries has increased. This growing demand has created a market opportunity for manufacturers to expand their operations and cater to the needs of a more environmentally conscious consumer base. Additionally, the conflict has highlighted the vulnerability of traditional energy infrastructure, making solar batteries an attractive alternative. Governments and organizations are now more inclined to invest in renewable energy solutions, including solar batteries, to ensure energy security and resilience in the face of geopolitical tensions.
Impact of Recession:
During the recession, solar battery manufacturers faced numerous obstacles that hindered their growth and profitability. Firstly, the reduced purchasing power of consumers led to a decline in demand for solar batteries. As people reduced their budgets, investing in renewable energy solutions became less of a priority. Consequently, manufacturers experienced a decrease in sales and revenue. Furthermore, the recession also affected the availability of financing options for solar battery projects. The recession also had an impact on consumer behavior, particularly in relation to the solar battery market. With financial uncertainty looming, consumers became more price-sensitive and focused on short-term savings rather than long-term investments. As a result, the demand for cheaper, lower-quality batteries increased, while the demand for premium, high-performance batteries declined.
Market segmentation
By Type
Lead-Acid

Lithium-Ion

Flow Battery

Others
By End-users
Industrial

Commercial

Residential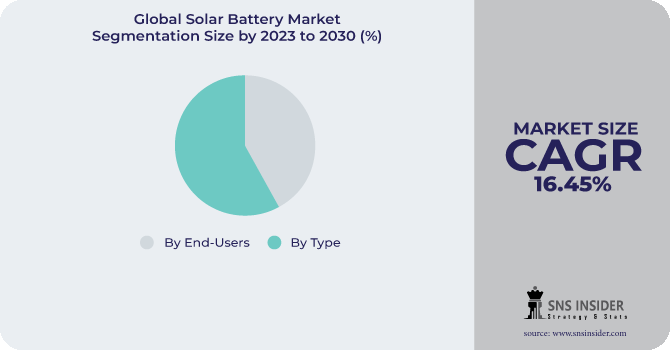 To Get Customized Report as per your Business Requirement - Request For Customized Report
Regional Analysis
Asia Pacific dominated the solar battery market and is expected to grow with a significant CAGR during the forecast period. This is owing to the region's vast and rapidly expanding population, resulting in a significant increase in energy consumption. As a result, there has been a growing demand for renewable energy sources, such as solar power, to meet the escalating energy needs. The Asia Pacific region has recognized this need and has made substantial investments in solar battery technology to harness the abundant sunlight available in the region. In addition, the Asia Pacific region benefits from its geographical location, which provides ample sunlight throughout the year. Countries like China, India, and Australia have vast land areas with high solar irradiation levels, making them ideal for solar energy generation. This geographical advantage has further fueled the growth of the solar battery market in the region.
Europe is the second-largest growing region in the solar battery market because Europe has witnessed a significant surge in renewable energy adoption, with solar power being at the forefront. This shift towards clean energy sources has been driven by various factors, including increasing environmental concerns, government initiatives, and the need to reduce dependence on fossil fuels. As a result, the demand for solar batteries, which store excess energy generated by solar panels, has soared in the region. Moreover, Europe's commitment to sustainability and its ambitious renewable energy targets have further propelled the demand for solar batteries. The European Union has set a goal to achieve carbon neutrality by 2050, and individual countries have established their own renewable energy targets. To meet these objectives, the integration of solar batteries into the energy grid is crucial, as they enable the efficient utilization of solar power and help stabilize the grid during peak demand periods.
REGIONAL COVERAGE:
North America
Europe
Eastern Europe

Poland

Romania

Hungary

Turkey

Rest of Eastern Europe

Western Europe

Germany

France

UK

Italy

Spain

Netherlands

Switzerland

Austria

Rest of Western Europe
Asia Pacific
China

India

Japan

South Korea

Vietnam

Singapore

Australia

Rest of Asia Pacific
Middle East & Africa
Middle East

UAE

Egypt

Saudi Arabia

Qatar

Rest of the Middle East

Africa

Nigeria

South Africa

Rest of Africa
Latin America
Brazil

Argentina

Colombia

Rest of Latin America
Key Players
The major key players are BAE Batterien GmbH, LG, Tesla, Panasonic, Alpha Technologies, Inc., Loom Solar, Energy Toolbase, A123 Systems LLC, BYD Co. Ltd., EnerSys, CATL, and other key players mentioned in the final report.
Tesla-Company Financial Analysis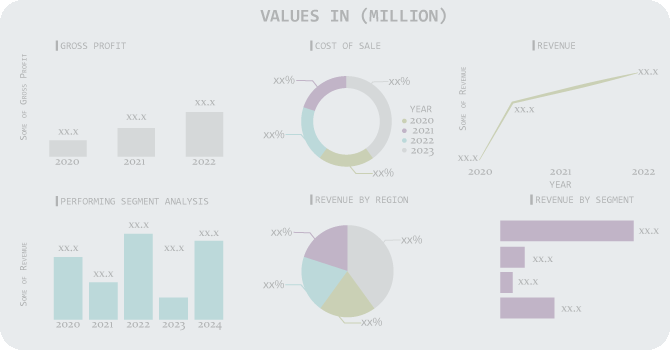 Recent Development:
In May 2023, LG announced the introduction of a new residential solar battery, Prime+. This advanced technology offers a flexible capacity to effectively meet the ever-changing demands of residential energy backup solutions.

In Mar 2023, LG Energy Solution planned to invest around $ 5.7 billion to build a battery manufacturing complex in Arizona, US.
Solar Battery Market Report Scope:
Report Attributes
Details
Market Size in 2022
US$ 0.23 Bn
Market Size by 2030
US$ 0.78 Bn
CAGR
CAGR of 16.45% From 2023 to 2030
Base Year
2022
Forecast Period
2023-2030
Historical Data
2020-2021
Report Scope & Coverage
Market Size, Segments Analysis, Competitive Landscape, Regional Analysis, DROC & SWOT Analysis, Forecast Outlook
Key Segments
• By Type (Lead-Acid, Lithium-Ion, Flow Battery, and Others)
• By End-users (Industrial, Commercial, and Residential)
Regional Analysis/Coverage
North America (US, Canada, Mexico), Europe (Eastern Europe [Poland, Romania, Hungary, Turkey, Rest of Eastern Europe] Western Europe] Germany, France, UK, Italy, Spain, Netherlands, Switzerland, Austria, Rest of Western Europe]). Asia Pacific (China, India, Japan, South Korea, Vietnam, Singapore, Australia, Rest of Asia Pacific), Middle East & Africa (Middle East [UAE, Egypt, Saudi Arabia, Qatar, Rest of Middle East], Africa [Nigeria, South Africa, Rest of Africa], Latin America (Brazil, Argentina, Colombia Rest of Latin America)
Company Profiles
BAE Batterien GmbH, LG, Tesla, Panasonic, Alpha Technologies, Inc., Loom Solar, Energy Toolbase, A123 Systems LLC, BYD Co. Ltd., EnerSys, CATL
Key Drivers
• Increasing demand for renewable energy sources
• Declining costs of solar technology
Market Restraints
• High initial investment associated with solar energy storage system
• Limited energy storage capacity of solar batteries