Report Scope & Overview:
X-Ray Fluorescence Analyzer Market size was valued at USD 2.78 billion in 2022 and is expected to grow to USD 4.36 billion by 2030 and grow at a CAGR of 5.8% over the forecast period of 2023-2030.
X-Ray Fluorescence (XRF) is a common investigative technique that can provide both qualitative and quantitative information on the composition of a chemical sample. X-ray fluorescence (XRF) technology is one of the most simple, precise, and cost-effective methods for identifying the chemical composition of a wide variety of materials. It is non-destructive and reliable, necessitates little or no sample preparation, and can be used with solid, liquid, or powdered materials. High-energy X-rays (or gamma rays) are used to induce fluorescent emission from a sample for quantitative chemical or elemental analysis, and they have a wide range of applications in industry and investigation. Because of the increased usage of X-Ray Fluorescence (XRF) technology for scrap recycling, the market for x-ray fluorescence analysers is expanding.
The increased usage of X-Ray Fluorescence (XRF) technology for scrap recycling, the ability to evaluate data more simply and rapidly, and the integration of XRD and XRF technology are driving the market for x-ray fluorescence analysers.
KEY DRIVERS:
Increased manufacturing quality control

Expansion of the metal recycling industry

Demand for X-ray fluorescence spectrometers is increasing
Rapid global disease burden increases, as well as an increase in demand for higher quality control alternatives, are driving up demand for X-ray fluorescence analysers. These are some of the factors that are projected to grow significantly during the projection period. Other factors driving market expansion include the compact size and ease of use of these spectrometers, as well as the continuous monitoring they provide. The global XRF analyser market is characterized by a consolidated competition landscape, with Tier 1 firms dominating. have a revenue share of higher than 55%.
RESTRAIN:
The initial cost of XRF analysers, particularly high-end versions with complex capabilities, might be a substantial market restraint. The capital outlay required to purchase and maintain these devices may provide difficulties for small and medium-sized businesses, restricting their use.
OPPORTUNITY:
The widespread regulation of these spectrometers in many fields, as well as technological advancements, make X-ray fluorescence spectrometers more acceptable for healthcare applications. Furthermore, the increasing use of X-ray fluorescence spectrometers in tablet grouping processes to investigate pollutants both externally and internally is likely to boost demand for X-ray fluorescence analysers globally in the near future.
CHALLENGES:
A scarcity of skilled labor

Alternative technologies pose a threat.
Alternative analytical techniques such as atomic absorption spectroscopy (AAS), inductively coupled plasma (ICP), and laser-induced breakdown spectroscopy (LIBS) compete with XRF analyzers. These alternative technologies provide distinct advantages and may pose a threat to XRF analyzer market share, particularly in specific applications or industries. The global X-Ray fluorescence analyser market contains information on new recent developments, trade regulations, import-export analysis, production analysis, value chain optimization, mark.
IMPACT ANALYSIS
IMPACT OF ONGOING RECESSION
The amount of time between the development of early symptoms and the imaging process could have a significant impact on the accuracy of X-ray findings. X-rays revealed no indications of the illness for the first three days following the commencement of coughing and fever, but they became more visible after 10 to 12 days. An Italian study with 72 symptomatic patients released in mid-April 2022 appears to confirm this time factor. At the time of the imaging procedure, all of the patients were already under quarantine at home and had come to the hospital since their symptoms had subsided. Because of technical developments in measurement science and standards, there has been a major growth in demand for X-ray fluorescence (XRF).
KEY MARKET SEGMENTS
By Product Type
By Modularity Type
Portable/ Handheld

Benchtop
By End Use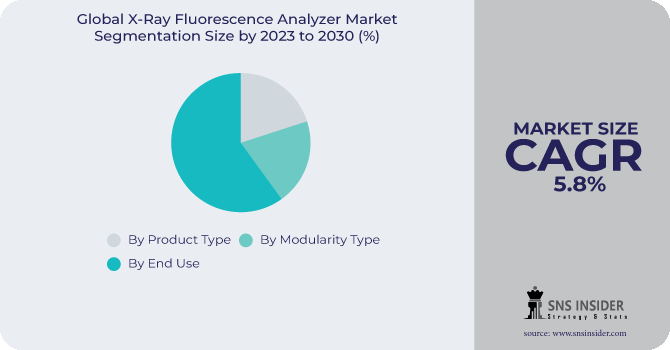 STRUCTURE ANALYSIS:
Because of infrastructure and expanding demand for X-ray fluorescence (XRF) equipment in the cement sector for quality control, the X-ray fluorescence (XRF) market is expected to increase in the next years. Demand for X-ray fluorescence (XRF) is expected to increase in the coming years as a result of increased industrialization and the implementation of X-ray fluorescence (XRF) policies by a number of government agencies. The metals index is expected to rise following a 9% drop in iron ore prices, which is offset by an increase in base metals prices. Nickel is expected to have the greatest price increase i.e.; by 30%. Precious metal prices are expected to rise by about 3% as inflationary forecasts rise.
REGIONAL ANALYSIS
The application of x-ray fluorescence analysers in various industries such as oil and gas, pharmaceutical, chemicals, metal, and electronics is expected to drive significant growth in the North America region. The mining industry has boosted market demand.
The Asia-Pacific area is the fastest expanding. The region with the highest CAGR is due to the usage of x-ray fluorescence for quickly examining the material and the thickness of the coating on metal and jewellery products, which has influenced market demand. The region has been divided into China, India, Japan, South Korea, Southeast Asia, and the rest of Asia-Pacific.
REGIONAL COVERAGE:
North America
Europe
Eastern Europe

Poland

Romania

Hungary

Turkey

Rest of Eastern Europe

Western Europe

Germany

France

UK

Italy

Spain

Netherlands

Switzerland

Austria

Rest of Western Europe
Asia Pacific
China

India

Japan

South Korea

Vietnam

Singapore

Australia

Rest of Asia Pacific
Middle East & Africa
Middle East

UAE

Egypt

Saudi Arabia

Qatar

Rest of Middle East

Africa

Nigeria

South Africa

Rest of Africa
Latin America
Brazil

Argentina

Colombia

Rest of Latin America
KEY PLAYERS
Some of key players are Olympus Corporation (Japan), SUZHOU LANScientific Co,Ltd. (China), Hefei Jingpu Sensor Technology Co.Ltd. (China), HORIBA, Ltd. (Japan), Hitachi, Ltd. (Japan), Fischer Technology Inc. (U.S.), Dandong Dongfang Measurement & Control Technology Co., Ltd. (China), Bruker (U.S.), Bourevestnik (U.S.), SPECTRO Analytical Instruments GmbH (Germany)and other players are listed in a final report.
RECENT DEVELOPMENT
In March 2023, HORIBA, Ltd. expanded its XGT-9000 series product range by introducing two new micro-XRF (X-ray fluorescence) analyzers, the XGT-9000 Pro and XGT-8000 Expert X-ray Analytical Microscopes. The XGT-9000 Series is used in a wide range of sectors. It is utilized in sectors such as lithium-ion batteries, medicines, and others to recognize foreign items and generate unique materials. The new XGT-9000 Pro and XGT-9000 Expert's upgraded detection systems, together with our unique" pulse processing technology, provide faster analysis 2. The XGT-9000 Expert, as a benchtop frequency dispersive micro-XRF analyzer, also performs the world's first 3 light element 4 analysis.

In April of 2022, Viscom AG showcased a number of its most recent microfocus X-ray tubes at Control in Stuttgart, Germany, in April 2022. Because of its versatility, a hitherto unreachable range of jobs, ranging from the radiography of massive and heavy components to the examination of microscopic filigree objects and time-optimized series, may now be covered by the same X-ray source inspections.

X-Ray Fluorescence Analyzer Market Report Scope:
Report Attributes
Details

Market Size in 2022

US$ 2.78 Bn

Market Size by 2030

US$ 4.36 Bn

CAGR

CAGR of 5.8% From 2023 to 2030

Base Year

2022

Forecast Period

2023-2030

Historical Data

2019-2021

Report Scope & Coverage

Market Size, Segments Analysis, Competitive Landscape, Regional Analysis, DROC & SWOT Analysis, Forecast Outlook

Key Segments

By Product Type (Energy Dispersive XRF, Wavelength Dispersive XRF), By Modularity Type (Portable/ Handheld, Benchtop), By End Use (Metal and Mining Industries, Pharmaceutical, Oil and Gas, Environmental Research, Artand Archeology)

Regional Analysis/Coverage

North America (US, Canada, Mexico), Europe (Eastern Europe [Poland, Romania, Hungary, Turkey, Rest of Eastern Europe] Western Europe] Germany, France, UK, Italy, Spain, Netherlands, Switzerland, Austria, Rest of Western Europe]), Asia Pacific (China, India, Japan, South Korea, Vietnam, Singapore, Australia, Rest of Asia Pacific), Middle East & Africa (Middle East [UAE, Egypt, Saudi Arabia, Qatar, Rest of Middle East], Africa [Nigeria, South Africa, Rest of Africa], Latin America (Brazil, Argentina, Colombia Rest of Latin America)

Company Profiles

Olympus Corporation (Japan), SUZHOU LANScientific Co,Ltd. (China), Hefei Jingpu Sensor Technology Co.Ltd. (China), HORIBA, Ltd. (Japan), Hitachi, Ltd. (Japan), Fischer Technology Inc. (U.S.), Dandong Dongfang Measurement & Control Technology Co., Ltd. (China), Bruker (U.S.), Bourevestnik (U.S.), SPECTRO Analytical Instruments GmbH (Germany)

Key Drivers

•Increased manufacturing quality control
•Expansion of the metal recycling industry
•Demand for X-ray fluorescence spectrometers is increasing

Market Restraints

•Expensive Initial Investment