Report Scope & Overview:
The Cancer Biopsy Market Size was valued at USD 26.24 billion in 2022, and is expected to reach USD 61.06 billion by 2030 and grow at a CAGR of 11.13% over the forecast period 2023-2030.
A biopsy is a procedure that involves the removal of tissue from any part of the body in order to analysis it for disease. Some may use a needle to take a small sample of tissue, while others may surgically remove a suspected nodule or lump. Biopsies are commonly used to diagnosis cancer, but they can also be used to diagnose infections, as well as inflammatory and autoimmune illnesses. They can also be used to match organ tissue prior to transplantation and to search for evidence of organ rejection afterward.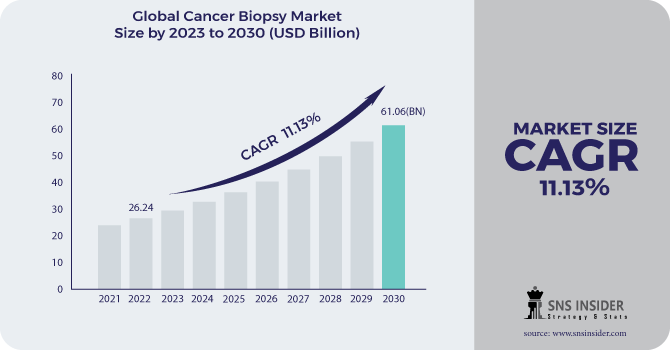 To get more information on Cancer Biopsy Market - Request Sample Report
MARKET DYNAMICS
DRIVERS
Oncology Disorders are becoming more common, and liquid biopsies are becoming more popular.

Technological Advancement

Inherited Oncology Disorders and Genetic Testing are becoming more well-known.
RESTRAINTS
Biopsy Procedure-Related Risks

Reimbursement possibilities that are unclear
OPPORTUNITIES
CHALLENGES
IMPACT OF COVID-19
COVID 19 has a significant impact on the medical business, particularly the market for cancer biopsies. Due to social distancing measures imposed by governments, the utilisation of healthcare services and hospital visits has severely decreased in this pandemic, resulting in patients being allowed/permitted to visit only in an emergency. Furthermore, the Centers for Medicare and Medicaid Services in the United States have classed testing as a low-priority service during this pandemic.
By Product
Kits and consumables, which are essential at various phases of biopsies, made for the greatest sales share of more than 61.0 % in 2021. Furthermore, the segment's expansion has been aided by large expenditures made by important participants in the industry. The expansion of the market can also be ascribed to an increase in the number of patients around the world who require efficient, precise, and quick tools and kits.
Regarding gadgets, units, and consumables, disease biopsy has seen various headways. The making of viable items associated with biopsies is basic as fluid biopsy turns into a multimodal device of determination in the field of clinical malignant growth. In spite of the way that current instruments are generally used, they have various defects. The presentation of new advances, then again, is anticipated to upgrade the requirement for instruments before very long decisively.
By Type
In 2020, tissue biopsy accounted for over 80.0% of total revenue. It is still widely used in biopsies and in cancer diagnostics. This is due to extensive study into its safety and efficacy, which has aided in the segment's expansion.
For the next few years, advancements aimed at improving tissue biopsy processes are projected to keep the tissue biopsy segment on top. Cernostics, for example, is working on an assay that can be used to diagnose Barrett's Esophagus in cancer patients. This one-of-a-kind diagnostic technique uses digitally scanned biopsy images to aid in the identification and measurements of cellular or molecular changes within a tissue.
By Application
In 2021, breast biopsy had the highest proportion of over 15.0 percent. The most widely recognized kind of disease is bosom malignant growth. According to U.S. breast cancer statistics, about one in every eight women in the United States develops invasive breast cancer. Year the United States in 2021, an estimated 277,480 new instances of invasive breast cancer will be identified in women, with more than 40,000 new cases of non-invasive breast cancer.
Tiny examination of bosom tissue is expected for getting a conclusive determination, as well as identifying the stage and characterisation of type, in the developing number of people associated with having bosom malignant growth. This has expanded interest for needle or careful biopsies to gather tissue for tiny review, adding to fragment development.
KEY MARKET SEGMENTATION
By Product
Kits and Consumables

Instruments

Services
By Type
By Application
Prostate Cancers

Cervical Cancers

Colorectal Cancer

Pancreatic Cancers

Lung Cancers

Kidney Cancers

Blood Cancers

Ovarian Cancers

Skin Cancers

Liver Cancers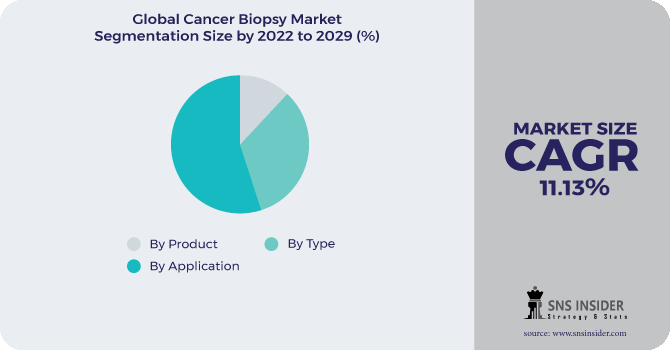 Need any customization research on Cancer Biopsy Market - Enquiry Now
REGIONAL ANALYSIS
In 20221, North America had the largest share of almost 40.0%. Throughout the projected period, the area is expected to maintain its lead, with the United States contributing significantly to regional revenue. Distributor and manufacturers in this region also want to distribute and produce new kits that are well-suited for quick diagnostic applications.
Furthermore, the profitable methods brought out by the separate government authorities are substantially favoured by the expanding acceptance of liquid biopsies across the United States. Regulation strategies for liquid biopsy-based oncology diagnostics are based on a framework developed by the US Food and Drug Administration in recent years (FDA). The proposals for advancement biomarkers and friend diagnostics, as well as endorsement points of reference, are all important for this system.
REGIONAL COVERAGE:
North America

Europe

Germany

UK

France

Italy

Spain

The Netherlands

Rest of Europe

Asia-Pacific

Japan

south Korea

China

India

Australia

Rest of Asia-Pacific

The Middle East & Africa

Latin America

Brazil

Argentina

Rest of Latin America
KEY PLAYERS:
Some of the major players are as follows: ANGLE Plc, BD (Becton, Dickinson and Company), Biocept, Inc., Danaher, F. Hoffmann-La Roche Ltd., Hologic, Inc., Illumina, Inc., Myriad Genetics, Qiagen N.V., Thermo Fisher Scientific, Inc, and other players.
Cancer Biopsy Market Report Scope:
Report Attributes
Details
Market Size in 2022
US$ 26.24 Billion
Market Size by 2030
US$ 61.06 Billion
CAGR
CAGR of 11.13% From 2023 to 2030
Base Year
2022
Forecast Period
2023-2030
Historical Data
2020-2021
Report Scope & Coverage
Market Size, Segments Analysis, Competitive Landscape, Regional Analysis, DROC & SWOT Analysis, Forecast Outlook
Key Segments
• By Product (Kits and Consumables, Instruments, Services)
• By Type (Tissue Biopsies, Surgical Biopsies, Liquid Biopsies, Core Needle Biopsy (CNB), Needle Biopsies, Fine Needle Aspiration (FNA), Others)
• By Application (Breast Cancer, Prostate Cancers, Cervical Cancers, Colorectal Cancer, Pancreatic Cancers, Lung Cancers, Kidney Cancers, Blood Cancers, Ovarian Cancers, Skin Cancers, Liver Cancers)
Regional Analysis/Coverage
North America (USA, Canada, Mexico), Europe
(Germany, UK, France, Italy, Spain, Netherlands,
Rest of Europe), Asia-Pacific (Japan, South Korea,
China, India, Australia, Rest of Asia-Pacific), The
Middle East & Africa (Israel, UAE, South Africa,
Rest of Middle East & Africa), Latin America (Brazil, Argentina, Rest of Latin America)
Company Profiles
ANGLE Plc, BD (Becton, Dickinson and Company), Biocept, Inc., Danaher, F. Hoffmann-La Roche Ltd., Hologic, Inc., Illumina, Inc., Myriad Genetics, Qiagen N.V., Thermo Fisher Scientific, Inc, and other players.
DRIVERS
• Oncology Disorders are becoming more common, and liquid biopsies are becoming more popular.
• Technological Advancement
• Inherited Oncology Disorders and Genetic Testing are becoming more well-known.
OPPORTUNITIES
• Biopsy Procedure-Related Risks
• Reimbursement possibilities that are unclear