Report Scope & Overview:
CNC Fiber Laser Market size was valued at USD 2.6 billion in 2022 and is expected to grow to USD 4.53 billion by 2030 and grow at a CAGR of 7.2% over the forecast period of 2023-2030.
CNC CO2 laser cutters, CNC routers, CNC crystal laser cutters, CNC plasma cutters, CNC fiber laser cutters, press brakes, turret punching machine, and hydraulic shearing machine are the product segments. Due to its high speed, precision, and accuracy, CNC fiber laser cutters held the biggest market share in 2022.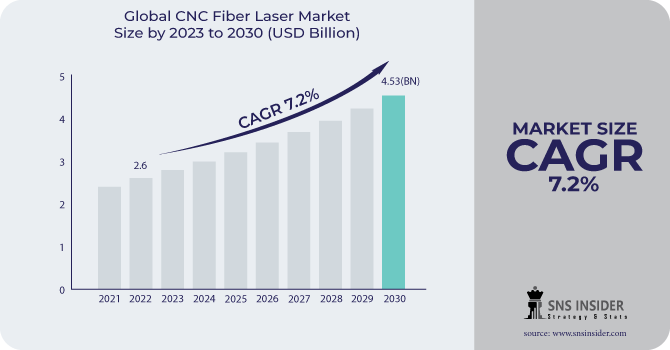 Furthermore, CNC fiber laser cutters provide high-quality cuts on a variety of materials, as well as energy economy and low maintenance. Furthermore, the increasing use of fiber laser cutters in industrial applications due to their ability to handle intricate patterns and fast cutting speeds is driving market expansion. Finally, the aforementioned factors are significantly driving the growth of the CNC fiber laser market.
Educational institutes, construction, aerospace, consumer electronics, medical & healthcare, transportation, and others are the end-user segments. As CNC fiber lasers are used to precisely cut metal sheets and plates for various building components such as beams, columns, trusses, and connections, the construction industry accounted for the greatest market share of 28.4% in 2022. High-speed cutting and the ability to work with diverse metal thicknesses enable accurate manufacture of structurally important pieces. CNC fiber lasers are also used to cut and shape structural steel elements in buildings and bridges. The lasers make the delicate cuts and notches needed for joints, connectors, and unique designs, resulting in precise fits and seamless assembly while saving on-site changes and personnel expenses. Furthermore, CNC fiber lasers carve metals into shapes.
KEY DRIVERS:
CNC fiber lasers use a laser beam that is highly concentrated and accurately controlled by a computer numerical control (CNC) system. Precise control enables intrinsic cuts and markings that were previously difficult to create using traditional methods. Furthermore, CNC fiber lasers enable precise pattern engravings on jewelry and fine details on electronic gadgets, propelling fiber laser usage even further. Furthermore, the consistency and reproducibility provided by CNC fiber lasers ensure that each manufactured piece meets the same high accuracy requirement. CNC fiber lasers provide a solution by giving unprecedented precision, allowing producers to create complicated designs and fine features on a variety of materials.
RESTRAIN:
CNC fiber laser machines produce high-energy laser beams that interact with materials during cutting, engraving, and marking operations. Furthermore, as materials vaporize, laser cutting emits fumes, smoke, and particles. Inadequate ventilation causes wastes to accumulate in the working area, creating health concerns to machine operators due to potential exposure to dangerous compounds and poor air quality. Furthermore, the formation of combustible gases, vapors, and particles in an inadequately ventilated atmosphere is prone to fire incidents, especially when working with materials such as plastic and wood. Finally, the inadequate ventilation associated with CNC fiber laser machines is hindering global market growth.
OPPORTUNITY:
CNC fiber lasers used in conjunction with additive manufacturing precisely melt and fuse metal powders layer by layer, allowing the construction of detailed and sophisticated shapes that were previously difficult to create using standard subtractive manufacturing methods. Furthermore, the integrated technique enables the selective melting and fusion of various materials inside the same part, paving the way for the creation of functional gradients, composite structures, and components with changing material properties. Furthermore, integration is used for post-processing procedures like as surface finishing, polishing, and labeling, which streamlines the manufacturing process and reduces the need for additional equipment. Finally, the combination of CNC fiber lasers with additive manufacturing is expected to
CHALLENGES:
The laser cutting head may move along two different axes while rotating thanks to double-axis swing technology. The laser's multi-dimensional mobility capabilities allow it to approach the material from multiple angles, allowing for precise cutting of complex shapes, bevels, chamfers, and contours. Furthermore, double axis swing enables excellent reproducibility, finer adjustments, and minimizes workpiece interference during complex form processing. As a result, the capacity of double-swing axis systems to provide higher productivity with shorter processing times is significantly contributing to the growth of the CNC fiber laser industry. Amada Press System Co., Ltd., for example, introduced the LM-I6A, a 15-axis CNC machine with a wire-rotating mechanism and a double-swing axis, in March 2023. The equipment allows for great reproducibility, delicate movement, and high-precision processing, all of which contribute considerably to the market's growth
IMPACT ANALYSIS
IMPACT OF RUSSIAN UKRAINE WAR
Russia's war in Ukraine might cause neon production, a vital gas in sophisticated semiconductor manufacturing, to plummet to alarmingly low levels at a time when the world is already facing a chip scarcity. Neon is necessary for lasers used in the lithography process, in which machines cut patterns onto tiny wafers of silicon manufactured by companies such as Samsung, Intel, and TSMCH. According to Peter Hanbury, a semiconductor expert at research firm Bain & Co., a few of Ukrainian companies create more than half of the world's neon. Among them are Mariupol-based Ingas, as well as Cryoin and Iceblick is an Odesa-based company. With world-class Ukrainian companies closing their doors, neon As the crisis carries on, production is projected to plummet. According to Techcet estimates, global neon usage for semiconductor fabrication reached around 540 metric tons last year. Given that Ukraine generates more than half of the world's neon, the figure may fall below 270 metric tons in 2022 if the country's neon plants remain closed.
IMPACT OF ONGOING RECESSION
Thermal damage is unavoidable when laser cutting CFRP laminates due to the drastically differing thermal characteristics of carbon fiber and resin matrix, which has a negative impact on composite structure assembly accuracy and service performance. This study proposed a newly designed fiber laser-CNC milling cooperative machining technique to slot 10.0mm thick CFRP plates. It combined the benefits of high efficiency and high material removal rate during the high-power laser cutting process, as well as good surface quality in milling with limited cutting allowance and high cutting speed. The impact of various machining strategies/methods, cutting settings, and thermal damage on surface quality and morphology was thoroughly examined. Thermal flaws such as cracks, striations, projecting fibers, and matrix FeCesSion were the most common damage seen during laser processing of thick CFRP laminates while laser-CNC milling. The cooperative machining approach effectively slotted a 10.0mm thick CFRP plate without heat damage and with a kerf angle of 5.4um. This study's experimental results showed that the proposed cooperative machining approach was a superior way for slotting thick CFRP laminates with superior quality and efficiency.
MARKET SEGMENTATION
By Product
CNC CO2 Laser Cutter

CNC Crystal Laser Cutter

CNC Fiber Laser Cutter
By Type
Stationary Gantry Type

Movable Gantry Type
By Application
Wood Working

Stone Working

Metal Working

Others
By End User
Automotive

Building & Construction

Consumer Electronics

Aerospace & Defense,

Medical

Energy & Power

Furniture

Transportation

Others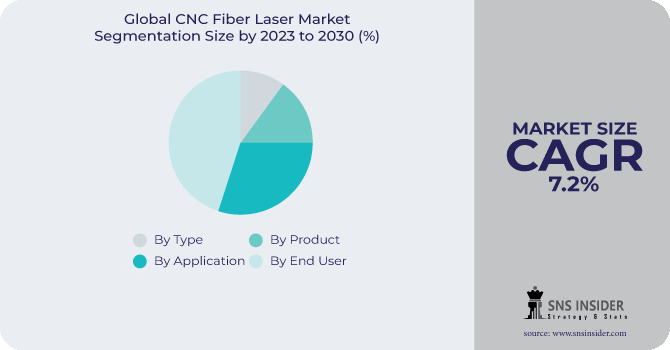 REGIONAL ANALYSIS
North America is predicted to increase at a CAGR of more than 11.8% during the projection period. According to study, the United States will account for 72% of the North American market share through 2033.
The presence of a highly advanced manufacturing sector in the United States is one of the primary elements driving the country's market growth. According to the CMS Office of the Actuary, the manufacturing industry accounts for 10.9% of all claims the economy of the United States in terms of Gross Domestic Product (GDP).
REGIONAL COVERAGE:
North America
Europe
Eastern Europe

Poland

Romania

Hungary

Turkey

Rest of Eastern Europe

Western Europe

Germany

France

UK

Italy

Spain

Netherlands

Switzerland

Austria

Rest of Western Europe
Asia Pacific
China

India

Japan

South Korea

Vietnam

Singapore

Australia

Rest of Asia Pacific
Middle East & Africa
Middle East

UAE

Egypt

Saudi Arabia

Qatar

Rest of Middle East

Africa

Nigeria

South Africa

Rest of Africa
Latin America
Brazil

Argentina

Colombia

Rest of Latin America
KEY PLAYERS
Some of key players are IPG Photonics Corporation, TRUMPF GmbH + Co. KG, Maxphotonics Co., Ltd., Coherent Inc., Newport Corporation, Wuhan Raycus Fiber Laser Technologies Co. Ltd, Lumentum Operations LLC, Fanuc Corporation, Furukawa Electric Co. Ltd., Keopsys S.A., Fujikura Ltd, NLIGHT Inc. and other players are listed in a final report.
Newport Corporation-Company Financial Analysis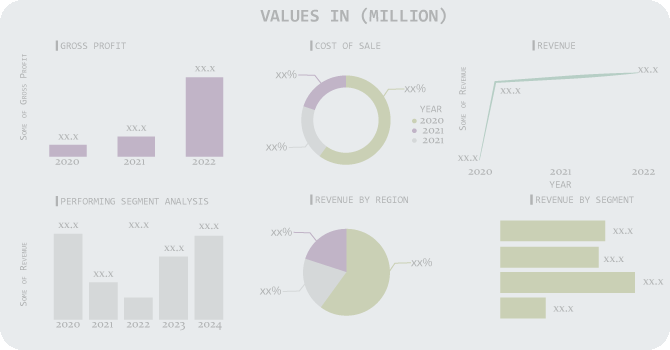 RECENT DEVELOPMENT
Videojet Technologies will introduce its "LightfootTM" fiber laser technology for high-speed beverage canning in March 2021.To address the ever-increasing beverage canning and production needs, this innovative fiber laser system combines the standard dependability of a Videojet fiber laser with the fast speed of dual Lightfoot marking heads.

In November 2020, LVD will introduce the "Taurus," a new large-format fiber laser cutting machine designed specifically for extra-large sheet metal cutting capacity. The equipment can laser cut a wide variety of items, enhancing production and reducing material waste.

Coherent will release a new 4000 W "HighLight FL4000CSM-ARM" fiber laser for automotive applications in June 2020. This innovative system provides advanced welding capabilities for difficult-to-weld metals and conforms to welding standards e-mobility, energy storage, and general electrical connectivity requirements

CNC Fiber Laser Market Report Scope:

| | |
| --- | --- |
| Report Attributes | Details |
| Market Size in 2022 | US$ 2.6 Bn |
| Market Size by 2030 | US$ 4.53 Bn |
| CAGR | CAGR of 7.2% From 2023 to 2030 |
| Base Year | 2022 |
| Forecast Period | 2023-2030 |
| Historical Data | 2019-2021 |
| Report Scope & Coverage | Market Size, Segments Analysis, Competitive Landscape, Regional Analysis, DROC & SWOT Analysis, Forecast Outlook |
| Key Segments | By Product (CNC CO2 Laser Cutter, CNC Crystal Laser Cutter, CNC Fiber Laser Cutter), By Type (Stationary Gantry Type, Movable Gantry Type), By Application (Wood Working, Stone Working, Metal Working, Others), By End User (Automotive, Building & Construction, Consumer Electronics, Aerospace & Defense, Medical, Energy & Power, Furniture, Transportation, Others) |
| Regional Analysis/Coverage | North America (US, Canada, Mexico), Europe (Eastern Europe [Poland, Romania, Hungary, Turkey, Rest of Eastern Europe] Western Europe] Germany, France, UK, Italy, Spain, Netherlands, Switzerland, Austria, Rest of Western Europe]), Asia Pacific (China, India, Japan, South Korea, Vietnam, Singapore, Australia, Rest of Asia Pacific), Middle East & Africa (Middle East [UAE, Egypt, Saudi Arabia, Qatar, Rest of Middle East], Africa [Nigeria, South Africa, Rest of Africa], Latin America (Brazil, Argentina, Colombia Rest of Latin America) |
| Company Profiles | IPG Photonics Corporation, TRUMPF GmbH + Co. KG, Maxphotonics Co., Ltd., Coherent Inc., Newport Corporation, Wuhan Raycus Fiber Laser Technologies Co. Ltd, Lumentum Operations LLC, Fanuc Corporation, Furukawa Electric Co. Ltd., Keopsys S.A., Fujikura Ltd, NLIGHT Inc. |
| Market Opportunities | •Rising interest in 3D printers in industrial manufacturing •Increasing advantages of fiber laser cutting over traditional CO2 lasers |
| Market Challenges | •Technological advancements |