Report Scope & Overview:
The Environmental Sensor Market size was valued at USD 1.62 billion in 2022. It is estimated to hit USD 3.63 billion by 2030 and grow at a CAGR of 10.6% over the forecast period of 2023-2030.
An environmental sensor is a device specifically designed to detect and accurately measure a wide range of environmental conditions. It is utilized to monitor and collect data on factors such as temperature, humidity, air quality, light intensity, and sound levels. These sensors play a crucial role in providing valuable information for a wide range of applications, including weather forecasting, building automation, industrial processes, and environmental monitoring. Environmental sensors are typically equipped with advanced technologies and components to ensure precise and reliable measurements. They employ various sensing mechanisms, such as thermocouples, resistive temperature detectors (RTDs), and capacitive sensors, to detect changes in environmental parameters. These sensors are often integrated into larger systems or networks, allowing for real-time monitoring and data analysis.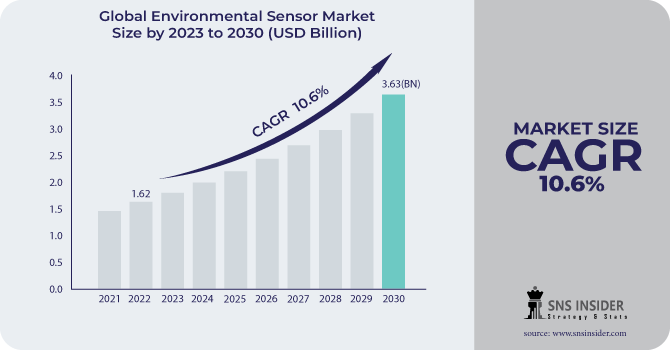 Get More Information on Environmental Sensor Market - Request Sample Report
The environmental sensor market refers to the industry that deals with the production and distribution of sensors designed to monitor and measure various environmental factors. These sensors play a crucial role in collecting data related to temperature, humidity, air quality, noise levels, and other parameters that impact our surroundings. Growing concerns regarding climate change and its impact on our planet are the primary driving factor of this market. According to the National Oceanic and Atmospheric Administration (NOAA), the Earth's temperature has experienced an average increase of 0.14°F (0.08°C) per decade since 1880, resulting in a total rise of approximately 2°F. However, the rate of warming has accelerated significantly since 1981, with a staggering 0.32°F (0.18°C) per decade. These figures highlight the alarming pace at which our planet is heating up. Moreover, 2022 ranked as the sixth-warmest year on record.
Environmental sensors are utilized in a wide range of applications, including smart home, industrial automation, agriculture, and urban planning. They enable us to gather real-time data, allowing for better decision-making and the implementation of effective strategies to mitigate environmental risks.
One of the key drivers behind the market's growth is the increasing adoption of Internet of Things (IoT) technology. Environmental sensors are often integrated into IoT systems, enabling seamless connectivity and data transmission. This integration allows for remote monitoring and control, enhancing efficiency and reducing costs. Moreover, advancements in sensor technology have led to the development of more accurate and reliable environmental sensors. These sensors are capable of providing precise measurements, ensuring the data collected is of high quality. Additionally, miniaturization and cost reduction have made environmental sensors more accessible to a wider range of users.
Market Dynamics
Drivers
According to the World Health Organization (WHO), nearly the entire global population (99%) is exposed to air pollution levels that significantly increase their vulnerability to various diseases, such as chronic obstructive pulmonary disease, cancer, heart disease, stroke, and pneumonia. Shockingly, this exposure leads to approximately 6.7 million deaths each year. These fatalities are a direct result of both ambient and household air pollution. Moreover, in developing countries, 89% of sewage is discharged directly into water bodies without any treatment. This means that every single day, a mind-boggling 2 million tonnes of sewage and other harmful effluents flow into our world's water sources. As if that weren't enough, industries release an estimated 300-400 megatonnes of waste into water bodies annually, further exacerbating the problem.
The United Nations Environment Programme highlights another alarming issue: globally, 3 billion people face health risks due to the scarcity of data on water quality. This lack of information puts these individuals at a significant disadvantage when it comes to accessing safe and clean water sources. Additionally, a staggering 2.3 billion people reside in countries categorized as "water-stressed," with 721 million individuals living in areas where the water situation is deemed "critical." Growing awareness about the impact of pollution on human health and the environment has led to a surge in demand for environmental sensors. Governments and regulatory bodies worldwide are implementing stringent regulations to monitor and control pollution levels, driving the adoption of environmental sensors.
The rapid pace of industrialization and urbanization has led to increased pollution levels in many regions. This has created a pressing need for environmental sensors to monitor and mitigate the adverse effects of pollution on public health and the environment.
Restrain
High Cost associated with the environmental sensors

Lack of standardized protocols and regulations for environmental sensors
Opportunities
According to the United Nations, it is projected that by the year 2050, approximately 69% of the global population will reside in urban regions. The concept of smart cities, which focuses on using technology to enhance the quality of life for citizens, presents a significant opportunity for the environmental sensor market. Environmental sensors play a crucial role in monitoring and managing various aspects of a smart city, including air quality, traffic congestion, and waste management.
Challenges
Governments worldwide are implementing stricter environmental regulations, which necessitate the use of reliable and certified sensors. Manufacturers must ensure their sensors comply with these regulations, which can be a time-consuming and costly process.
Impact of Russia-Ukraine War:
The ongoing conflict between Russia and Ukraine has had far-reaching consequences, extending beyond the realm of politics and economics. This conflict ruins vast stretches of farmland and destructs forests and national parks. Moreover, the damage inflicted upon industrial facilities has resulted in severe air, water, and soil pollution, thereby subjecting residents to toxic chemicals and contaminated water.
Ukraine's environment minister, Ruslan Strilets, has reported a staggering total of over 2,300 cases of environmental damage. According to the government, Ukraine has suffered over $51 billion in environmental damage since the start of the war, with air and waste pollution being the primary culprits. Specifically, the financial damage to Ukraine's environment from February 2022 to February 2023, is estimated as follows: air pollution - $27 billion, waste - $23.1 billion, water resources - $1.6 billion, and soil - $0.3 billion. Consequently, there has been a heightened demand for environmental sensors to detect and measure the extent of the war's impact.
However, the destruction of critical infrastructure, including monitoring stations and laboratories, has severely impeded data collection and analysis. Furthermore, the conflict has disrupted supply chains, making it difficult for manufacturers to obtain the necessary components and materials for sensor production. This scarcity has led to increased costs and delays in manufacturing, impacting the availability and affordability of environmental sensors.
Impact of Recession:
One of the major challenges faced by the environmental sensor market during the recession is the limited funding available for research and development. With reduced financial resources, companies have struggled to innovate and introduce new sensor technologies. This has hindered the industry's ability to meet evolving environmental monitoring requirements and stay competitive in the market. Furthermore, the recession has also impacted the supply chain of environmental sensors. Many manufacturers have faced difficulties in sourcing raw materials and components due to disruptions in global trade and logistics. This has led to increased production costs and delays in delivering products to customers.
Market segmentation
By Location
By Type
Chemicals

Water Quality

Air Quality

Integrated

Ultraviolet (UV)

Soil Moisture

Gas

Smoke
By Vertical
Government

Industrial

Healthcare

Residential

Commercial

Consumer Electronics

Enterprise
By Application
Smart Home Automation

Others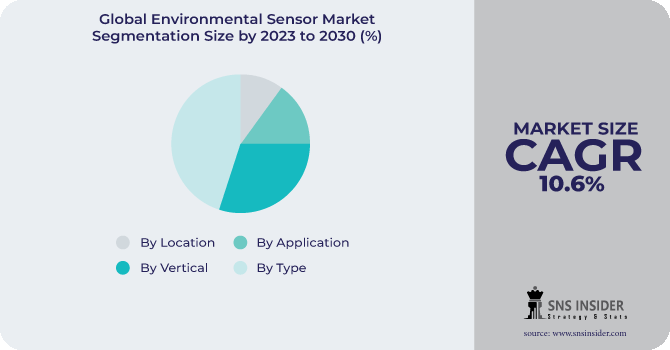 Get Customized Report as per your Business Requirement - Request For Customized Report
Regional Analysis:
The United States in North America has emerged as the dominant player in the environmental sensor market in 2022. The United States has a well-established regulatory framework that promotes the adoption of environmental sensors. Government agencies and industry standards ensure that businesses and organizations prioritize environmental monitoring and compliance. This regulatory environment has created a favorable market landscape for sensor manufacturers, encouraging their growth and success.
One of the key factors driving the market for environmental sensors in the United States is the presence of the Environmental Protection Agency (EPA). The EPA plays a crucial role in setting rules and regulations, as well as monitoring the environmental condition. Within the EPA, the Clean Air Markets Division (CAMD) operates two long-term environmental monitoring programs: the Clean Air Status and Trends Network (CASTNET) and the Long-Term Monitoring (LTM) Program. Additionally, the EPA contributes to a complementary long-term program run by the National Atmospheric Deposition Program (NADP). For over 3 decades, CASTNET, LTM, and NADP have collectively provided valuable data used to evaluate changes in air quality, atmospheric deposition, and water quality in lakes and streams. These programs have been instrumental in understanding and addressing environmental challenges, ensuring the well-being of both the environment and the population.
The Asia-Pacific region is expected to experience the highest CAGR in the environmental sensor market during the forecast period. The Asia-Pacific region, comprising countries such as China, Japan, India, and Australia, is witnessing a significant surge in the demand for environmental sensors. As the region continues to experience rapid industrialization, urbanization, and population growth, the need for effective environmental monitoring becomes paramount.
One of the key drivers behind the growth of the environmental sensor market in the Asia-Pacific region is the increasing awareness and concern regarding environmental issues. According to the World Bank, climate change presents significant challenges to economic growth, environmental stability, and human development in the East Asia and Pacific region. This region comprises 13 out of the 30 countries that are most susceptible to the adverse effects of climate change. Without collective efforts, it is projected that by 2030, an additional 7.5 million people in the region could be pushed into poverty as a result of climate-related impacts.
Furthermore, the Asia-Pacific region is witnessing a rise in investments in smart city initiatives and infrastructure development. As cities become more connected and technologically advanced, the demand for environmental sensors to monitor and manage various aspects of urban life, such as air quality, noise pollution, and waste management, is growing rapidly. Additionally, the region is experiencing a shift towards renewable energy sources, such as solar and wind power. Environmental sensors are crucial in optimizing the efficiency and performance of renewable energy systems, ensuring their seamless integration into the existing power grid.
REGIONAL COVERAGE:
North America
Europe
Eastern Europe

Poland

Romania

Hungary

Turkey

Rest of Eastern Europe

Western Europe

Germany

France

UK

Italy

Spain

Netherlands

Switzerland

Austria

Rest of Western Europe
Asia Pacific
China

India

Japan

South Korea

Vietnam

Singapore

Australia

Rest of Asia Pacific
Middle East & Africa
Middle East

UAE

Egypt

Saudi Arabia

Qatar

Rest of Middle East

Africa

Nigeria

South Africa

Rest of Africa
Latin America
Brazil

Argentina

Colombia

Rest of Latin America
Key Players
The major key players are OMRON Corporation, Sensirion AG, Bosch Sensortec GmbH, ams AG, Raritan Inc., Texas Instruments Incorporated, STMicroelectronics, Amphenol, TE Connectivity, Renesas Electronics Corporation., Apogee Instruments, Inc., Analog Devices Inc., Siemens, Schneider Electric, eLichens, Agilent Technologies, Inc., Oizom Instruments Pvt. Ltd., AVTECH Software, Inc., Ecotech, NuWave Sensor Technology Limited, and other key players mentioned in the final report.
Recent Development:
In July 2023, innovative weather IoT sensor called Soratena Pro is developed by the collaboration of Weathernews and OMRON. This sensor is designed to monitor heavy rain and strong winds every minute, providing accurate and real-time weather observations.

In April 2023, Renesas Electronics Corporation, a renowned provider of advanced semiconductor solutions, has recently unveiled new firmware for its highly acclaimed ZMOD digital air quality sensors.

In Jan 2023, Energous and ams OSRAM joined forces to create a wirelessly powered multi-spectral light sensor. This sensor is specifically designed for Controlled-Environment Agriculture (CEA) and vertical farming, enabling farmers to optimize their crop growth by monitoring and adjusting the light spectrum remotely.
Environmental Sensor Market Report Scope:
Report Attributes
Details
Market Size in 2022
US$ 1.62 Bn
Market Size by 2030
US$ 3.63 Bn
CAGR
CAGR of 10.6 % From 2023 to 2030
Base Year
2022
Forecast Period
2023-2030
Historical Data
2019-2021
Report Scope & Coverage
Market Size, Segments Analysis, Competitive Landscape, Regional Analysis, DROC & SWOT Analysis, Forecast Outlook
Key Segments
• By Location (Outdoor, Indoor, and Portable)
• By Type (Temperature, Chemicals, Humidity, Water Quality, Air Quality, Integrated, Ultraviolet (UV), Soil Moisture, Gas, and Smoke)
• By Vertical (Government, Industrial, Healthcare, Residential, Commercial, Consumer Electronics, Enterprise)
• By Application (Smart City, Smart Home Automation, Smart Office Automation, and Others)
Regional Analysis/Coverage
North America (US, Canada, Mexico), Europe (Eastern Europe [Poland, Romania, Hungary, Turkey, Rest of Eastern Europe] Western Europe] Germany, France, UK, Italy, Spain, Netherlands, Switzerland, Austria, Rest of Western Europe]). Asia Pacific (China, India, Japan, South Korea, Vietnam, Singapore, Australia, Rest of Asia Pacific), Middle East & Africa (Middle East [UAE, Egypt, Saudi Arabia, Qatar, Rest of Middle East], Africa [Nigeria, South Africa, Rest of Africa], Latin America (Brazil, Argentina, Colombia Rest of Latin America)
Company Profiles
OMRON Corporation, Sensirion AG, Bosch Sensortec GmbH, ams AG, Raritan Inc., Texas Instruments Incorporated, STMicroelectronics, Amphenol, TE Connectivity, Renesas Electronics Corporation., Apogee Instruments, Inc., Analog Devices, Inc., Siemens, Schneider Electric, eLichens, Agilent Technologies, Inc., Oizom Instruments Pvt. Ltd., AVTECH Software, Inc., Ecotech, NuWave Sensor Technology Limited
Key Drivers
• Increasing awareness of environmental issues
• Rising industrialization and urbanization
Market Restraints
• High Cost associated with the environmental sensors
• Lack of standardized protocols and regulations for environmental sensors