REPORT SCOPE & OVERVIEW
In 2022, the Food Processing Seals Market was USD 3.24 billion, which is expected to grow to USD 4.50 billion by 2030 with a compound annual growth rate of 4.2 % between 2023 and 2030.
It is expected that the growth of this sector will be stimulated by increasing its use in order to prevent food contamination and leakage. Furthermore, the growth of the market is likely to be supported by increased demand for packaging food and beverages. The demand for processed foods and drinks is expected to support market growth as a result of improving standards of living, in addition to rising purchasing capacity among individuals across major economies such as the U.S., China, India, United Kingdom and Germany.
The growth in the market over the forecast period is expected to be driven by growing demand for bakery products and packaging of alcoholic or non-alcoholic beverages. In addition, market growth over the forecast period will be supported by strict rules on the use of product and seal materials. The market is also expected to be stimulated by an increase in demand for dairy and meat products. Nevertheless, the general growth in the market is expected to be negatively affected by volatile raw material prices.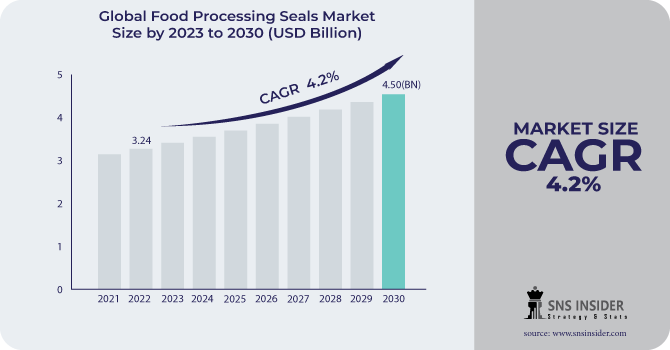 The growing demand for healthy, organic and fresh foodstuffs is expected to limit the demand for food processors' seals as well as reduce industry growth over the forecast period
Growth is expected to be fuelled by rapid urbanization, as well as changes in food consumption patterns around the world. Moreover, the growth of the market is expected to be fuelled by growing demand for baked goods.
MARKET DYNAMICS
KEY DRIVERS:
The demand for food processing seal is directly influenced by the growth in the packaging and processed foods sector around the world. The need for efficient sealing solutions in order to preserve the product's freshness and integrity has increased as more food products are packed and processed before being distributed.
RESTRAIN:
The demand for certain types of processed food could decrease as consumer preferences shift to healthier, natural and minimally processed foods. The need for specific kinds of seals can be affected by this shift in market demand.
OPPORTUNITY:
The manufacturing of seasonal food is nowadays done for the whole year due to technological advancements. This has given growth to the market.
CHALLENGES:
As the consumer are shifting towards the healthier and organic food over the period of time. This will hamper the market growth as the need of processed food seals will be reduced.
IMPACT OF RUSSIAN UKRAINE WAR
The global market for seals for food processing has been significantly affected by the war between Russia and Ukraine. More than 20% of the total market share is held by Russia and Ukraine as major exporters of food processing seals. Due to the war, supplies of such seals were interrupted and there was a shortage and price increase. Other markets, in which food processing seals are used, have also been affected by the war. For example, a shortage of seals for milk processing machines is being faced by the dairy sector. In consequence, the production of dairy products is delayed and prices are increased.
Metals are required for making seals. But due to the war the prices of the metals were very high which affected the overall production and led to increased prices of the final product. Russia is the world's second-largest producer of steel, and Ukraine is the 10th. The war has disrupted the supply of steel from these two countries, leading to shortages and price increases. The price of steel has risen by more than 40% since the start of the war. The world's largest producer of aluminium is Russia, with Ukraine in 5th place. Both countries' aluminum production was interrupted by the war and, as a result, they were facing shortages and price increases. Since the beginning of the war, there has been a 30 % increase in aluminum prices.
The war is creating great uncertainty for the world's economy, which makes it difficult for businesses to plan their future. The market for metals is also affected by this uncertainty because firms are hesitant to make investment in new projects or technologies.
IMPACT OF ONGOING RECESSION
The global seal market for food processing products is expected to be negatively affected by the ongoing recession. As a result, the recession has led to lower consumer spending and reduced demand for food processing equipment. This is also leading to a decrease in demand for food processing seals.
In turn, business costs are also rising due to the recession. It makes it harder for food processing seals to be purchased by businesses, which could have a negative impact on demand.
European gas prices have risen 17 % following Russia's announcement that it will indefinitely stop flow of gas into Europe via its main pipeline system. The rise in gas prices has raised concerns among large businesses and consumers about the need for them to reduce their consumption so that they can save money.
KEY MARKET SEGMENTS
By Material
Elastomers

Metal

Face Materials
By Application
Dairy Products

Bakery & Confectionery

Beverages

Meat, Poultry & Seafood

Others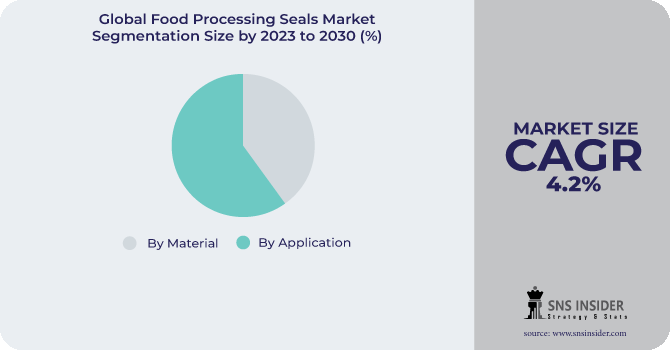 REGIONAL ANALYSIS
Europe continued to lead the global market for food processing seals and held more than 38 % of the overall market share. In view of the rising food production and processing activity in this region, it is expected to retain its dominant position over the forecast period. Furthermore, it is predicted that the region's market will be driven by increased demand for fast food throughout Germany, United Kingdom, France and other European countries.
With rapid urbanisation, coupled with a growing demand for packaged food in developing economies like China, India, and Japan, Asia Pacific is expected to experience the fastest cagr. Furthermore, it is expected that industry growth will continue to be stimulated by an increasing per capita expenditure of end users within the region. Due to rapid population growth and increased demand for processed foods, China has a large share of the Asia Pacific regional market.
In the North America region, consumption of bakery products, meat and poultry foods as well as alcoholic and alcohol drinks is expected to increase significantly.
REGIONAL COVERAGE:
North America
Europe
Eastern Europe

Poland

Romania

Hungary

Turkey

Rest of Eastern Europe

Western Europe

Germany

France

UK

Italy

Spain

Netherlands

Switzerland

Austria

Rest of Western Europe
Asia Pacific
China

India

Japan

South Korea

Vietnam

Singapore

Australia

Rest of Asia Pacific
Middle East & Africa
Middle East

UAE

Egypt

Saudi Arabia

Qatar

Rest of Middle East

Africa

Nigeria

South Africa

Rest of Africa
Latin America
Brazil

Argentina

Colombia

Rest of Latin America
Key players
Some major key players in the Food Processing Seals market are Flowserve Corp, EnPro Industries, Inc, AESSEAL Plc, A.W. Chesterton Company, Trelleborg AB, Smiths Group Plc, Meccanotecnica Umbra S.p.A, SKF, James Walker and other players.
RECENT DEVELOPMENT
EvioSys, a global manufacturer and exporter of packing solutions has launched the new metal food can Ecopeel which is designed to be coated with peelable foils.

SKF provides the global food and beverage industry with technological, product and system solutions that give significant improvements in machine availability and uptimes for ultimate sustainable profitability by providing Food Safety compliant technologies, products and systems.