REPORT SCOPE & OVERVIEW:
The High Power Transformers Market size was valued at USD 14.13 billion in 2022 and is expected to grow to USD 20.88 billion by 2030 and grow at a CAGR of 5 % over the forecast period of 2023-2030.
Power transformers with ratings of S01 MVA to 1200 MVA and those that change voltages typically from greater to lower from one stage or phase configuration to another are referred to as "High power transformers." These high-power transformers are used for instrumentation, control, power distribution, and electrical insulation. The government's endeavours to give electricity to everyone are what is driving the need for high-power transformers. The need for rural electrification is rising as governments around the world take steps to bring energy to remote and inhospitable locations. As an illustration, the Government of India has made some efforts to increase the nation's electricity generation. For instance, in July 2022, the Indian government unveiled a plan to modernize the power sector's distribution system. India's commitment to and aspirations for renewable energy will be strengthened by this initiative.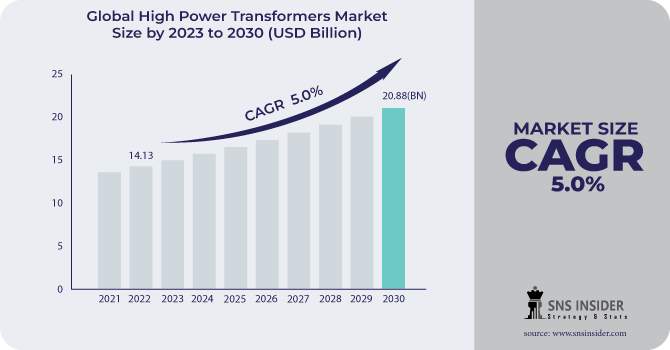 To get more information on High Power Transformers Market - Request Sample Report
MARKET DYNAMICS
KEY DRIVERS:
Industrial growth and Urbanization

Transportation electrification
The worldwide transition to electric vehicles (EVs) is increasing demand for high power transformers. As the use of EVs grows, the infrastructure for charging them must also grow, necessitating the use of high-capacity transformers to enable fast charging stations and handle the resulting rise in grid load.
RESTRAIN:
Working with high voltages and currents during high-power transformation can put stress on electrical parts. To ensure safe and dependable operation, these stresses might result in higher insulation requirements, arcing, and malfunctions, necessitating the employment of specialized insulation materials and processes.
OPPORTUNITY:
Modernization of the Grid

Renewable energy Generation
Solar, wind, and hydroelectric power are examples of renewable energy sources that are being used more frequently as part of the high powershift. Higher power generation capacity and better grid integration are made possible by technological advancements like more effective solar panels and bigger wind turbines.
CHALLENGES:
To avoid overheating and equipment failure, high power transformation generates a lot of heat that needs to be efficiently controlled. To get rid of the heat produced during the transformation process, cooling devices like liquid or gas cooling are needed.
IMPACT OF COVID-19
The COVID-19 pandemic has had a significant negative impact on the world economy, particularly the high-power transformer sector. The use of personal vehicles and other significant modes of transportation has been significantly reduced as a result of containment measures, such as prohibitions on all necessary trips, the closing of international borders, the transition to remote study and employment, etc. As a result of the lower overall demand, which was evident in the decreased output from nuclear facilities in Europe and the US during the first quarter of 2020, the level of energy production has been drastically lowered. Natural gas demand decreased by as much as 2% over the same period, with the biggest drops occurring with the largest reduction.
IMPACT OF RUSSIAN UKRAINE WAR
The Russian invasion of Ukraine impacted the High-Power transformer platform significantly. The war between Russia and Ukraine has disrupted the High-Power Transformer platform market in several ways. The conflict has led to a decrease in demand for carbon credits. Many companies in Russia and Ukraine have reduced their production levels due to the war, which has resulted in a decrease in their carbon emissions. As a result, they have less need for high-power transformers. Moreover, the war has also led to a decrease in investor confidence in the High-power transformer market. Many investors are hesitant to invest in a market that is affected by geopolitical conflicts and instability.
IMPACT OF ONGOING RECESSION
In High Power Transformer energy infrastructure spending also run the risk of preventing low-income households from having access to electricity and other types of modern energy, which are essential for assisting people in escaping poverty. This will worsen the recession's overall effects on the poor, who frequently suffer from it.
The majority of the decline in earnings and employment, undoing many recent advances in lowering poverty in the least developed nations. By researching its prior prediction, the worldwide crisis is likely to keep 48 million more people below the absolute poverty level of $1.28 per day and another seven million below $2 per day in 2021.
KEY MARKET SEGMENTS
By Phase
By Mounting
Pad

Pole

PC/PCB

Other Mountings
By Application
Industrial

Commercial

Residential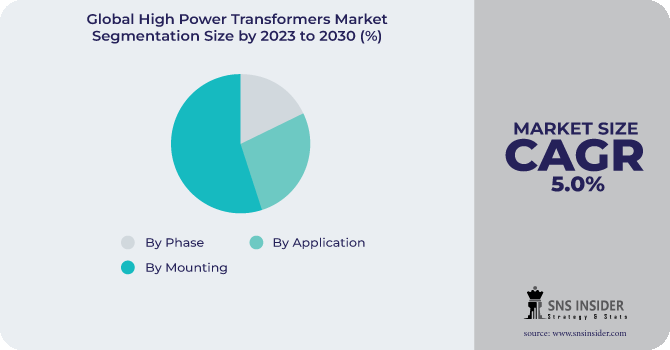 Need any customization research on High Power Transformers Market - Enquiry Now
REGIONAL ANALYSIS
Due to economic expansion, rising residential electricity demand, and expanding industrial activity, Asia-Pacific is anticipated to lead the market, with China and India accounting for the majority of demand.

The use of large power transformers in the power generation sector is anticipated to drive the market due to the rising need for electricity, particularly in emerging nations. The two countries with the highest energy consumption rates are China and the United States, and both have sizable markets for massive power transformers.

In 2021, Asia-Pacific led the market for large power transformers. In the upcoming years, it is anticipated to keep holding sway. Over the last several years, the region has experienced an extraordinary rise in the demand for large power transformers, and this trend is anticipated to continue throughout the forecast period. Therefore, during the projected period, such factors are likely to support growth in the Asia-Pacific market for big power transformers.
REGIONAL COVERAGE:
North America
Europe
Germany

UK

France

Italy

Spain

The Netherlands

Rest of Europe
Asia-Pacific
Japan

South Korea

China

India

Australia

Rest of Asia-Pacific
The Middle East & Africa
Latin America
Brazil

Argentina

Rest of Latin American
KEY PLAYERS
Tje major players are Hitachi Energy Ltd, Siemens Energy AG, Toshiba Energy Systems & Solutions Corporation, CG Power and Industrial Solutions Limited, General Electric Company, ABB Ltd., Alstom, Crompton Greaves Limited, Siemens AG, Eaton, General Electric, Schneider Electric, Hyosung Power & Industrial Systems, Performance Group and other players listed in the final report.
RECENT DEVELOPMENT
The Transformers & Rectifiers India Ltd. received orders from the Gujarat Energy Transmission Corporation (GETCO) in December 2021 for a variety of transformers, including large power transformers, with a total contract value of INR 72.1 crore.

It was announced in October 2021 that SPX Transformer Solutions, which includes large power transformers, had been acquired by GE-Prolec Transformers Inc., a division of a 50/50 joint venture between General Electric and Xignux, a private company with headquarters in Mexico, for a contract purchase price of USD 645.1 million.
High Power Transformers Market Report Scope:
Report Attributes
Details
Market Size in 2022
US$ 14.13 Bn
Market Size by 2030
US$ 20.88 Bn
CAGR
CAGR of 5 % From 2023 to 2030
Base Year
2022
Forecast Period
2023-2030
Historical Data
2020-2021
Report Scope & Coverage
Market Size, Segments Analysis, Competitive Landscape, Regional Analysis, DROC & SWOT Analysis, Forecast Outlook
Key Segments
• By Phase (Single Phase, Three Phase)
• By Mounting (Pad, PC/PCB, Other Mountings)
• By Application (Industrial, Commercial, Residential)
Regional Analysis/Coverage
North America (USA, Canada, Mexico), Europe
(Germany, UK, France, Italy, Spain, Netherlands,
Rest of Europe), Asia-Pacific (Japan, South Korea,
China, India, Australia, Rest of Asia-Pacific), The
Middle East & Africa (Israel, UAE, South Africa,
Rest of Middle East & Africa), Latin America (Brazil, Argentina, Rest of Latin America)
Company Profiles
Hitachi Energy Ltd, Siemens Energy AG, Toshiba Energy Systems & Solutions Corporation, CG Power and Industrial Solutions Limited, General Electric Company, ABB Ltd., Alstom, Crompton Greaves Limited, Siemens AG, Eaton, General Electric, Schneider Electric, Hyosung Power & Industrial Systems, Performance Group and other players listed in the final report.
Key Drivers
• Industrial growth and Urbanization
• Transportation electrification
Market Opportunities
• Modernization of the Grid
• Renewable energy Generation