Report Scope & Overview:
Military Sensors Market Size was valued at USD 10.71 billion in 2022 and expected to reach USD 17.20 billion by 2030, and grow at a CAGR of 6.1% over the forecast period 2023-2030.
The global military sensors market is expanding rapidly as militaries around the world increase their purchases of defense systems. Military sensors are components of a weapon, aircraft, or electronic device that detect changes in their surroundings or scan their surroundings to gather information. The collected data is then relayed to another electronic system, typically a computer processor, for data processing and analysis. Military sensors are used in a variety of systems such as missiles, combat aircraft, and radars for navigation, weapon control, active guidance, target tracking, and environmental awareness. Furthermore, sensors such as electro-optical sensors can detect fog, smoke, and dust. Sensors play an important role in providing solutions to the entire defense ecosystem, including complex controls, measures, monitoring, and implementation. Current military and defense environments require technology that is efficient, dependable, and scalable.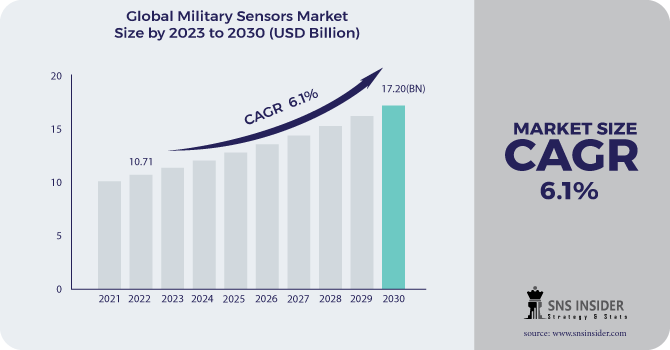 Missiles, drones, spaceships, military vehicles, sea systems, ships, rocket systems, and satellites are examples of military and defense systems. Such systems operate in harsh environments during both regular and combat operations. Furthermore, smart sensor technology is used by internal and external security systems to track and support military operations. Sensors have thus become an essential component of military systems.
MARKET DYNAMICS:
KEY DRIVERS:
RESTRAINTS:
OPPORTUNITIES:
New generation technology demand is high

Continuous development of hardware and software
CHALLENGES:
Cybersecurity risk and enhancement

High technology maintenance
THE IMPACT OF COVID-19
Due to a workforce scarcity, the government's lockdown campaign to limit the spread of COVID-19 has harmed military sensor developers.
Long-term market drivers for military sensors remain strong, and the market had begun to show signs of recovery from the major market price reset prior to the pandemic. The COVID-19 pandemic has swept the world, leaving many industries struggling to survive. Governments and companies involved in sensor technology are reacting differently to the new situation. Some product launches are proceeding, while others are not; some tests are ongoing, while others are postponed; some businesses remain open, while others have closed.
Due to the supply chain disruption created by COVID-19, sensor producers are experiencing a shortage of components required for the development and manufacturing of military sensors.
Defense contractors who rely on international labour are experiencing short-term operating challenges as a result of travel restrictions imposed by the government to combat the COVID-19 outbreak.
Defense agencies are being obliged to postpone ongoing initiatives as well as research and development in order to comply with the authorities' shutdown.
MARKET ESTIMATION
The emergence of MEMS-based gyroscopes was a significant innovation in gyroscope technology. Demand for high-performance inertial navigation systems has spurred the expansion of gyroscopes in the military sensor industry. The military aviation industry, which is a significant user of inertial navigation systems, has been a major driver of market growth and is likely to continue to do so. The rising use of drones and unmanned aerial vehicles in the defense sector will also have a significant impact on market growth.
The military sensors market is divided into communication and navigation, electronic warfare, combat operations, intelligence and reconnaissance, command and control, target recognition, and surveillance and monitoring. From 2022 to 2028, the surveillance & monitoring category is expected to have the greatest market size. Drones are being used for surveillance of various military actions in economies such as India, China, Indonesia, and Japan, which will increase demand for the surveillance and monitoring segment in the near future. The increasing use of airborne sensors in the defense sector is propelling the airborne segment of the military sensors market forward. The proliferation of UAVs is one of the factors driving the rapid expansion of the military sensors market for air-based platforms. Countries all over the world are investing in unmanned aerial vehicles to improve surveillance. Various countries are also adding new fighter aircraft fleets or upgrading current fighter aircraft with cutting-edge sensor technology, which will play a significant role in the growth of the airborne military sensor market. The rapid evolution of geopolitical dynamics around the world, combined with rising terrorism threats, emerging economies' procurement plans, modernizations, and political instability in a few locations, will fuel demand for airborne military sensors.
MARKET KEY PLAYER
Rockwest Solutions., Esterline Technologies Corporation, Honeywell International Inc., Thales Group, BAE Systems plc., Curtiss-Wright Corporation, Kongsberg Gruppen ASA, TE Connectivity Ltd., Lockheed Martin Corporation, Raytheon Company, and other players.
MARKET SEGMENTATION
by Application
by Type
Imaging sensors

Seismic sensors

Acoustic sensors

Magnetic sensors

Pressure sensors

Temperature sensors
by Component
Software

Hardware

Cybersecurity Solutions
by Platform
Airborne

Land

Naval

Munitions

Satellites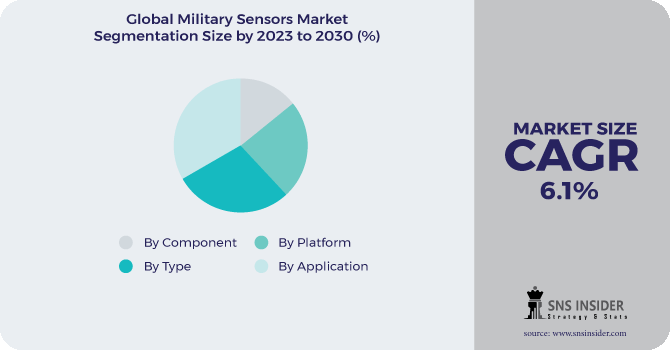 REGIONAL ANALYSIS:
North America is expected to lead the military sensory market from 2022 to 2028. Significant investment in R&D activities to develop military power solutions developed by key players and the growing need for lightweight and energy-saving nerves are some of the factors that are expected to advance military power. the growth of the military sensory market in the region. The US is expected to continue the growth of the North American military nerve market during the forecast period, thanks to easy access to various new technologies and important investments made by manufacturers in the country to promote improved health and military sensitivity. Several advances have been made in the field of military nerves in the region. a cost conversion and fixed cost contract was awarded to Honeywell International for merging Advanced Battle Management Systems (ABMS) with a variety of sensors and sensor modes.
REGIONAL COVERAGE:
North America

Europe

Germany

UK

France

Italy

Spain

The Netherlands

Rest of Europe

Asia-Pacific

Japan

south Korea

China

India

Australia

Rest of Asia-Pacific

The Middle East & Africa

Latin America

Brazil

Argentina

Rest of Latin America
Military Sensors Market Report Scope:
Report Attributes
Details
Market Size in 2022
US$ 10.71 Billion
Market Size by 2030
US$ 17.20 Billion
CAGR
CAGR of 6.1% From 2023 to 2030
Base Year
2022
Forecast Period
2023-2030
Historical Data
2020-2021
Report Scope & Coverage
Market Size, Segments Analysis, Competitive Landscape, Regional Analysis, DROC & SWOT Analysis, Forecast Outlook
Key Segments
• By Application (Intelligence, Surveillance, Reconnaissance, Communication and Navigation, Target Recognition, Electronic Warfare, Command and Control)
• By Type (Imaging sensors, Seismic sensors, Acoustic sensors, Magnetic sensors, Pressure sensors, Temperature sensors)
• By Component (Software, Hardware, Cybersecurity Solutions)
• By Platform (Airborne, Land, Naval, Munitions, Satellites)
Regional Analysis/Coverage
North America (USA, Canada, Mexico), Europe
(Germany, UK, France, Italy, Spain, Netherlands,
Rest of Europe), Asia-Pacific (Japan, South Korea,
China, India, Australia, Rest of Asia-Pacific), The
Middle East & Africa (Israel, UAE, South Africa,
Rest of Middle East & Africa), Latin America (Brazil, Argentina, Rest of Latin America)
Company Profiles
Rockwest Solutions., Esterline Technologies Corporation, Honeywell International Inc., Thales Group, BAE Systems plc., Curtiss-Wright Corporation, Kongsberg Gruppen ASA, TE Connectivity Ltd., Lockheed Martin Corporation, Raytheon Company, and other players.
DRIVERS
• Rising demand of battlespace
• Enhancing technology
RESTRAINTS
• Lack of accuracy
• Operational Complexities in Maintenance and Assembling