Report Scope & Overview:
The Power Device Analyzer Market size was valued at USD 472 million in 2022 and is expected to grow to USD 702.68 million by 2030 and grow at a CAGR of 5.1% over the forecast period of 2023-2030.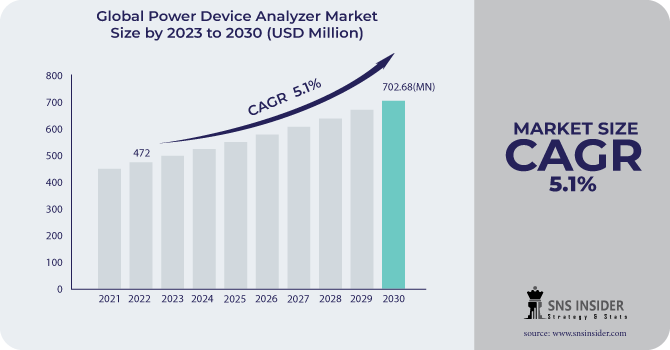 To Get More Information on Power Device Analyzer Market - Request Sample Report
The Power Device Analyzer is a tool designed to analyze and evaluate the performance of power devices. This advanced device offers a comprehensive and accurate assessment of power devices, enabling professionals to make informed decisions and optimize their power systems. With its advanced technology, the Power Device Analyzer provides precise measurements and detailed analysis of various power parameters. It offers a wide range of functionalities, including voltage and current measurements, power factor analysis, harmonic distortion analysis, and efficiency calculations. These features allow users to thoroughly understand the behavior and efficiency of power devices, ensuring optimal performance and energy utilization. The Power Device Analyzer is equipped with a user-friendly interface, making it easy for professionals to navigate and operate. Its intuitive design allows for quick and efficient data collection, analysis, and interpretation. The device also offers customizable settings, enabling users to tailor the analysis according to their specific requirements.
One of the key advantages of the Power Device Analyzer is its ability to generate comprehensive reports. These reports provide a detailed overview of the power device's performance, highlighting any areas of concern or improvement. This valuable information allows professionals to identify potential issues and implement necessary measures to enhance the efficiency and reliability of their power systems. Furthermore, the Power Device Analyzer is built with robust and durable materials, ensuring its longevity and reliability in demanding environments. Its compact and portable design makes it convenient for on-site analysis, enabling professionals to assess power devices in real time and make immediate adjustments if needed.
One of the key drivers behind the growth of the power device analyzer market is the increasing need for energy conservation and optimization. With the rising concerns over environmental sustainability, organizations are actively seeking ways to reduce energy wastage and improve overall power system efficiency. Power device analyzers provide valuable insights into power consumption patterns, allowing businesses to identify areas of improvement and implement energy-saving measures. Furthermore, the advent of advanced technologies, such as the Internet of Things (IoT) and artificial intelligence (AI), has revolutionized the power device analyzer market. These technologies enable real-time monitoring and analysis of power systems, enhancing their reliability and performance. With IoT-enabled analyzers, businesses can remotely monitor power devices, detect anomalies, and take proactive measures to prevent potential failures.
Market Dynamics
Drivers
Growing adoption of renewable energy sources and electric vehicles

Development of advanced power semiconductor devices

Growing demand for power electronics in various industries
The increasing demand for power electronics across various industries serves as the primary driving force behind the growth of the Power Device Analyzer Market. Power electronics play a pivotal role in numerous industries, including automotive, aerospace, telecommunications, and renewable energy. These sectors heavily rely on power devices to efficiently manage and control electrical power. Power Device Analyzers, therefore, become indispensable tools for accurately assessing the performance and reliability of these devices. The automotive industry, for instance, is witnessing a rapid shift towards electric vehicles (EVs) and hybrid electric vehicles (HEVs). As a result, the demand for power electronics, such as inverters and converters, has increased. Power Device Analyzers enable manufacturers to thoroughly evaluate the efficiency and durability of these crucial components, ensuring the safety and reliability of EVs and HEVs. Moreover, the telecommunications industry is experiencing a surge in demand for power electronics due to the increasing adoption of advanced communication technologies, such as 5G networks. Power Device Analyzers assist in accurately characterizing power devices used in these networks, enabling efficient power management and ensuring uninterrupted communication services.
Restrain
High cost associated with these analyzers

growing prevalence of the grey effect in the market
One of the main challenges in the Power Device Analyzer market is the growing prevalence of the grey effect. The grey effect refers to the presence of unauthorized products in the market. These products are often of inferior quality and do not meet the required standards. As a result, they can negatively impact the reputation and sales of genuine power device analyzers. The grey effect poses several restraints on the Power Device Analyzer market. Firstly, it creates confusion among customers who may unknowingly purchase counterfeit products, leading to dissatisfaction and potential damage to their devices. This can result in a loss of trust in the market and the genuine products available. Secondly, the grey effect undermines the competitiveness of legitimate manufacturers and distributors. Counterfeit products are often sold at lower prices, attracting customers who are unaware of their inferior quality. This can lead to a decline in sales for genuine power device analyzers, affecting the revenue and profitability of legitimate businesses.
Opportunities
Increasing focus on energy efficiency and the need for accurate power measurements

Rising demand for power device analyzers in emerging economies
Challenges
Impact of Russia-Ukraine War:
The Russia-Ukraine war has disrupted supply chains, causing delays in the production and distribution of power device analyzers. With both countries involved in the conflict being major players in the manufacturing of these devices, the market has experienced a shortage in supply. This scarcity has led to increased prices and longer lead times for customers, impacting the overall profitability of businesses operating in this sector. The geopolitical uncertainty resulting from the war has created an atmosphere of instability, making it difficult for businesses to plan and make informed decisions. Companies operating in the power device analyzer market are hesitant to invest in new projects or expand their operations due to the unpredictable nature of the conflict. This has led to a slowdown in market growth and a decrease in overall market demand. The Russia-Ukraine war has caused a shift in market dynamics, with some manufacturers relocating their production facilities to more stable regions. This relocation has resulted in a redistribution of market share, as new players enter the market and established ones adapt to the changing landscape. Consequently, competition has intensified, forcing companies to innovate and differentiate their products to maintain their market position.
Impact of Recession:
The ongoing recession will affect the power device analyzer market, leading to a decline in demand and sales. As businesses and industries faced financial constraints, their investments in power device analyzers were reduced or postponed. This decrease in demand has resulted in a significant drop in revenue for manufacturers in this sector. Furthermore, the recession has also affected the research and development (R&D) activities of power device analyzer companies. With limited financial resources, these organizations have had to cut back on their R&D budgets, hindering innovation and the introduction of new and improved products. This has further contributed to the decline in market growth.
Market segmentation
By Type
By Current
By End-user
To Get Customized Report as per your Business Requirement - Request For Customized Report
Regional Analysis
The Asia Pacific region is expected to grow with the highest CAGR during the forecast period from 2023-2030 with a market share of 55.7%. This is due to the region's robust economic growth and rapid industrialization which has led to an increased demand for power devices. As industries expand and modernize, the need for efficient power management and analysis becomes paramount. This surge in demand for power devices has created a favorable environment for the growth of the Power Device Analyzer Market in the Asia Pacific region. Moreover, the region's large population and rising disposable incomes have contributed to the increased adoption of advanced technologies and electronic devices. With the proliferation of smartphones, tablets, and other electronic gadgets, the demand for power devices has soared. Consequently, the need for accurate and reliable power device analyzers has become crucial to ensure optimal performance and longevity of these devices. This trend has further fueled the growth of the Power Device Analyzer Market in the Asia Pacific region. Furthermore, as countries in the Asia Pacific region strive to reduce their carbon footprint and transition towards cleaner energy alternatives, the need for efficient power management and analysis becomes imperative. Power device analyzers enable precise monitoring and control of energy consumption, facilitating the integration of renewable energy sources into existing power grids. This emphasis on sustainable energy solutions has propelled the growth of the Power Device Analyzer Market in the Asia Pacific region.
North America is expected to take the lead in the Power Device Analyzer Market in the upcoming year. North America, with its advanced technological infrastructure and strong presence of key market players, is poised to dominate the Power Device Analyzer Market. The region boasts a robust research and development sector, which constantly strives to innovate and improve power device analysis techniques. This commitment to advancement has resulted in the development of advanced technologies and methodologies that set North America apart from other regions. Furthermore, North America benefits from a well-established network of industries that heavily rely on power devices. The automotive sector, for instance, demands high-performance power devices to enhance vehicle efficiency and safety. The electronics industry requires reliable power devices to support the ever-increasing demand for smart devices and IoT applications. Additionally, the energy sector relies on power devices to optimize power generation and distribution systems. These factors contribute to the region's strong position in the Power Device Analyzer Market.
REGIONAL COVERAGE:
North America
Europe
Eastern Europe

Poland

Romania

Hungary

Turkey

Rest of Eastern Europe

Western Europe

Germany

France

UK

Italy

Spain

Netherlands

Switzerland

Austria

Rest of Western Europe
Asia Pacific
China

India

Japan

South Korea

Vietnam

Singapore

Australia

Rest of Asia Pacific
Middle East & Africa
Middle East

UAE

Egypt

Saudi Arabia

Qatar

Rest of Middle East

Africa

Nigeria

South Africa

Rest of Africa
Latin America
Brazil

Argentina

Colombia

Rest of Latin America
Key Players
The major key players are Iwatsu Electric, Texas Instruments, Circutor, Carlo Gavazzi, Rohde & Schwarz, Arbiter Systems, Keysight Technologies, Dewesoft D O O, Hioki E E Corporation, Newtons4th, and other key players mentioned in the final report.
Recent Development:
In May 2022, Keysight Technologies, Inc. introduced the PD1550A Advanced Dynamic Power Device Analyzer. This device empowers customers to conduct faster and more efficient testing of complete power modules.

In September 2021, HIOKI introduced its latest Power Analyzer, the PW8001, along with the AC/DC Current Sensors CT6872 and CT6873. These innovative tools offer advanced functionality and accuracy, revolutionizing the field of power analysis.
Power Device Analyzer Market Report Scope:
Report Attributes
Details
Market Size in 2022
US$ 472 Mn
Market Size by 2030
US$ 702.68 Mn
CAGR
CAGR of 5.1 % From 2023 to 2030
Base Year
2022
Forecast Period
2023-2030
Historical Data
2020-2021
Report Scope & Coverage
Market Size, Segments Analysis, Competitive Landscape, Regional Analysis, DROC & SWOT Analysis, Forecast Outlook
Key Segments
• By Type (Both AC and DC, AC, and DC)
• By Current (Below 1000A and Above 1000A)
• By End-user (Telecommunication, Automotive, Medical, Energy, Consumer Electronics and Appliances, and Others)
Regional Analysis/Coverage
North America (US, Canada, Mexico), Europe (Eastern Europe [Poland, Romania, Hungary, Turkey, Rest of Eastern Europe] Western Europe] Germany, France, UK, Italy, Spain, Netherlands, Switzerland, Austria, Rest of Western Europe]), Asia Pacific (China, India, Japan, South Korea, Vietnam, Singapore, Australia, Rest of Asia Pacific), Middle East & Africa (Middle East [UAE, Egypt, Saudi Arabia, Qatar, Rest of Middle East], Africa [Nigeria, South Africa, Rest of Africa]), Latin America (Brazil, Argentina, Colombia Rest of Latin America)
Company Profiles
Iwatsu Electric, Texas Instruments, Circutor, Carlo Gavazzi, Rohde & Schwarz, Arbiter Systems, Keysight Technologies, Dewesoft D O O, Hioki E E Corporation, Newtons4th
Key Drivers
• Growing adoption of renewable energy sources and electric vehicles
• Development of advanced power semiconductor devices
• Growing demand for power electronics in various industries
Market Opportunities
• Increasing focus on energy efficiency and the need for accurate power measurements
• Rising demand for power device analyzers in emerging economies