REPORT SCOPE & OVERVIEW
The Protein Crystallization Market size was estimated USD 1.2 billion in 2022 and is expected to reach USD 2.2 billion by 2030 at a CAGR of 8.3% during the forecast period of 2023-2030.
Protein crystallization is the process of creating protein crystals from a solution that is supersaturated in the macromolecule but does not disrupt its normal state. Protein crystallization is the creation of an orderly array of individual protein molecules in the form of crystals. These protein crystals are made for scientific and industrial uses, primarily for X-ray crystallography research.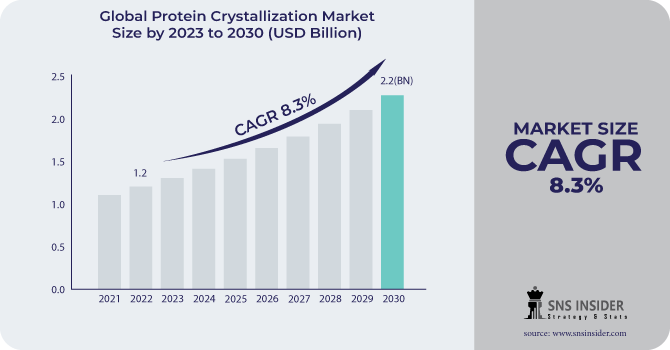 Several developing proteomics players are receiving financing and investments in order to advance proteomics applications. For example, in January 2023, Evosep, a proteomics technology business, obtained a USD 40 million investment from Novo Holdings to develop a high-throughput proteomics solution. Furthermore, various investments under government initiatives are growing the use of protein crystallization in proteomics research and development.
MARKET DYNAMICS
DRIVERS
Protein treatments have become an important aspect of the healthcare industry in recent years. Protein treatments are frequently used to treat a variety of serious diseases, including cancer, due to their low immunogenicity and specificity. The execution of expansion strategies by manufacturers to secure the biggest market share in response to increased demand for protein-based medications and therapies will boost market growth. In January 2022, for example, Amgen and Generate Biomedicines cooperated to find and develop protein therapeutics for five targets across multiple treatment modalities and therapeutic domains. As a result, rising demand for protein therapies, as well as leading industry players' strategies, will drive market growth over the forecast period.
RESTRAIN
Both X-ray crystallography and formulation development require high-quality protein crystals; this difficult process begins with a pure, highly concentrated protein sample in solution. In an ideal world, the liquid component of the solution gradually evaporates, leaving protein crystals in its stead. For some proteins, this technique routinely produces high-quality crystals. For example, crystalline insulin is used as a long-acting insulin substitute. Producing high-quality crystals from other proteins is significantly more difficult.
OPPORTUNITY
Technological advancements in crystallization methods, such as cell-free protein crystallization methods, are expected to give appealing market opportunities during the forecast period. Scientists at the Tokyo Institute of Technology, for example, developed a groundbreaking cell-free protein crystallization process in October 2022. The method adds greatly to structural biology improvements by permitting the analysis of unstable proteins that cannot be explored using other traditional approaches. Such advancements promote the development of novel and improved protein crystal treatments for a wide range of ailments, including cancer and muscular dystrophy.
CHALLENGES
Proteins are not inherently crystallizable substances and inherently complicated and sensitive substances. Maintaining its stability during the crystallization process might be a difficult task in the protein crystallization business. Temperature, pH, protein concentration, and other factors affect protein stability and cause aggregation or denaturation, which can disrupt crystals. As a result, maintaining the proper environment has become a difficult issue in the protein crystallization business. Obtaining adequate quantities of pure and high-quality protein samples might be another issue, particularly for membrane proteins or protein complexes.
IMPACT OF RUSSIAN UKRAINE WAR
The Russian Ukraine war influence on many aspects of daily life, including a considerable load on the healthcare system, and is particularly affecting research trials. Clinical trials are a set of events in which patients are screened, recruited, dossed, followed-up, tracked, and monitored to test the safety and efficacy of a medicine in patients, and regulatory organizations give approvals based on the data acquired. Ukraine has been a popular location for clinical trials because it has a well-established centralized healthcare system that allows pharmaceutical companies to recruit more easily and quickly. Furthermore, Ukraine has a substantial number of treatment-naive patients as well as GCP-compliant workforce and infrastructure. With the conflict still going on, there are numerous circumstances affecting the entire clinical trials system, including the unavailability of new and ongoing patients, as well as a blocked supply chain, which will and has damaged the whole pharmaceutical sector.
IMPACT OF ONGOING RECESSION
Economic downturns or recessions have a negative impact on our operating results since our customers frequently reduce or postpone capital expenditures. Customers may potentially acquire lower-cost products from competitors and not return to us even if economic conditions improve. These circumstances would lower our revenues and profits. Furthermore, a worldwide financial crisis affecting financial institutions would most likely have a negative impact on global capital markets and our industry.
KEY SEGMENTS
By Product
Instruments

Liquid Handling Instruments

Crystal Imaging Instruments

Consumables

Reagents & Kits/Screens

Micro Plates

Others

Software & Services
In 2022, Consumables segment is expected to held the highest market share of 67.2% during the forecast period due to consumables include reagents and kits/screens, microplates, and other products used to support crystallization processes. Protein crystallization kits offer an efficient screening tool for establishing the ideal solubility conditions for protein crystallization. These kits also include the chemicals needed for fast screening to find the optimal conditions for crystallization of purified protein samples.
By Technology
X-ray Crystallography

Cryo-electron Microscopy

NMR Spectroscopy

Others
In 2022, the X-ray Crystallography segment is expected to dominate the market growth of 53.5% during the forecast period due to X-ray crystallography is the most often used technique for determining the structure of biological macromolecules and proteins. It entails crystallizing proteins, bombarding them with X-rays, and reconstructing their structure based on the tell-tale patterns of diffracted light that occur. The method has various advantages, including a two-dimensional image that indicates the three-dimensional structure of a protein. Furthermore, X-ray crystallography is generally easy and inexpensive, gives superior diffraction, reduces radiation damage to crystals, and allows for safe crystal storage, transit, and reuse. These technological skills are strengthening the segment.
By End User
Pharmaceutical and Biotechnology Companies

Academic and Research Institutes
In 2022, Pharmaceutical and Biotechnology Companies segment is expected to dominate the market growth of 71.7% during the forecast period to due to the Protein crystallization technologies play two important functions in structural biology: in silico drug design and controlled drug discovery. Protein crystallography in silico drug design determines a molecule's 3-D structure. Protein crystal formation resulted in more precise 3-D protein structures. These high-quality crystals may eventually lead to a better understanding of biological function and improved drug creation in pharmaceutical and biotechnology companies.
REGIONAL ANALYSES
North America held a significant market share of around 37.3% in 2022 owing to the rising private-sector investment, government aid, and favorable laws. The region is primarily focused on drug development and proteome structure prediction research, which is pushing market expansion. The presence of innovators and important operational players has resulted in greater product penetration in the region.
Asia-Pacific is witness to expand fastest CAGR rate during the forecast period due to the rapid expansion of emerging economies such as China and India's pharmaceutical and biotechnology industries. This region's profitable expansion can also be attributed to continued government backing for the development of the pharmaceutical sector in developing countries. Furthermore, continuing research in the realms of cancer and infectious diseases such as COVID-19 is likely to boost significant growth in the region's protein crystallization market.
REGIONAL COVERAGE
North America
Europe
Eastern Europe

Poland

Romania

Hungary

Turkey

Rest of Eastern Europe

Western Europe

Germany

France

UK

Italy

Spain

Netherlands

Switzerland

Austria

Rest of Western Europe
Asia Pacific
China

India

Japan

South Korea

Vietnam

Singapore

Australia

Rest of Asia Pacific
Middle East & Africa
Middle East

UAE

Egypt

Saudi Arabia

Qatar

Rest of Middle East

Africa

Nigeria

South Africa

Rest of Africa
Latin America
Brazil

Argentina

Colombia

Rest of Latin America
Key Players
The major key players are Rigaku Corporation, FORMULATRIX, METTLER TOLEDO, Corning Incorporated, Greiner Bio-One International GmbH, HAMPTON RESEARCH CORP, Jena Bioscience GmbH, Bruker, Creative Proteomics, Molecular Dimensions, and Others.
Rigaku Corporation-Company Financial Analysis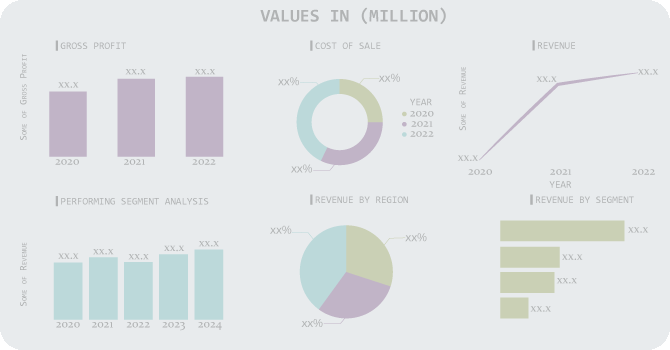 RECENT DEVELOPMENT
METTLER TOLEDO, in July 2022, METTLER TOLEDO announced plans to expand its manufacturing facilities in Vacaville, California. This initiative is designed to strengthen the company's protein crystallization capabilities in Vacaville.
Bruker Corporation, in March 2021, Bruker Corporation announced the launch of new plasma proteomics software, PaSER software v.1.1, which will allow "run & done" high-throughput 4D proteomics with immediate availability of identified peptides and protein groups after the experiment is done. In the same announcement, the company unveiled new consumables and software for chemical cross linking of proteins to study protein structure and interactions.
Protein Crystallization Market Report Scope:
Report Attributes
Details
Market Size in 2022
US$ 1.2 Billion
Market Size by 2030
US$ 2.2 Billion
CAGR
CAGR of 8.3 % From 2023 to 2030
Base Year
2022
Forecast Period
2023-2030
Historical Data
2019-2021
Report Scope & Coverage
Market Size, Segments Analysis, Competitive Landscape, Regional Analysis, DROC & SWOT Analysis, Forecast Outlook
Key Segments
• By Product (Instruments, Consumables, Software & Services)
• By Technology (X-ray Crystallography, Cryo-electron Microscopy, NMR Spectroscopy, Others)
• By End User (Pharmaceutical and Biotechnology Companies, Academic and Research Institutes)
Regional Analysis/Coverage
North America (US, Canada, Mexico), Europe (Eastern Europe [Poland, Romania, Hungary, Turkey, Rest of Eastern Europe] Western Europe] Germany, France, UK, Italy, Spain, Netherlands, Switzerland, Austria, Rest of Western Europe]), Asia Pacific (China, India, Japan, South Korea, Vietnam, Singapore, Australia, Rest of Asia Pacific), Middle East & Africa (Middle East [UAE, Egypt, Saudi Arabia, Qatar, Rest of Middle East], Africa [Nigeria, South Africa, Rest of Africa], Latin America (Brazil, Argentina, Colombia Rest of Latin America)
Company Profiles
Rigaku Corporation, FORMULATRIX, METTLER TOLEDO, Corning Incorporated, Greiner Bio-One International GmbH, HAMPTON RESEARCH CORP, Jena Bioscience GmbH, Bruker, Creative Proteomics, Molecular Dimensions
Key Drivers
• Increasing demand for protein therapeutics
Market Opportunity
• Technological progress