REPORT SCOPE & OVERVIEW
The Silicone Surfactants Market size was USD 1.75 billion in 2022 and is expected to Reach USD 2.48 billion by 2030 and grow at a CAGR of 4.5% over the forecast period of 2023-2030.
Silicone surfactants are created by mixing a silicone polymer and a surfactant. The surfactant's distinctive features, such as water repellency and thermal stability, are due to the silicone polymer. The ability of the surfactant to lessen surface tension and generate emulsions is provided by the surfactant.
In 2022, the water-soluble category led the market. The increasing use of the product in fertilizer formulations in the agricultural industry is expected to drive the expansion of water-soluble surfactants. Also, the oil-soluble sector is expected to develop at a steady rate. Because of its ability to improve viscosity, the oil-soluble type is becoming more prevalent in drilling fluids. The drilling fluid industry is heavily reliant on the oil soluble variety since it provides for high surface tension and stability.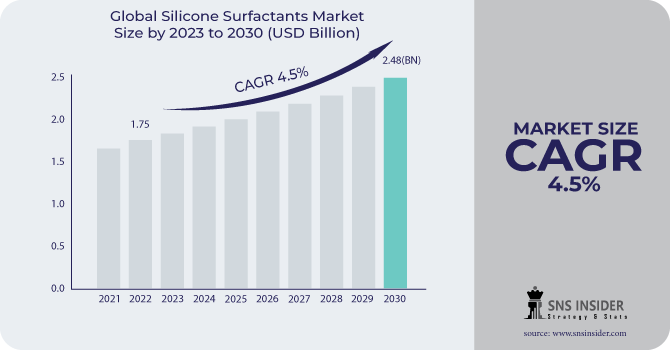 In 2022, the emulsifiers category owned the market with a share of revenue of more than 31.0%. This is due to the growing usage of silicone surfactants in cosmetics, personal care, and home care products. The wetting agent segment is expected to grow significantly in the future. The agricultural business is heavily reliant on wetting agents because they allow water to spread evenly on the surface and penetrate more deeply.
Dispersants are also in high demand because they provide stability, UV protection, and coating strength. It aids in the improvement of fluid workability. Because of these characteristics, it is widely utilized in the paint and coatings sector, which is expected to drive the market. Furthermore, the emulsifying and foaming capabilities of silicone surfactants have resulted in a global increase in demand for these surfactants.
MARKET DYNAMICS
KEY DRIVERS
Growing demand for construction materials

Raising demand for personal care products
Social media is playing a big role in influencing people's buying decisions for personal care products. One of the primary drivers of the silicone surfactants market is the rising demand for personal care products. Silicone surfactants are found in a wide range of personal care products, including shampoos, conditioners, lotions, and creams. They are used for a multitude of purposes, including moisturizing, conditioning, and waterproofing. The rising demand for personal care products is propelling the silicone surfactants industry forward.
RESTRAIN
Harmful emissions released in manufacturing processes

availability of alternatives of silicone surfactants
There are several alternatives to ethoxylated surfactants, such as alkyl polyglucosides and sorbitan esters. These alternatives have similar qualities to silicone surfactants, but they are frequently less expensive and more environmentally friendly. As a result, they are gaining popularity, placing pressure on the silicone surfactants industry.
The emissions can include volatile organic compounds (VOCs), which are harmful to human health and the environment. They can also include greenhouse gases, which contribute to climate change.
OPPORTUNITY
Growing demand for sustainable products

Rising demand for surfactants from end-user
Silicone surfactants are used to improve the performance and longevity of water-based paints and coatings. They can aid in making the paint more water-resistant, easier to apply, and fade-resistant. also, they are found in a variety of textile care products, including softeners and antistatic agents. They can aid to make materials softer, smoother, and static cling. Other than that Silicone surfactants find application in a variety of industrial applications, construction, agriculture, refrigerator, etc.
CHALLENGES
The primary factor contributing to the high prices of silicone surfactants is the high cost of silicone polymers. Silicone polymers are created from silicon, a relatively scarce material. This raises the price of silicone polymers. The manufacturing cost of silicone surfactants is likewise relatively costly. This is due to the fact that the procedure necessitates specialized equipment, highly skilled workers, and a training programme.
IMPACT OF RUSSIAN UKRAINE WAR
Russia and Ukraine are among the major contributors to the silicone surfactant market. Russia and Ukraine are the producers of silicone surfactants. The interruption of these supply chains has resulted in a scarcity of materials and an increase in costs. The war has created economic uncertainty in Europe and other parts of the world. As a result, demand for silicone surfactants has decreased as firms suspend manufacturing for an extended period of time. The United States and other nations-imposed export sanctions, putting pressure on the demand and supply of items that rely on silicone surfactants. Momentive Performance Materials Inc, Dow Corning Corporation, and Wacker Chemie AG have manufacturing plants in Russia. Sintez-Kauchuk, Ukrsilicon, and Silikony Oleshky are the few players operating in Ukraine.
IMPACT OF ONGOING RECESSION
During the recession, maximum application sectors such as construction, FMCG products, personal care, textile, and agriculture sectors would likely lead to a decrease in demand for silicone surfactants. This is because manufacturers and consumers would be less likely to invest in new products and projects due to the high costs of silicone. Supply chain disruption and high shipping charges add costs to the product. In the week of June 2023, silicon metal climbed 11.11%. Silicon metal continues to climb 60.23% month on month in FY23.The conflict between supply and demand raises the price of silicon to a new high.
MARKET SEGMENTATION
KEY MARKET SEGMENTS
By Type
Water-soluble

Oil-soluble
by Application
Emulsifiers

Defoaming Agents

Foaming Agents

Wetting Agents

Dispersants

Others
by End-user
Agriculture

Textile

Building & Construction

Personal Care

Others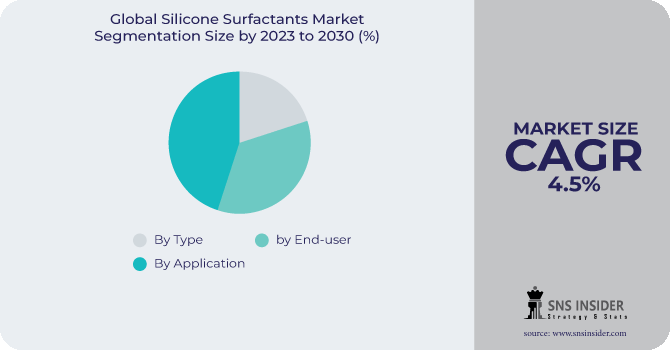 REGIONAL ANALYSIS
The North American region leads the market with a revenue share of nearly 31.0% in 2022. This increase can be attributed to the area's adoption of natural cosmetics, construction, and personal care goods, as well as increased R&D activities to develop distinctive personal care products. Furthermore, the existence of important end-use producers in the area is expected to improve product demand in the near term. North America's market is developing as a consequence of the existence of important players such as Key Performance Materials Inc., Elkem Silicones, and Shin-Etsu Chemical Co., Ltd.
Asia Pacific is expected to increase at a CAGR of 4.5% in 2023. Furthermore, developing nations such as China, India, and Japan are boosting their need for silicone surfactants in cosmetics, textiles, construction, soap, and personal care goods, resulting in market expansion. China is one of the major Asian countries with a lot of construction going on, with the industrial use and construction industries accounting for roughly half of the GDP.
The Europe region is expected to increase significantly during the predicted period. This is due to increased demand for construction, household, toiletries, and other items, as Europe is an important region for the production of luxurious cosmetics and personal care products. The use of silicone surfactants in the region's paints and coatings sector is expected to drive market expansion.
REGIONAL COVERAGE
North America
Europe
Germany

UK

France

Italy

Spain

The Netherlands

Rest of Europe
Asia-Pacific
Japan

South Korea

China

India

Australia

Rest of Asia-Pacific
The Middle East & Africa
Latin America
Brazil

Argentina

Rest of Latin American
KEY PLAYERS
Momentive, DOW Inc., Elkem Silicones, Innospec, Evonik Industries AG, Andisil, Supreme Silicones, Shin-Etsu Chemical Co. Ltd, Wacker Chemie AG, Siltech Corporation., and other key players are mentioned in the final report.
RECENT DEVELOPMENTS
In 2023 Momentive Performance Materials, Inc. a global specialty solutions and high-performance silicones firm, has introduced HARMONIE, a cutting-edge line of high-performance derived natural and natural ingredients for the beauty and personal care industries.
In 2023 Shin-Etsu announced a fresh $100 billion investment in its silicone portfolio, one of the key sections of its Operational Materials business sector, to strengthen its high-performance silicone goods and expand its line-up of eco-friendly products.
In 2022 Siltech Corporation, a global manufacturer of specialties of organic functional silicone announced that they are expanding their manufacturing facilities. A new, cutting-edge grassroots manufacturing plant is nearing completion in terms of engineering design and approval.
Silicone Surfactants Market Report Scope:
Report Attributes
Details
Market Size in 2022
US$ 1.75 Billion
Market Size by 2030
US$ 2.48 Billion
CAGR
CAGR of 4.5 % From 2023 to 2030
Base Year
2022
Forecast Period
2023-2030
Historical Data
2019-2021
Report Scope & Coverage
Market Size, Segments Analysis, Competitive Landscape, Regional Analysis, DROC & SWOT Analysis, Forecast Outlook
Key Segments
• By Type (Water-soluble, Oil-soluble)
• By Application (Emulsifiers, Defoaming Agents, Foaming Agents, Wetting Agents, Dispersants, and Others)
• By End-user (Agriculture, Building & Construction, Textile, Personal Care, and Others)
Regional Analysis/Coverage
North America (US, Canada, Mexico), Europe (Eastern Europe [Poland, Romania, Hungary, Turkey, Rest of Eastern Europe] Western Europe] Germany, France, UK, Italy, Spain, Netherlands, Switzerland, Austria, Rest of Western Europe]), Asia Pacific (China, India, Japan, South Korea, Vietnam, Singapore, Australia, Rest of Asia Pacific), Middle East & Africa (Middle East [UAE, Egypt, Saudi Arabia, Qatar, Rest of Middle East], Africa [Nigeria, South Africa, Rest of Africa], Latin America (Brazil, Argentina, Colombia Rest of Latin America)
Company Profiles
Momentive, DOW Inc., Elkem Silicones, Innospec, Evonik Industries AG, Andisil, Supreme Silicones, Shin-Etsu Chemical Co. Ltd, Wacker Chemie AG, Siltech Corporation
Key Drivers
• Growing demand for construction materials
• Raising demand for personal care products
Market Opportunity
• Growing demand for sustainable products
• Rising demand for surfactants from end-user