REPORT SCOPE & OVERVIEW
The Single-use Bioprocessing Market size was estimated USD 9.1 billion in 2022 and is expected to reach USD 41.5 billion by 2030 at a CAGR of 20.9% during the forecast period of 2023-2030.
In the facilities of biopharmaceutical businesses, the majority of biomanufacturing process steps will undoubtedly undergo a revolution due to single-use equipment. Also, due to the bioprocessing technology's ability to be simplified, customized, and lower the cost of goods because there is a great deal of potential for processes to become more cost-effective. The single-use bioprocessing industry has seen various single-use bioprocessing products enter it over the last ten years. Over the past decade, their use has steadily increased in both the discovery and manufacture of biopharmaceuticals. End users currently have access to a wide variety of SUB products from both international and local suppliers. The majority of single-use bioprocessing items are utilized in manufacturing, clinical, and research facilities where a wide variety of biologics are created.
MARKET DYNAMICS
DRIVERS
According to the UN's Ageing Population Highlights, 758 million people worldwide were predicted to be 65 years of age or older in 2020; by 2050, this number is projected to quadruple to 1.5 billion people. The demand for biopharmaceuticals is expected to rise as the senior population grows across key markets since the aged are more sensitive to chronic illnesses and diseases. Companies are increasingly preferring single-use bioprocessing systems as they improve process efficiency and cut expenses related with labor-intensive procedures like cleaning, sterilization, and maintenance of steel-based bioreactor systems. A wide range of biopharmaceutical Products, such as filtration, mixing, purification, upstream expression, storage, and separation, use single-use bioprocessing technology. Therefore, the single use bioprocessing business is expanding primarily as a result of the growing demand for biopharmaceuticals.
RESTRAIN
There are currently no clear rules or guidelines governing the contamination of single-use bioprocessing systems by extractables and leachables. However, a complete list of tests that can be performed for single-use systems has been published by the Bio-Process Systems Alliance (BPSA). Extractables can be extracted from source of under demanding laboratory conditions materials using the proper solvents. At the same time, leachables are compounds present in drug products caused by leaching from containers, closures, and processing components. Therefore, leachables can be considered a subset of extractables These leachables and extractables are undesirable products. Thus, significant concerns regarding extractables and leachables arising from the components of single-use bioprocessing systems may restrain market growth owing to their potential effects on product quality and patient health.
OPPORTUNITY
In Asian region, China and India are the two countries with the largest potential markets for single-use bioprocessing systems. This is mostly due to supportive policies from the government, expanding private investment, an aging population, the rising tendency of outsourcing to developing Asian markets, and the availability of a qualified workforce in these nations. The new income sources for market players are anticipated to include Brazil, RoAPAC, Japan, India. The significant investment in the infrastructure for biomanufacturing is another important aspect that contributes to the high development potential of these markets. For instance, Thermo Fisher Scientific said in March 2022 that it will invest $650 million to increase its capacity for bioprocessing. To address the rising need for the manufacture of vaccines and biologics, this investment was made.
CHALLENGES
Regulatory Challenges: Regulatory organizations may need to create new policies and regulations for the use of single-use bioprocessing technologies as their adoption grows. This can make the adoption of these technologies uncertainty and delay.
Supply Chain Disruptions: The COVID-19 outbreak has brought attention to how vulnerable global supply lines are. Manufacturers may experience delays and higher costs if the supply of the raw ingredients or parts required for single-use bioprocessing systems is disrupted.
IMPACT OF RUSSIAN UKRAINE WAR
The aggressive campaign by Russia in Ukraine indirectly increased the cost of energy and production for pharmaceutical firms, including Boehringer Ingelheim. The sale prices, which are frequently subject to regulation, did not alter though. The central banks of many nations raised their interest rates as a result of the high rates of inflation, which also increased the cost of financing and increased currency market volatility. At the same time, various nations established regulatory policies to fight inflation, some of which have already had an influence on the pharmaceutical business or will in the coming fiscal years. In this light, the US's Inflation Reduction Act (IRA) is particularly significant.
IMPACT OF ONGOING RECESSION
Negative impacts of the COVID-19 epidemic are still being felt. The COVID-19 pandemics detrimental economic effects were still being felt, as international supply chain disruptions continued to have an impact on industrial productivity. The demand for pharmaceuticals was negatively impacted in China by restrictions brought on the brief lockdowns. At the same time, the COVID-19 pandemic costs placed a significant additional pressure on the healthcare systems of several nations. Many healthcare systems are increasing their use of cost-containment tools, such as mandatory price cuts for pharmaceutical products, external price reference systems, and drawn-out, difficult negotiation processes that delay access to cutting-edge new medications, in order to address these issues.
KEY SEGMENTS
By Product
In 2022, simple & peripheral elements segment is expected to dominate the 49.2% largest market during the forecast period owing to these products are constantly being improved, and increasing bioprocessing procedures are becoming more important in the overall manufacturing process. Also, the tubing, filters, connectors, and transfer systems held most single-use vendors offer tubing and connections in a format that is compatible with single-use bags, bioreactors, or other single-use bioprocessing equipment. For instance, Thermo Fisher Scientific, Inc. provides customization options for their bioprocessing container bags and other bioprocessing equipment, allowing users to add tubing and connectors.
By Workflow
Upstream Bioprocessing

Fermentation

Downstream Bioprocessing
In 2022, upstream bioprocessing segment is expected to dominate the largest market share of 57.9% in 2022 over the forecast period due to the continuous development and improvements in upstream bioprocessing technology. The Ambr 15 micro-bioreactor system from Sartorius AG, for instance, provides automated experimental setup and sampling in addition to high-throughput upstream process development, effective cell culture processing, and medium & feed optimization. These possibilities are expected to reduce upstream bioprocessing procedures and accelerate segment growth.
By End User
Biopharmaceutical & Pharmaceutical companies

Contract Research Organizations and contract manufacturing organizations (CROs & CMOs)

Academic & Research institutes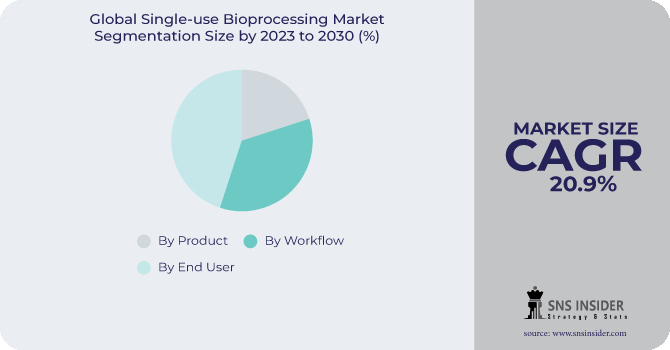 In 2022, biopharmaceutical & pharmaceutical companies segment is expected to dominate the 58.3% market share in 2022 during the forecast period due to the segment has experienced rapid expansion as a result of the increase in contract manufacturing and research services as well as rising the commercial success of biologics in recent years. These benefits are encouraging the use of contract services and are projected to have a favorable impact on the expansion of the sector in the near future.
REGIONAL COVERAGE
North America
Europe
Eastern Europe

Poland

Romania

Hungary

Turkey

Rest of Eastern Europe

Western Europe

Germany

France

UK

Italy

Spain

Netherlands

Switzerland

Austria

Rest of Western Europe
Asia Pacific
China

India

Japan

South Korea

Vietnam

Singapore

Australia

Rest of Asia Pacific
Middle East & Africa
Middle East

UAE

Egypt

Saudi Arabia

Qatar

Rest of Middle East

Africa

Nigeria

South Africa

Rest of Africa
Latin America
Brazil

Argentina

Colombia

Rest of Latin America
REGIONAL ANALYSES
North America held a significant market share growth of 34.3% in 2022 and is likely to maintain its dominance during the forecast period due to the region has a well-established pharmaceutical and biomanufacturing business and engages in a significant amount of research and development. Similar to this, the need for single-use bioprocessing equipment is fueled by a growing focus on vaccine production to support local efforts at disease prevention. Additionally, the Bio-process System Alliance (BPSA)'s presence in North America, which promotes the use of single-use technology, is anticipated to significantly grow the region's disposable system sales.
Asia-Pacific is witness to expand fastest CAGR rate of 16.8% during the forecast period due to numerous investments from numerous international businesses. These investments help the important businesses establish a presence in the region and seize unexplored opportunities. Also, the trend of using disposables in CMOs combined with the increasing demand of contract service providers to expand their base in Asia Pacific serves as a motivator for ongoing investments by both domestic and international businesses. For instance, the Lonza drug research facility was expanded in Singapore in September 2022. In order to meet the expanding manufacturing demand in the area, the CDMO boosted its capacity.
Key Players
The major key players are Sartorius AG, Danaher Corp., Thermo Fisher Scientific, Inc., Merck KGaA, Avantor, Inc., Eppendorf SE, Corning Inc., Boehringer Ingelheim International GmbH, Lonza, Infors AG, PBS Biotech, Inc., and Others.
RECENT DEVELOPMENT
Boehringer Ingelheim, in April 2023 Boehringer Ingelheim opened its $386 million biologics development center in Germany. This facility was designed to create clinical trial materials as well as medicinal proteins and antibodies. The company's research pipeline comprises more than 50% of the plant.
Thermo Fisher Scientific, in March 2023, A new strategic partnership between Thermo Fisher Scientific and Arsenal Biosciences was announced in order to develop manufacturing procedures for cutting-edge cancer therapies. ArsenalBio has developed a productive manufacturing procedure for the next-generation, autologous programmable T cells for cancer treatment due to this research-focused collaboration.
Single-use Bioprocessing Market Report Scope:
Report Attributes
Details
Market Size in 2022
US$ 9.1 Billion
Market Size by 2030
US$ 41.5 Billion
CAGR
CAGR of 20.9% From 2023 to 2030
Base Year
2022
Forecast Period
2023-2030
Historical Data
2019-2021
Report Scope & Coverage
Market Size, Segments Analysis, Competitive Landscape, Regional Analysis, DROC & SWOT Analysis, Forecast Outlook
Key Segments
• By Product (Work Equipment, Apparatus & Plants, Simple & Peripheral Elements)
• By Workflow (Upstream Bioprocessing, Fermentation, Downstream Bioprocessing)
• By End User (Biopharmaceutical & Pharmaceutical companies, Contract Research Organizations and contract manufacturing organizations (CROs & CMOs), Academic & Research institutes)
Regional Analysis/Coverage
North America (US, Canada, Mexico), Europe (Eastern Europe [Poland, Romania, Hungary, Turkey, Rest of Eastern Europe] Western Europe] Germany, France, UK, Italy, Spain, Netherlands, Switzerland, Austria, Rest of Western Europe]), Asia Pacific (China, India, Japan, South Korea, Vietnam, Singapore, Australia, Rest of Asia Pacific), Middle East & Africa (Middle East [UAE, Egypt, Saudi Arabia, Qatar, Rest of Middle East], Africa [Nigeria, South Africa, Rest of Africa], Latin America (Brazil, Argentina, Colombia Rest of Latin America)
Company Profiles
Sartorius AG, Danaher Corp., Thermo Fisher Scientific, Inc., Merck KGaA, Avantor, Inc., Eppendorf SE, Corning Inc., Boehringer Ingelheim International GmbH, Lonza, Infors AG, PBS Biotech, Inc.
Key Drivers
• Growing demand for biopharmaceuticals
Market Opportunity
• Emerging Market for Single-use Bioprocessing Market