Report Scope & Overview:
The Smart Road Market size was valued at USD 12.7 billion in 2022. It is estimated to hit USD 87.58 billion by 2030 and grow at a CAGR of 27.3% over the forecast period of 2023-2030.
The Smart Road Market encompasses advanced technologies and innovative solutions for modern transportation systems. This market is driven by the increasing need for efficient and safe road networks, as well as the rising demand for intelligent transportation systems. Smart roads are equipped with a range of advanced technologies, such as sensors, cameras, and communication systems, which enable real-time data collection and analysis. These technologies play a crucial role in enhancing road safety, reducing traffic congestion, and improving overall transportation efficiency.
One of the key drivers of the Smart Road Market is the growing urbanization and population density in many regions across the globe. As cities become more crowded, the need for intelligent transportation systems becomes paramount. Smart roads offer a solution by providing real-time traffic information, intelligent traffic management systems, and automated toll collection, among other features. Moreover, the increasing adoption of connected and autonomous vehicles (CAVs) is also fueling the growth of the Smart Road Market. These vehicles rely on smart road infrastructure to communicate with each other and with the surrounding environment, enabling safer and more efficient transportation. As the demand for CAVs continues to rise, the need for smart road infrastructure will also increase, creating significant opportunities for market players.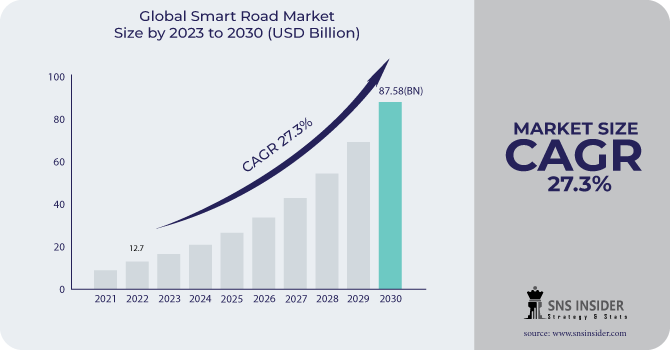 In addition, governments and transportation authorities are actively investing in smart road projects to address the challenges posed by urbanization and traffic congestion. These initiatives aim to create sustainable and intelligent transportation systems that can adapt to the evolving needs of modern cities. As a result, the Smart Road Market is witnessing substantial investments and collaborations between public and private entities. However, the market also faces certain challenges that need to be addressed for its sustained growth. These challenges include the high cost of implementing smart road infrastructure, interoperability issues, and concerns regarding data privacy and security.
Market Dynamics
Drivers
Increasing demand for efficient and sustainable transportation solutions

Surge in urbanization and industrialization

Growing adoption of connected and autonomous vehicles (CAVs)
Connected and autonomous vehicles refer to technologically advanced automobiles that are equipped with various sensors, communication systems, and artificial intelligence capabilities. These vehicles can communicate with each other, as well as with the surrounding infrastructure, such as traffic lights, road signs, and smart roads. The rise in CAVs has led to a demand for smart roads, which are designed to accommodate and support these vehicles' unique requirements. Smart roads incorporate advanced technologies and infrastructure to enhance safety, efficiency, and overall performance on the roadways.
One of the key reasons behind this growing adoption is the potential benefits that CAVs offer. These vehicles have the ability to reduce accidents and traffic congestion, improve fuel efficiency, and provide a more comfortable and convenient driving experience. As a result, governments, automotive manufacturers, and technology companies are investing heavily in the development and deployment of CAVs. Moreover, smart roads can facilitate the seamless integration of CAVs into existing transportation systems. They can provide dedicated lanes or priority access for autonomous vehicles, ensuring smooth and efficient movement. Additionally, smart roads can support the charging infrastructure for electric CAVs, promoting the adoption of sustainable transportation.
Restrain
High initial investment required for the implementation of the smart roads

Lack of standardized regulations and interoperability among different smart road systems
Opportunities
Integration of emerging technologies such as Internet of Things (IoT), artificial intelligence (AI), and big data analytics
Challenges
Maintenance and upgradation of smart road systems

Lack of public awareness and understanding of smart road technologies

Issue of data privacy and security
As smart roads collect vast amounts of data, including vehicle information, driver behavior, and traffic patterns, ensuring the privacy and security of this data becomes paramount. Robust cybersecurity measures, encryption techniques, and strict data protection regulations must be implemented to safeguard the collected information and build trust among users.
Impact of Russia-Ukraine War:
The Russia-Ukraine war has caused severe economic disruption in both countries, leading to a decline in infrastructure investments. For instance, in 2022, due to this war, Ukraine's GDP contracted by almost 30%. As a consequence, the development and implementation of smart road technologies have been hindered. The uncertainty surrounding the conflict has made investors hesitant to commit to long-term projects, resulting in a slowdown in the growth of the smart road market.
The conflict has also caused extensive damage to the existing road infrastructure in Ukraine. A sum of 37 billion U.S. dollars was reported as losses incurred due to infrastructure damages between February 2022 and February 2023. This destruction has further delayed the adoption of smart road technologies, as resources and funds are diverted toward reconstruction efforts. The need to rebuild basic road infrastructure has taken precedence over the implementation of advanced smart road systems.
The Russia-Ukraine war has raised security concerns, not only in the affected regions but also in neighboring countries. Smart road technologies, such as intelligent traffic management systems and vehicle-to-infrastructure communication, heavily rely on secure networks. The ongoing conflict has disrupted communication networks and compromised the security of these systems, making it challenging to ensure the safe and efficient operation of smart roads.
Impact of Recession:
The recession has undoubtedly affected the Smart Road Market, causing a slowdown in its growth. One of the primary reasons for this impact is the reduction in government spending on infrastructure projects. During an economic downturn, governments often prioritize budget cuts, leading to a decrease in funding for smart road initiatives. This decline in investment has hindered the development and implementation of smart road technologies, thereby impeding market growth. Furthermore, the recession has also affected consumer behavior and purchasing power. With economic uncertainty, individuals and businesses tend to reduce their spending on non-essential items, including smart road technologies. This decline in demand has further contributed to the market's contraction during the recession.
Market segmentation
By Technology
Monitoring System

Intelligent Management System

Intelligent Transportation Management System

Communication System

Others
By Component
Software

Hardware

Services
By Deployment Mode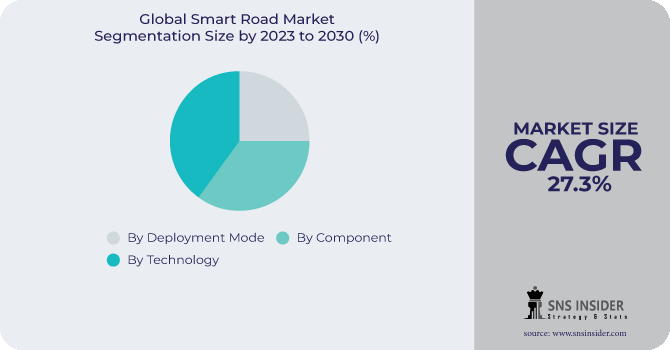 Regional Analysis
North America dominated the smart road market with the largest revenue share of about 48.2% and is expected to grow significantly during the forecast period of 2023-2030. The main reason behind this dominance is the region's robust infrastructure and technological advancements have laid a solid foundation for the implementation of smart road systems. With well-developed transportation networks and a proactive approach toward innovation, North America has been able to swiftly adopt and integrate smart road technologies. One of the driving factors behind the market growth in North America is the increased transportation demands and the need for the construction and maintenance of damaged roads. As a result, the demand for smart road solutions has been steadily rising in the region. In November 2022 when the Biden Administration successfully passed a historic investment in the country's infrastructure. This investment, amounting to a total spending of $1.2 trillion, marks the largest since the approval of the Interstate Highway System back in 1956.
Moreover, the region's strong economic growth and increasing urbanization have fueled the demand for efficient and sustainable transportation solutions. Smart roads, with their ability to enhance traffic management, reduce congestion, and improve safety, have emerged as a viable solution to address these challenges. Consequently, North American governments and transportation authorities have been actively investing in smart road initiatives, further bolstering the market's growth.
Asia Pacific is projected to grow with the highest CAGR during the forecast period. The region's rapid urbanization and population growth have led to an increased demand for efficient transportation systems. Smart roads, equipped with advanced technologies, offer improved traffic management, reduced congestion, and enhanced safety measures, making them an attractive solution for the region's burgeoning cities. Moreover, governments in the Asia Pacific region are actively investing in infrastructure development, including smart road initiatives. These investments aim to address the challenges posed by urbanization, such as traffic congestion and environmental concerns. By implementing smart road technologies, governments can optimize traffic flow, reduce emissions, and enhance overall transportation efficiency.
REGIONAL COVERAGE:
North America
Europe
Eastern Europe

Poland

Romania

Hungary

Turkey

Rest of Eastern Europe

Western Europe

Germany

France

UK

Italy

Spain

Netherlands

Switzerland

Austria

Rest of Western Europe
Asia Pacific
China

India

Japan

South Korea

Vietnam

Singapore

Australia

Rest of Asia Pacific
Middle East & Africa
Middle East

UAE

Egypt

Saudi Arabia

Qatar

Rest of Middle East

Africa

Nigeria

South Africa

Rest of Africa
Latin America
Brazil

Argentina

Colombia

Rest of Latin America
Key Players
The major key players are Indra Sistemas, Huawei, Siemens AG, Alcatel Lucent, Kapsch AG, S.A., LG CNS, Cisco, Kapsch TrafficCom, Xerox Corporation, and other key players mentioned in the final report.
Recent Development:
In Jan 2021, Huawei, a Chinese technology company, made significant advancements by developing intelligent road systems that communicate with autonomous vehicles.
Smart Road Market Report Scope:
Report Attributes
Details
Market Size in 2022
US$ 12.7 Bn
Market Size by 2030
US$ 87.58 Bn
CAGR
CAGR of 27.3 % From 2023 to 2030
Base Year
2022
Forecast Period
2023-2030
Historical Data
2020-2021
Report Scope & Coverage
Market Size, Segments Analysis, Competitive Landscape, Regional Analysis, DROC & SWOT Analysis, Forecast Outlook
Key Segments
• By Technology (Monitoring System, Intelligent Management System, Intelligent Transportation Management System, Communication System, and Others)
• By Component (Software, Hardware, and Services)
• By Deployment Mode (Cloud and On-Premise)
Regional Analysis/Coverage
North America (US, Canada, Mexico), Europe (Eastern Europe [Poland, Romania, Hungary, Turkey, Rest of Eastern Europe] Western Europe] Germany, France, UK, Italy, Spain, Netherlands, Switzerland, Austria, Rest of Western Europe]). Asia Pacific (China, India, Japan, South Korea, Vietnam, Singapore, Australia, Rest of Asia Pacific), Middle East & Africa (Middle East [UAE, Egypt, Saudi Arabia, Qatar, Rest of Middle East], Africa [Nigeria, South Africa, Rest of Africa], Latin America (Brazil, Argentina, Colombia Rest of Latin America)
Company Profiles
Sistemas, Huawei, Siemens AG, Alcatel Lucent, Kapsch AG, S.A., LG CNS, Cisco, Kapsch TrafficCom, Xerox Corporation
Key Drivers
• Increasing demand for efficient and sustainable transportation solutions
• Surge in urbanization and industrialization
• Growing adoption of connected and autonomous vehicles (CAVs)
Market Restraints
• High initial investment required for the implementation of the smart roads
• Lack of standardized regulations and interoperability among different smart road systems