Report Scope & Overview:
Swarm Robotics Market size was valued at USD 0.76 billion in 2022 and is expected to grow to USD 6.53 billion by 2030 and grow at a CAGR of 30.85 % over the forecast period of 2023-2030.
The swarm robotics industry is divided into three categories based on application security inspection and monitoring, mapping and surveying, and warehouse management, search and rescue, and other things. From 2023 to 2032, the mapping and surveying market is anticipated to expand at a CAGR of more than 28%. Applications for mapping and surveying are leading the growth of swarm robotics. Swarms of robots outfitted with cutting-edge sensors, like LiDAR sensors and cameras, cooperate in these applications to gather precise geospatial data across large areas. Cartography, land surveying, and 3D mapping can all benefit from swarm robots' considerable speedup of mapping and surveying procedures. The deployment of numerous robots simultaneously enables effective data redundancy and coverage, ensuring high-quality data. The swarm robotics market is divided into Unmanned Ground Vehicles (UGV), Unmanned Aerial Vehicles (UAV), and others depending on platform. The market revenue attributed to unmanned aerial vehicles in 2022 was over 45%, and future growth is anticipated to be high. The core elements of swarm robotics are unmanned aerial vehicles (UAVs), sometimes known as drones, especially for applications requiring aerial monitoring, data collecting, and quick response. They provide special benefits including aerial perspective, mobility, and the capacity to enter risky or difficult-to-reach regions. UAV swarms in agriculture can monitor crops, evaluate soil quality, and precisely administer pesticides or fertilizers. They assist in search and rescue operations and quickly assess the situation during disaster response. Environmental monitoring can use UAV swarms to gather data.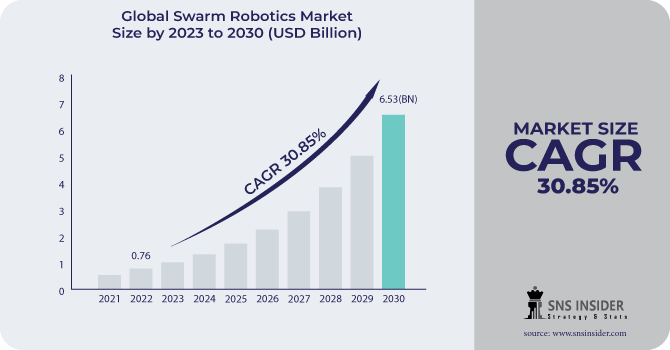 KEY DRIVERS:
Increasing swarm-based drone deployment in the military
Swarm-based drones can easily and cheaply cover enormous regions, which has led to an increase in their use for military activities. These swarm-based drones are also employed during natural disasters like earthquakes, forest fires, and floods. UAVs are widely utilized in a variety of military activities, including surveillance, search and rescue, traffic and weather monitoring, and firefighting. The market is expanding due to the increased use of swarm drones in the military and the expansion of research & development into this swarm technology. For instance, the Indian Army received SWARM drones from Research in 2023, making it the first major military force in the world to operationalize these drones.
RESTRAIN:
Difficulties with the technology and high startup costs
Swarm robotics' ability to be autonomous, decentralized, and other features make it strategic for many potential future use cases but also prevent the technology from progressing from research labs to scalable industrial solutions. To coordinate their actions, swarm robots must be able to communicate with one another. Complex surroundings, such as those with a lot of noise or interference, might make this difficult. In some circumstances, if global communication is hindered, robot swarms are unable to finish a mission. Despite the availability of a number of wireless technologies, swarm robotics-specific protocols are yet unknown. Additionally, impediments to market expansion include high initial investment costs associated with intelligence, high research expenditures, etc.
High initial investment costs associated with intelligence, high research expenditures, etc.
OPPORTUNITY:
Integrating swarm intelligence with linked autos
The swarm robots are anticipated to benefit from connected automobiles' increased market share. Sensors and communication tools in connected automobiles enable them to interact with the environment and other road users. They are the perfect platforms for swarm robotics applications because of this. Drivers can connect to web platforms and engage in real-time communication thanks to connected cars. Government mandates on telematics applications, the development of intelligent transportation systems (ITS), expanding urbanization, and rising demand for usage-based insurance (UBI) are the main factors driving the growth of this market.
CHALLENGES:
Reluctant to adopt new technologies and there is a lack of knowledge of swarm intelligence.
Although there is now little information available on the market about swarm robots, things are anticipated to improve over the next several years. Users are ignorant of the benefits of swarm intelligence, such as decentralization, resilience, flexibility, and scalability, due to a lack of information. They are less inclined to use this technology as a result. The gradual acceptance of swarm technology and robotics is anticipated to expand in the next years due to this information wave that has been enlightening and educating end users.
Limited real-world testing
IMPACT ANALYSIS
IMPACT OF RUSSIAN UKRAINE WAR
These occurrences are by no means isolated situations. In recent years, drones have solidified their place in conventional warfare. The Russian invasion of Ukraine also demonstrates that these unmanned remote-controlled vehicles are a necessary but insufficient tool for winning modern wars. However, depending on how one defines the game, drones may not have the "game-changing effect" that the media claims they do every time a new kind of drone is detected on the battlefield. This little distinction makes it easier to distinguish between drones that can project airpower and drones that are intended to be used only once. For example, it doesn't seem like the huge drones used in counterterrorism operations in Afghanistan, Iraq, Pakistan, Somalia, Syria, and other places are the best ones for the conflict in Ukraine. These drones' airborne use Due to their lengthy endurance for surveillance and remote strikes, the use of these drones in air operations is most effective in uncontested airspaces during asymmetric battles. However, when no side controls the skies during violent gun conflicts, these big aerial systems become vulnerable.
MARKET SEGMENTATION
By Platform
Unmanned Ground Vehicles (UGVs)
Unmanned Aerial Vehicles (UAVs)
Others
By Application
Security, Inspection & Monitoring
Mapping & Surveying
Search & Rescue and Disaster Relief
Supply Chain and Warehouse Management
Others
By End Use Industry
Military & Defense
Industrial
Agriculture
Healthcare
Others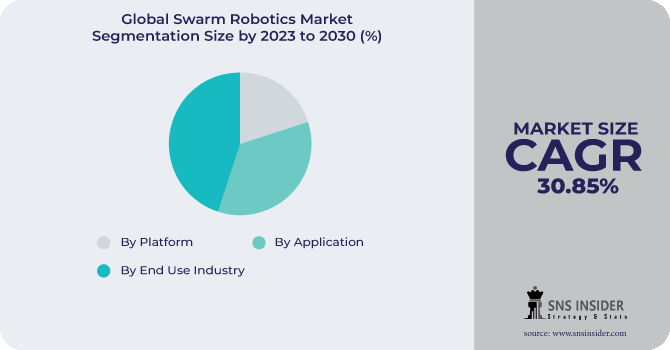 REGIONAL ANALYSIS
Global swarm robots' sales are dominated by North America. A strong ecosystem of technology firms, academic institutions, and startups dedicated to creating and implementing swarm robotic solutions exists in the area. Swarm robots is used in a variety of fields in the United States, including agriculture, logistics, defence, and healthcare. Swarm robots are utilized in precision agriculture as a primary growth engine for operations including crop monitoring, planting, and harvesting. Swarm robots is used in the North American defence industry for tasks like border security, reconnaissance, and surveillance. Robot swarms are deployed to collect real-time data to improve operational situational awareness. During the projection period, it is estimated that the North American Swarm Robotics Market would take a 28.4% share and establish itself as the leading one. The military is projected to invest more in drones, and the robotics and artificial intelligence business in the region is predicted to grow quickly. North America is presently one of the top markets due to the region's access to talented workers and quick technology improvements. for swarm intelligence.
During the projection period, the European Swarm robotics Market is expected to hold 23.2% of the global market. Demand for this market is anticipated to be driven by more automation uses and the application's capacity to eradicate cancerous tumours. Additionally, this region's healthcare industry is expanding quickly, which increases the likelihood that Swarm robotics Market will flourish. market assessment.
REGIONAL COVERAGE:
North America
Europe
Eastern Europe

Poland
Romania
Hungary
Turkey
Rest of Eastern Europe

Western Europe

Germany
France
UK
Italy
Spain
Netherlands
Switzerland
Austria
Rest of Western Europe
Asia Pacific
China
India
Japan
South Korea
Vietnam
Singapore
Australia
Rest of Asia Pacific
Middle East & Africa
Middle East

UAE
Egypt
Saudi Arabia
Qatar
Rest of Middle East

Africa

Nigeria
South Africa
Rest of Africa
Latin America
Brazil
Argentina
Colombia
Rest of Latin America
KEY PLAYERS
Major vendors in the swarm robotics companies include Hydromea (Switzerland), Boston Dynamic (US), SwarmFarm (Australia), Swarm Technology (US), Sentien Robotics (US), Berkeley Marine Robotics (US), Swisslog Holding AG (Switzerland), FARobot, Inc (Taiwan), K-Team Corporation (Switzerland), KION Group AG (Germany), and other players are listed in a final report.
Hydromea (Switzerland)-Company Financial Analysis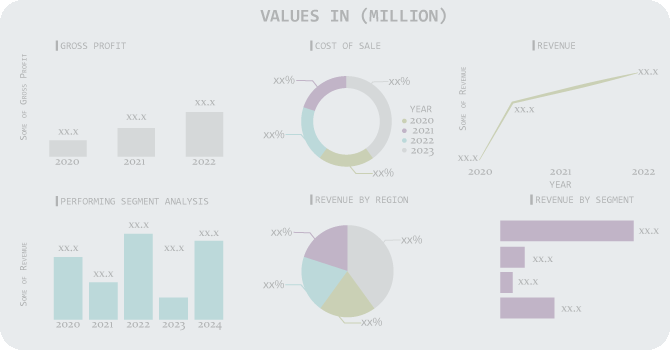 RECENT DEVELOPMENT
Exyn Technologies declared in February 2023 that they will collaborate with Easy Aerial to introduce their new flagship airframe, the ExynAeroTM EA6, which is integrated with ExynAlTM and tailored for Exyn's various use cases.
The Generation Robots group, which consists of the companies Generation Robots and Humarobotics, announced in May 2023 that it had acquired a 3-million-euro initial round of funding from AQUITI Gestion and GT Logistics. This transaction represents a significant turning point for the group's growth and exhibits investors' faith in its future.
Swarm Robotics Market Report Scope:
Report Attributes
Details

Market Size in 2022

US$ 0.76 billion

Market Size by 2030

US$ 6.53 billion

CAGR

CAGR of 30.85% From 2023 to 2030

Base Year

2022

Forecast Period

2023-2030

Historical Data

2019-2021

Report Scope & Coverage

Market Size, Segments Analysis, Competitive Landscape, Regional Analysis, DROC & SWOT Analysis, Forecast Outlook

Key Segments

By Platform (Unmanned Ground Vehicles (UGVs), Unmanned Aerial Vehicles (UAVs), Others), By Application (Security, Inspection & Monitoring, Mapping & Surveying, Search & Rescue and Disaster Relief, Supply Chain and Warehouse Management, Others), By End Use Industry (Military & Defense, Industrial, Agriculture, Healthcare, Others)

Regional Analysis/Coverage

North America (US, Canada, Mexico), Europe (Eastern Europe [Poland, Romania, Hungary, Turkey, Rest of Eastern Europe] Western Europe] Germany, France, UK, Italy, Spain, Netherlands, Switzerland, Austria, Rest of Western Europe]), Asia Pacific (China, India, Japan, South Korea, Vietnam, Singapore, Australia, Rest of Asia Pacific), Middle East & Africa (Middle East [UAE, Egypt, Saudi Arabia, Qatar, Rest of Middle East], Africa [Nigeria, South Africa, Rest of Africa], Latin America (Brazil, Argentina, Colombia Rest of Latin America)

Company Profiles

Hydromea (Switzerland), Boston Dynamic (US), SwarmFarm (Australia), Swarm Technology (US), Sentien Robotics (US), Berkeley Marine Robotics (US), Swisslog Holding AG (Switzerland), FARobot, Inc (Taiwan), K-Team Corporation (Switzerland), KION Group AG (Germany)

Market Opportunities

• Integrating swarm intelligence with linked autos
• Reluctant to adopt new technologies and there is a lack of knowledge of swarm intelligence.

Market Challenges

• Limited real-world testing