Report Scope & Overview:
The Smart Port Market size was valued at USD 2.08 billion in 2022 and is expected to grow to USD 11.70 billion By 2030 and grow at a CAGR of 24.1 % over the forecast period of 2023-2030.
A smart port is a contemporary and innovative port that uses sophisticated digital technologies to improve operational efficiency, safety, and security, such as the Internet of Things (IoT), big data analytics, and automation. A smart port's goal is to enhance the whole port ecosystem, including infrastructure, equipment, and labor, in order to produce a more sustainable, efficient, and resilient port. Smart ports are specially developed to address the issues that traditional ports encounter, such as congestion, delays, inefficiency, and environmental concerns. Smart ports can automate and streamline multiple port processes, such as cargo handling, inventory management, and transportation logistics, by integrating digital technology. This may greatly cut the time and expense involved with port activities while also improving port safety and security.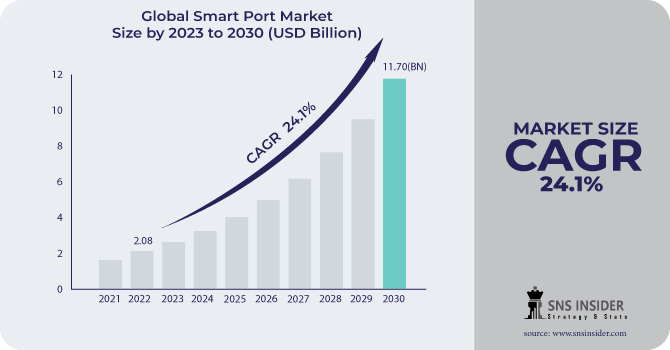 To get more information on Smart Port Market - Request Free Sample Report
Market Dynamics
Drivers
Expansion of international marine trade operations

An increase in the volume of online business transactions, particularly during and after COVID-19.
International trade relies heavily on maritime transit. Ocean shipping is the primary route of global trade, and according to UNCTAD, over 79% of the amount of international trade in products is transported by sea, with the percentage being much greater in most poor nations. This kind of transportation is less expensive and more practical for international trade than road, rail, and air travel. Global marine commerce increased by 4% in fiscal year 2021, according to UNCTAD, and is predicted to increase at a moderate annual pace of more than 2.48% from 2022 through 2027.
Restrains
Data breach risks and data protection for seaport customers

Lack of skilled workforce
Opportunities
Initiatives by governments to construct the smart port infrastructure.

Increasing Digitalization in vital sectors

The demand for real-time information and supply chain insight is growing.
Seaports play an important and necessary role in global supply chains and logistics. Ports must undergo a digital transformation at a time when all other market participants are well on their way to using the latest digital technologies. Ports are always under pressure to enhance their efficiency while cutting their costs. As ship sizes have expanded, competition has increased, shipping lines have gone digital, and there is greater rivalry among shipping lines, the government is placing pressure on ports to increase throughput capacity with the same infrastructure and more management. These are the motivations behind a port's choice to become digital with its operations. Around the world, there are many infrastructure advancements.
Challenges
Impact of the Russia-Ukraine War
The conflict between Russia and Ukraine can disrupt port operations in the region, leading to delays, reduced capacity, and even temporary shutdowns. Smart port technologies heavily rely on smooth operations and data exchange, so any disruptions can hamper their effectiveness. In areas directly affected by the war, infrastructure damage is a major concern. Ports may suffer damage to their facilities, equipment, and communication networks, impacting the implementation and functioning of smart port technologies. The war and geopolitical tensions can deter foreign direct investment (FDI) in the smart port market. Investors may be hesitant to commit resources due to uncertain political and economic conditions. As a result, the development and expansion of smart port infrastructure and technologies may slow down. The conflict could lead to an increase in cybersecurity risks. Smart ports heavily rely on digital systems and networks for data exchange and control. In a volatile situation, the risk of cyberattacks and hacking attempts targeting critical infrastructure may rise, impacting the security and trustworthiness of smart port technologies.
In 2020, Russia's proportion of world GDP was 3.11%. Almost half of it is derived from foreign trade, specifically oil and gas exports. The immediate impact might be considerable. In Rotterdam, for example, freight from and to Russia accounts for 13% of the 470 million tonnes handled each year. The Eurasian country supplies 30% of crude oil, 25% of petrol, and 20% of oil products and coal to the port. Furthermore, 10% of container shipping is linked to Russia. Other northern-range industrial participants have similar dependencies.
Impact of the Recession
During a recession, businesses may cut back on capital expenditures, including investments in smart port technologies. The uncertainty and financial constraints of a recession could lead to a decline in funding for smart port projects, thereby slowing down the market's growth. Smart port initiatives often involve large-scale infrastructure development and technology implementation. In a recession, port authorities, shipping companies, and other stakeholders may delay or cancel these projects due to financial constraints or a focus on cost reduction.
Recessions typically result in reduced global trade and a decline in cargo volumes. When port traffic decreases, there may be less urgency to adopt or invest in smart port technologies. The demand for solutions like automated container handling, smart logistics, or real-time cargo tracking may be affected. During an economic downturn, companies may undergo restructuring efforts to reduce costs and streamline operations. This could lead to mergers, acquisitions, or partnerships in the Smart Port Market, as companies seek to optimize their resources and find efficiencies in the face of reduced demand. In times of recession, cost reduction becomes a priority for many businesses. Smart port technologies, while offering long-term benefits, often require significant upfront investments. However, if companies are facing financial constraints, they may prioritize short-term cost-cutting measures over long-term efficiency gains, potentially impacting the adoption of smart port solutions.
Key Market Segmentation
By Port Type
By Technology
By Element
Terminal Automation & Cargo Handling

Port Community Systems (PCS)

Smart Safety & Security

Smart Port Infrastructure
By Throughput Capacity
Extensively Busy Ports (Above 18 million TEU)

Moderately Busy Ports (5–18 million TEU)

Scarcely Busy Ports (Below 5 million TEU)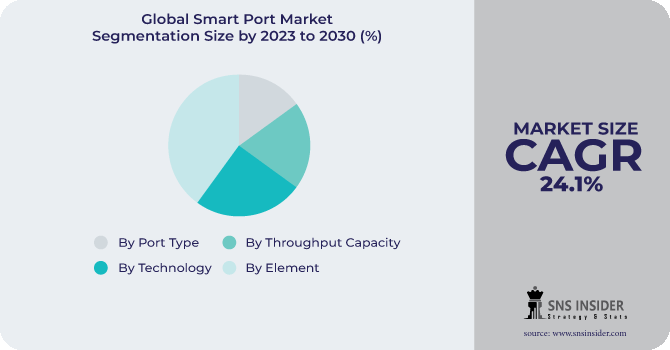 Need any customization research on Smart Port Market - Enquiry Now
Regional Analysis
The Asia Pacific area dominates worldwide marine trade. According to the UNCTAD Review on Marine Transport, the area will account for 53.8% of marine commerce in 2021. It is also regarded as a profitable place for marine trade. Asia Pacific has witnessed substantial economic expansion in the industrial and energy sectors in recent years, resulting in increased marine commerce activity. According to the Organization for Economic Cooperation and Development (OECD), marine commerce volumes are expected to quadruple by 2050, boosting global freight demand. The development in seaborne trade has resulted in an increase in demand for ships used to deliver produced commodities to various places across the world. According to the UNCTAD Maritime Transport 2021 study, rising nations, notably transitional economies in the Asia-Pacific region, accounted for 59% of global exports and 71% of commodities imports in 2020. Many of these East Asian countries, notably China, have grown. Furthermore, the amount of containerized traffic on the Transpacific route between North America and East Asia has increased. A lesser proportion of commerce was with developed countries, which produced 39% of global marine exports and 30% of global imports.
REGIONAL COVERAGE:
North America
Europe
Eastern Europe

Poland

Romania

Hungary

Turkey

Rest of Eastern Europe

Western Europe

Germany

France

UK

Italy

Spain

Netherlands

Switzerland

Austria

Rest of Western Europe
Asia Pacific
China

India

Japan

South Korea

Vietnam

Singapore

Australia

Rest of Asia Pacific
Middle East & Africa
Middle East

UAE

Egypt

Saudi Arabia

Qatar

Rest of Middle East

Africa

Nigeria

South Africa

Rest of Africa
Latin America
Brazil

Argentina

Colombia

Rest of Latin America
Key Players
The major players are Wipro, IBM, Siemens, TCS, General Electric, Accenture, Microsoft, Port of Rotterdam, ABB, Royal Haskoning, Kalmar, Trelleborg, Ramboll Group, Navis, Abu Dhabi Ports, Awake.AI, and others in the final report.
Recent Developments:
In June 2022, ABB and the Port of Toulon, France, were awarded a contract to connect the largest shore-to-ship project in France. At a key juncture in its sustainability endeavor, the Port of Toulon, which serves over 1.6 million ferry and cruise passengers each year, is dedicated to ABB shore connection technology. The ABB system could meet the energy needs of three ferries performing simultaneous port calls or one cruise liner. Power connections at 50 or 60 Hz will be provided for boats.
Accenture purchased the Argentina-based integrated data and AI consultancy provider Ergo in April 2022. It contributed to the development of a data-driven decision-making culture through the use of analytics, artificial intelligence (AI), and big data. Accenture's Cloud First capabilities will be expanded in the Hispanic South American region, which encompasses Argentina, Chile, and Colombia, to enable data-led transformations for customers.
Smart Port Market Report Scope:
Report Attributes
Details
Market Size in 2022
US$ 2.08 Bn
Market Size by 2030
US$ 11.70 Bn
CAGR
CAGR of 24.1% From 2023 to 2030
Base Year
2022
Forecast Period
2023-2030
Historical Data
2020-2021
Report Scope & Coverage
Market Size, Segments Analysis, Competitive Landscape, Regional Analysis, DROC & SWOT Analysis, Forecast Outlook
Key Segments
• By Port Type (Seaport, Inland Port)
• By Technology (Internet of Things (IoT), Blockchain, Process Automation, Artificial Intelligence (AI))
• By Element (Terminal Automation & Cargo Handling, Port Community Systems (PCS), Smart Safety & Security, Traffic Management Systems (TMS), Smart Port Infrastructure)
• By Throughput Capacity (Extensively Busy Ports (Above 18 million TEU), Moderately Busy Ports (5–18 million TEU), Scarcely Busy Ports (Below 5 million TEU))
Regional Analysis/Coverage
North America (US, Canada, Mexico), Europe (Eastern Europe [Poland, Romania, Hungary, Turkey, Rest of Eastern Europe] Western Europe] Germany, France, UK, Italy, Spain, Netherlands, Switzerland, Austria, Rest of Western Europe]). Asia Pacific (China, India, Japan, South Korea, Vietnam, Singapore, Australia, Rest of Asia Pacific), Middle East & Africa (Middle East [UAE, Egypt, Saudi Arabia, Qatar, Rest of Middle East], Africa [Nigeria, South Africa, Rest of Africa], Latin America (Brazil, Argentina, Colombia Rest of Latin America)
Company Profiles
Wipro, IBM, Siemens, TCS, General Electric, Accenture, Microsoft, Port of Rotterdam, ABB, Royal Haskoning, Kalmar, Trelleborg, Ramboll Group, Navis, Abu Dhabi Ports, Awake.AI
Key Drivers
• Expansion of international marine trade operations
• An increase in the volume of online business transactions, particularly during and after COVID-19.
Market Restraints
• Data breach risks and data protection for seaport customers
• Lack of skilled workforce