REPORT SCOPE & OVERVIEW:
Sustainable Pharmaceutical Packaging Market size, was USD 127.69 billion in 2022 and is expected to Reach USD 265.85 billion by 2030 and grow at a CAGR of 9.73 % over the forecast period of 2023-2030.
The market for environmentally sustainable pharmaceutical packaging is the area of the packaging business that is concentrated on creating, manufacturing, and distributing packaging products and services for the pharmaceutical industry. It includes packaging options that minimize the negative effects of pharmaceutical packaging on the environment at every stage of its lifespan, from sourcing through use to disposal.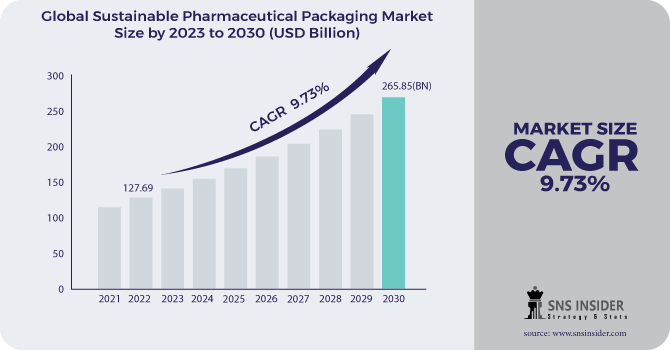 Get More Information on Sustainable Pharmaceutical Packaging Market - Request Sample Report
The goal of sustainable pharmaceutical packaging is to promote more environmentally friendly options while addressing the problems with current packaging materials like plastics. This entails cutting waste, lowering energy use, utilizing Green Packaging materials, and implementing packaging strategies that maximize resource efficiency.
In order to improve the functionality and safety of their packaging, package businesses are increasingly focused on the incorporation of dispensing mechanisms, administration aids, sustainable materials, tamper-evident features, and counterfeiting safeguards.
Key consideration in Pharmaceutical Packaging Market includes:
• Material Selection
• Resource Efficiency
• Recycling
• Safety
• Innovation & Technology
MARKET DYNAMICS
KEY DRIVERS:
• Preference for sustainable and eco-friendly packaging materials
Consumers are more concerned towards environment pollution and daily reduction of natural resource. Hence, they are shifting from old traditional method of packaging to new eco-friendly packaging which can be recycled, re used, and made from biodegradable and compostable material.
• Innovation & Technology Advancements
• Regulatory concerns
RESTRAIN:
• Increase in cost of Raw Materials
Since there is shift from traditional way of packaging to sustainable eco-friendly way, this will require new raw materials thus leading to increase in cost of overall packaging. This biodegradable waste is much expensive than traditional ones.
• Limited Material Option
• Limited consumer awareness
OPPORTUNITY:
• Increasing demand for primary pharmaceutical packaging
Pharmaceutical packaging products such as syringes, plastic bottles, and products come in direct contact with the medicine. Primary pharmaceutical packaging products are in huge demand due to consumer awareness regarding environmental pollution, government regulations, and restrictions.
• Increasing consumer awareness about sustainable plastic packaging can create opportunities for the industry.
• Collaboration with raw material suppliers, and manufacturers can create opportunities for the sustainable pharmaceutical packaging market.
CHALLENGES:
• Increase in raw materials prices
Fluctuations in the prices of raw materials can affect the pharmaceutical packaging industry since sustainable packaging will need different raw materials which will cost more than old traditional methods of packaging.
• Decreased profitability
IMPACT OF RUSSIAN UKRAINE WAR
The current conflict between Russia and Ukraine has the potential to have a variety of effects on the market for sustainable pharmaceutical packaging. The battle has hampered supply chains, which has slowed down the movement of raw commodities. The manufacture and distribution of pharmaceutical items have been hampered by this interruption, which has also impacted the availability of environmentally friendly packaging materials. Additionally, businesses have begun to put short-term concerns ahead of long-term sustainability initiatives as a result of the conflict's economic instability and uncertainty, which may have an impact on investment in sustainable packaging projects. Consumer desire for sustainable packaging solutions has also been impacted by market instability and shifting regulatory frameworks.
IMPACT OF ONGOING RECESSION
The market for sustainable pharmaceutical packaging may be significantly impacted by the prolonged recession. The demand for sustainable packaging solutions may diminish if businesses prioritise cost-cutting initiatives due to decreased consumer spending and financial restrictions. Delays in investments and innovation in sustainable packaging technologies may also be caused by the recession. Disruptions in the supply chain and shifting governmental priorities may make it more difficult to adopt sustainable packaging techniques. The adoption of sustainable pharmaceutical packaging, however, can be maintained with the help of encouraging government regulations and consumer awareness campaigns. Long-term environmental concerns and shifting consumer preferences for sustainable products, for example, create a platform for future growth.
IMPACT OF COVID-19
The COVID-19 pandemic has had an inconsistent impact on the market for sustainable pharmaceutical packaging. On the other side, the pandemic's increased demand for medicinal products has boosted packaging demands, particularly those for sustainable packaging. The emphasis on cleanliness and safety has also increased the value of safe and clean packaging. On the other hand, the adoption of sustainable packaging projects has been impacted by the pandemic's effects on global supply chains, reduced production capacity, and economic uncertainty. To maintain business continuation, companies may have changed their immediate objectives, potentially delaying or reducing sustainability measures.
KEY MARKET SEGMENTS
By Raw Material:
• Paper & Paperboards
• Plastic & Polymers
• Aluminium Foil
• Glass
• Others
By Product type:
• Primary
• Secondary
• Tertiary
By End users:
• Contract Packaging
• Institutional Pharmacy
• Retail Pharmacy
• Pharma Manufacturing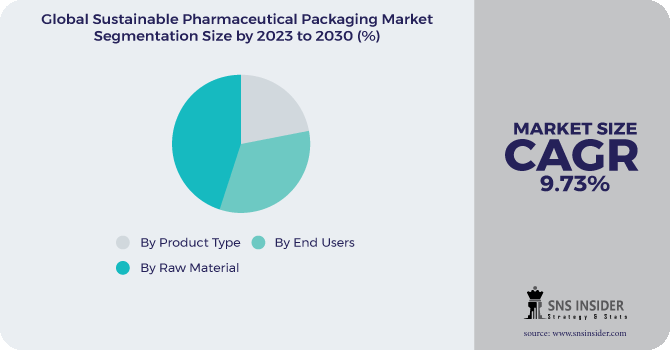 Get Customized Report as per Your Business Requirement - Request For Customized Report
REGIONAL ANALYSIS:
North America dominated the market in the year 2022 with the largest market share.
Asia Pacific region is likely to grow by 12% CAGR due to rising awareness amongst customers mostly in India and China. China will also dominate the Asia Pacific region market.
Europe will see slight growth due to high research & development.
REGIONAL COVERAGE:
North America
• USA
• Canada
• Mexico
Europe
• Germany
• UK
• France
• Italy
• Spain
• The Netherlands
• Rest of Europe
Asia-Pacific
• Japan
• South Korea
• China
• India
• Australia
• Rest of Asia-Pacific
The Middle East & Africa
• Israel
• UAE
• South Africa
• Rest of the Middle East & Africa
Latin America
• Brazil
• Argentina
• Rest of Latin American
RECENT DEVELOPMENT
Amcor added new, more sustainable High Shield laminates to its range of pharmaceutical packaging in 2022.

Use of Recyclable and Biodegradable Plastics Materials

Adoption of Circular Economy Principles

Regulatory Support and Guideline
Key players:
Some of the major players in the sustainable pharmaceutical packaging market are Vetter Pharma International, Schott AG, Amcor plc, Gerresheimer AG, AptarGroup Inc, Owens Illinois Inc, CCL Industries Inc, SGD Pharma, West Pharmaceutical Services Inc, Drug Plastics Group, WestRock Company, Becton, Dickinson, and Company, and other players.
Sustainable Pharmaceutical Packaging Market Report Scope:
Report Attributes
Details
Market Size in 2022
US$ 127.69 Bn
Market Size by 2030
US$ 265.85 Bn
CAGR
CAGR of 9.73% From 2023 to 2030
Base Year
2022
Forecast Period
2023-2030
Historical Data
2020-2021
Report Scope & Coverage
Market Size, Segments Analysis, Competitive Landscape, Regional Analysis, DROC & SWOT Analysis, Forecast Outlook
Key Segments
• By Raw material (Paper & Paper boards, Plastic & Polymers, Aluminium Foil, Glass, Others)
• By product type (Primary, Secondary, Tertiary)
• By End users (Contract Packaging, Institutional Pharmacy, Retail Pharmacy, Pharma Manufacturing)
Regional Analysis/Coverage
North America (USA, Canada, Mexico), Europe
(Germany, UK, France, Italy, Spain, Netherlands,
Rest of Europe), Asia-Pacific (Japan, South Korea,
China, India, Australia, Rest of Asia-Pacific), The
Middle East & Africa (Israel, UAE, South Africa,
Rest of Middle East & Africa), Latin America (Brazil, Argentina, Rest of Latin America)
Company Profiles
Vetter Pharma International, Schott AG, Amcor plc, Gerresheimer AG, AptarGroup Inc, Owens Illinois Inc, CCL Industries Inc, SGD Pharma, West Pharmaceutical Services Inc, Drug Plastics Group, WestRock Company, Becton, Dickinson, and Company
Key Drivers
• Preference for sustainable and eco-friendly packaging materials
Market Opportunities
• Increasing demand for primary pharmaceutical packaging