REPORT SCOPE & OVERVIEW:
The ASEAN Semiconductor Market size was valued at USD 28.22 Billion in 2022 and is expected to grow to USD 45.66 Billion by 2030 and grow at a CAGR Of 6.2% over the forecast period of 2023-2030.
The Association of Southeast Asian Nations (ASEAN) member countries' manufacture, distribution, and use of semiconductor devices is referred to as the ASEAN semiconductor market. Integrated circuits or chips, sometimes referred to as semiconductors, are crucial parts of laptops, smartphones, televisions, and automotive systems are just a few examples of the many electronic devices. Manufacturing of semiconductors, R&D, and supply chain management are just a few of the many operations that make up the ASEAN semiconductor sector.
The ASEAN semiconductor market, which includes the design, production, and distribution of semiconductor devices, is an essential part of the region's technology-driven sectors. The ASEAN semiconductor market is an essential source of innovation and power for a number of industries, including electronics, automotive, telecommunications, and healthcare.
To get more information on ASEAN Semiconductor Market - Request Free Sample Report
MARKET DYNAMICS
KEY DRIVERS:
In recent years, artificial intelligence has likely been the technology that manufacturers have used the most. The rationale is that it emphasizes the importance of hardware as a fundamental innovation facilitator, particularly for memory and logic operations. Integrated Al Circuits enhance the industry's overall architecture while accelerating data transfer more effectively and powerfully across memory systems. The development of Al in this industry is accelerating due to the public and commercial sectors' increasing need for components made of aluminium. For the major ASEAN semiconductor market participants, artificial intelligence for electric vehicles, sophisticated driver assistance systems, facial recognition, navigation, personal assistant, etc., presents a wealth of market potential.
RESTRAIN:
Technological complexity and short product lifecycles

Industry growth is hampered by a lack of intellectual property (IP) protection rights.
Protection of intellectual property (IP) is crucial for giving IP owners a competitive advantage and a guaranteed return on investment for discoveries. Due to their rapid economic development and plenty of prospective business possibilities, ASEAN nations have become a popular destinations for SMEs. The ASEAN nations must alter their fundamental manufacturing processes and export commodities that point towards high-value, innovative goods and services in order to ensure sustainable economic growth and high-income status.
OPPORTUNITY:
Emerging Applications and Industries

Collaboration and Partnerships
Partnerships between government agencies, research institutions, and semiconductor businesses promote technology transfer, knowledge sharing, and joint innovation projects.
CHALLENGES:
Connections and linked devices expose users to more security threats and pose a hazard to the connected device. To improve the services, security, and user experiences of their goods, numerous top companies are coordinating their whole ecosystems. The chip manufacturers make a big effort to boost the product's value by including security functionality in their products. The cost of gadgets is inexpensive in the current linked loT industry. Consequently, these chips raise the product's worth. lowering the price and necessity of additional components. Leading figures in the ASEAN semiconductor market form alliances with businesses that can help them integrate security into the chips. This pattern should continue and have an impact.
IMPACT ANALYSIS
IMPACT OF RUSSIAN UKRAINE WAR
Ukraine and Russia both have important roles in the international supply chains for semiconductors, just like Taiwan. Ukraine is a prominent supplier and source of raw materials, such as semiconductor-grade neon used in the production of semiconductors. In a similar vein, Russia is a major supplier of palladium used in numerous chips for sensors and memory. In actuality, it makes up 45% of the world's supply.
Ukraine is one of the world's top suppliers of neon gas and now provides up to 40% of the neon gas used in Asia to manufacture memory chips. Since neon is a necessary component of the lithographic process used to create semiconductor chips, semiconductor-exposure firms account for 70% of the entire neon demand. As a result, neon prices increased significantly during the 2014–2015 conflict in Ukraine. The other two noble gases required to make semiconductors, krypton, and xenon, are produced in Ukraine in proportions of 40% and 30%, respectively.
IMPACT OF ONGOING RECESSION
The global economic downturn is having an impact on the Semiconductor or chip industry. In addition. Spending on semiconductor fabs (or chipmaking units) is declining as a result of a decline in global demand from users of electronics and other chips by over 30%. A slowdown in chip demand in India could cause the anticipated investments in semiconductor manufacturing worth Rs 90,000 crore to be postponed. Consumer electronics, which has been hit by the financial crisis, are increasingly driving the semiconductor business. Layoffs have occurred in semiconductor manufacturing and design divisions across the globe. Start-ups that are short on funds may suffer since it is difficult for them to obtain finance. If the parent firm decides to discontinue a specific product line or business unit globally, the captive in India will also be affected.
KEY MARKET SEGMENTS
By Components
Memory Devices

Logic Devices

Analog IC

MPU

Discrete Power Devices

MCU

Sensors

Others
By Application
Networking & Communications

Data Processing, Industrial

Consumer Electronics

Automotive

Government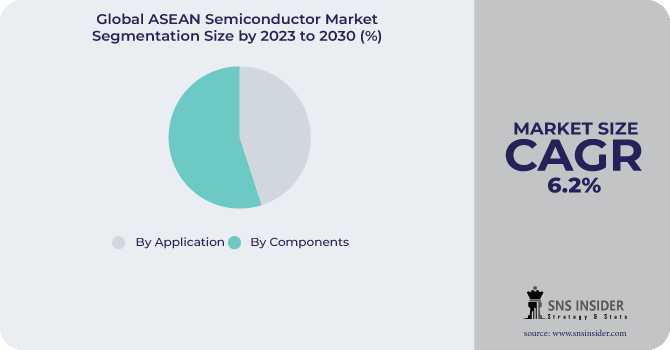 Need any customization research on ASEAN Semiconductor Market - Enquiry Now
REGIONAL ANALYSIS
ASEAN serves as a key Asian manufacturing hub for semiconductors. The ASEAN Economic Community (AEC) integration plan's execution aims to boost intra- and interregional trade while luring multinational corporations to invest in new technologies and their production.
According to projections, Vietnam's emerging electronics and electrical (E&E) manufacturing industry will experience the highest growth rate.
Vietnam has had the largest escalation in this area among all the ASEAN nations. In the past ten years, the region has seen a significant increase in the number of electronics manufacturers working in technological advancement and exporting significant amounts of (cheap) electronics. According to HSBC's worldwide Navigator study from April 26, 2021, Vietnam has seen an increase in inward manufacturing investment of 18% this year. Thailand and the Philippines have seen a considerable increase in net FDI (foreign direct investments) is anticipated to fuel the ASEAN market's expansion.
By enhancing product sourcing, designing, manufacturing, and testing to make sure the finished product satisfies the needs of the end user, semiconductor industry firms throughout the ASEAN countries level up the entire supply chain ecosystem.
REGIONAL COVERAGE:
Asia-Pacific
Japan

South Korea

China

India

Australia

Vietnam

Taiwan

Rest of Asia-Pacific
KEY PLAYERS
The Major Players are Intel Corporation (California, United States), Qualcomm (California, United States), Samsung Electronics (Suwon-si, South Korea), SK hynix (Gyeonggi, South Korea), Taiwan Semiconductors (Hsinchu, Taiwan), Texas Instruments (Texas, United States), Toshiba Corporation (Tokyo, Japan), Rohm Semiconductor (kyoto, Japan), Renesas Electronics Corporation (Tokyo, Japan), Micron Technology (Idaho, United States), NVIDIA Corporation (California, United States), NXP Semiconductors N.V. (Eindhoven, the Netherlands) and other players are listed in the final report.
RECENT DEVELOPMENTS
In March 2021, Toshiba Electronic Products and Storage Corporation will build a 300-millimeter water fabrication facility at its Kaga, Japan, site to increase the production capacity of its power products. Mass production is anticipated to begin in the first half of FY 2023.

In January 2021, ROHM CO, LTD. unveiled the CSL1501RW, an ultra-compact side-emitting infrared LED that is intended for head-mounted MR/VRAR (virtual reality, XR) gaming systems and industrial headset displays. The CSL1501 RW provides an industry-small side-view design with a top wavelength of 860 nm, producing light parallel to the mounting surface and offering remarkable design flexibility.
ASEAN Semiconductor Market Report Scope:
Report Attributes
Details
Market Size in 2022
US$ 28.22 Bn
Market Size by 2030
US$ 45.66 Bn
CAGR
CAGR of 6.2 % From 2023 to 2030
Base Year
2022
Forecast Period
2023-2030
Historical Data
2020-2021
Report Scope & Coverage
Market Size, Segments Analysis, Competitive Landscape, Regional Analysis, DROC & SWOT Analysis, Forecast Outlook
Key Segments
• By Type ( 4-inch SiC Wafer, 6-inch SiC Wafer)
• By Application (Power Devices, Electronics, and Optoelectronics, Wireless Infrastructure, and Others)
Regional Analysis/Coverage
Asia Pacific (Japan, South Korea, China, India, Australia, Vietnam, Taiwan, Rest of Asia Pacific)
Company Profiles
Intel Corporation (California, United States), Qualcomm (California, United States), Samsung Electronics (Suwon-si, South Korea), SK hynix (Gyeonggi, South Korea), Taiwan Semiconductors (Hsinchu, Taiwan), Texas Instruments (Texas, United States), Toshiba Corporation (Tokyo, Japan), Rohm Semiconductor (kyoto, Japan), Renesas Electronics Corporation (Tokyo, Japan), Micron Technology (Idaho, United States), NVIDIA Corporation (California, United States), NXP Semiconductors N.V.
Key Drivers
• Growing automotive sector
• Combining blockchain technology with all to boost product sales
Market Opportunities
• Emerging Applications and Industries
• Collaboration and Partnerships