Report Scope & Overview:
The Nickel Metal Hydride (NiMH) Battery Market size was valued at USD 2.35 billion in 2022 and is expected to grow to USD 3.00 billion by 2030 and grow at a CAGR of 3.1% over the forecast period of 2023-2030.
The growing demand for Ni-MH batteries in the automotive industry, the global nickel-metal hydride (Ni-MH) battery market is anticipated to expand significantly during the anticipated period. Nickel-metal hydride (Ni-MH) batteries are increasingly being used in hybrid vehicles like HEVs and PHEVs. Although they make up a small percentage of the passenger vehicle market, hybrid automobiles are quickly growing. The majority of hybrid automobiles on the market today employ Ni-MH batteries. Ni-MH batteries are also used in emergency call and telematics systems for vehicles. In addition, these batteries' broad temperature range of -30 C to +75 C and quick charging capability made them suitable for the automotive industry.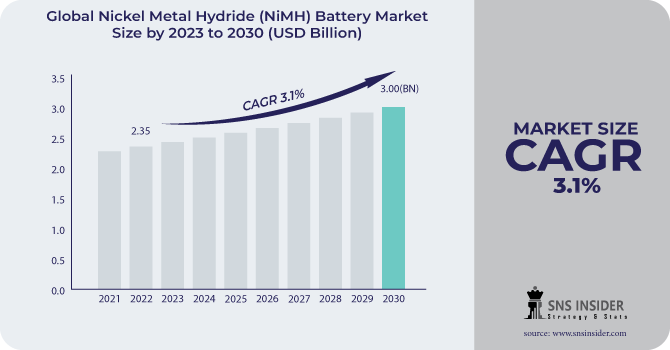 Batteries made on nickel metal hydride are frequently employed in numerous applications. The majority of consumer electronics, including laptop computers, digital cameras, and cell phones, employ them. Additionally, they are utilized in forklifts, golf carts, hybrid and electric cars, as well as other types of transportation. Batteries made of nickel metal hydride have a high energy density, a low rate of self-discharge, and a long cycle life. In comparison to other rechargeable battery chemistries, they are also greener. As a result of their dependability and efficiency, Nickel Metal Hydride batteries are growing in popularity.
KEY DRIVERS:
NiMH batteries can be utilized for numerous industrial, commercial, and residential applications that require emergency power backup. They are superior to other battery kinds, such as alkaline and NiCd batteries, in terms of features like extended life and high energy density, making them perfect for a variety of applications. Important sectors of the power, utility, and communications industries employ NiMH batteries. As an illustration, smart meters and other utility equipment employ NiMH batteries. NiMH batteries are ideal for these applications because they provide a dependable power supply that is rapid and simple to charge.
RESTRAIN:
NiMH batteries can become more expensive than other battery types, such alkaline or NiCd batteries, for some applications. This is because the components that go into making them, including nickel and hydrogen, are expensive. Furthermore, NiMH batteries have a high self-discharge rate, which means that they continue to lose power even when not in use. If a user wants to store their batteries for a long period, this can be an issue. In addition, these batteries have a short service life, thus they will ultimately deteriorate and require replacement. Depending on how it is used, a NiMH battery's service life can change, however it is normally five years or less.
OPPORTUNITY:
Due to their beneficial qualities, including high energy density, safety, and high-power delivery, NiMH batteries are employed in numerous hybrid electric vehicle (HEV) applications. The market for these batteries has grown as consumers increasingly choose hybrid electric vehicles. A rise in the number of automakers working on the creation of enhanced electric and hybrid vehicles has also been noted. All of these changes are anticipated to provide the NiMH market with numerous chances for expansion.
CHALLENGES:
Other technologies, including lithium-ion batteries, lead acid batteries, and new battery technologies, are posing a growing threat to the nickel metal hydride (NiMH) battery business. Compared to NiMH batteries, lithium-ion batteries have more energy density, a longer lifespan, and a quicker charging time. The NiMH battery market's growth is being constrained by this competition.
IMPACT ANALYSIS
IMPACT OF RUSSIAN UKRAINE WAR
Increase in nickel prices to record highs as the Ukraine conflict fuelled worries about supply disruptions for the metal, an essential component of electric vehicle batteries. Following the extraordinary price movement, in which three-month LME nickel contracts briefly rose above $100,000 per ton for the first time during Asian trading hours, the London Metal Exchange banned nickel trade. The LME stated that the stoppage, which would persist at least for the rest of the day, was caused by nickel prices seeing unprecedented overnight spikes. The exchange claimed that it was keeping an eye on events in Russia and Ukraine and that it had made the decision "on orderly market grounds." Given the geopolitical scenario that has been driving recent price movements, "The LME will give consideration to a possible multi-day closure," it stated.
The LME contract reached a high of $101,365 per ton, virtually doubling from the day before. Before being stopped, the contract later reduced some gains to trade at $80,000 per ton. Since Russia invaded Ukraine, the price of a number of commodities, including oil and other metals like aluminium, has skyrocketed. The metal is increasingly employed in electric vehicle batteries as well as the production of steel. Although Russia has not yet been directly affected by sanctions, shipping companies and businessmen are nonetheless unwilling to transact with the country's resources. Russian oil imports may soon be prohibited by the United States, raising fears that metal exports may also be a target. "The price increase is a problem on the physical market that has been translated.
According to Vivek Dhar, director of mining and energy commodities research at Commonwealth Bank of Australia, "the price increase is a physical-market issue that has been translated into a financial-market issue." In a competitive market with high pricing, Mr. Dhar continued, "Traders who have short positions or who are on the wrong side of trades are trying to cover their positions." According to CBA, Russia produces 17% of the world's high-purity nickel and contributes 5% to 6% of the supply. Because global stockpiles had drastically decreased since April of last year, the market was already tight before Russia invaded Ukraine, the bank noted in a research report.
MARKET SEGMENTATION
By Component
Electrode

Cathode

Anode

Electrolyte
By Battery Type
By Size
Small

Large

By Sales Channel
By Sales Channel
By Vertical
Automotive

Consumer Electronics

Healthcare

Industrial

Residential

Commercial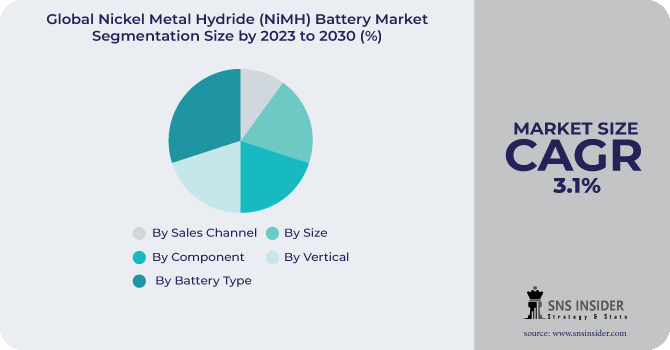 REGIONAL ANALYSIS
The nickel metal hydride battery market in North America is further divided into the US, Canada, and Mexico. The US holds the biggest market share for NiMH batteries in this region. These batteries are used in a variety of industries, including industrial, consumer electronics, healthcare, and automotive. The area is a significant centre for the production of several kinds of electric cars, which represents a prospective market for NiMH batteries. Additionally, Mexico's expanding economy is bolstering its manufacturing and healthcare systems, which will further fuel the NiMH battery industry in the area. Additionally, the region has well-established recycling regulations for the correct recycling and reuse of NiMH batteries, which supports the region's battery business.
One of the key markets for NiMH batteries is Europe. Due to a robust and growing economy, Germany is one of the major markets for the need for NiMH batteries expanding healthcare industry. The nation is home to a number of renowned medical equipment producers and exports a sizable number of gadgets around the globe. Due to its rechargeability, high energy density, and prolonged life, NiMH batteries are among the most popular ones used in medical equipment. Operational life, which is essential for the machinery to function properly. Since NiMH batteries offer durability, cheap maintenance, and safety, they are also frequently utilized in the automobile and consumer electronics sectors. Consequently, the industrial sector in Germany and around Europe will also fuel the NiMH battery market's expansion.
REGIONAL COVERAGE:
North America
Europe
Eastern Europe

Poland

Romania

Hungary

Turkey

Rest of Eastern Europe

Western Europe

Germany

France

UK

Italy

Spain

Netherlands

Switzerland

Austria

Rest of Western Europe
Asia Pacific
China

India

Japan

South Korea

Vietnam

Singapore

Australia

Rest of Asia Pacific
Middle East & Africa
Middle East

UAE

Egypt

Saudi Arabia

Qatar

Rest of Middle East

Africa

Nigeria

South Africa

Rest of Africa
Latin America
Brazil

Argentina

Colombia

Rest of Latin America
KEY PLAYERS
Some of major players are listed in a Nickel Metal Hydride (NiMH) Battery Market are Energizer Holdings, Inc. (US), Panasonic Holdings Corporation (Japan), Duracell (US), VARTAAG (Germany), FDK Corporation (Japan), BYD Company Limited (China), Primearth EV Energy Co., Ltd. (Japan), GP Batteries International Limited (China) and other players are listed in a final report.
Energizer Holdings, Inc. (US)-Company Financial Analysis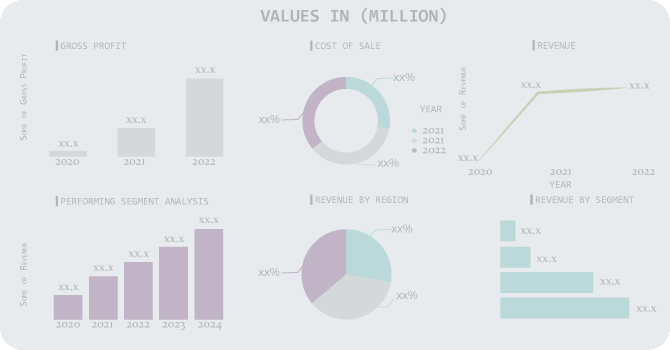 RECENT DEVELOPMENT
The new NiMH battery "HR-AAUTEWM" from FDK Corporation was introduced in March 2022 for a range of uses, including security, medical, and in-vehicle applications, which include tracking devices, e-call, dashboard cameras, auto alarms, and other in-vehicle applications.

The new NiMH battery "HR-AAUTEW" was introduced by FDK Corporation in June 2021 for use in tracking devices, e-call, dashboard cameras, auto alarms, and other in-vehicle applications.

To improve its position in the international battery market, VARTAAG completed the acquisition of the VARTA consumer batteries business from Energizer Holdings, Inc. in the US in January 2020.

Nickel Metal Hydride (NiMH) Battery Market Report Scope:

| | |
| --- | --- |
| Report Attributes | Details |
| Market Size in 2022 | US$ 2.35 billion |
| Market Size by 2030 | US$ 3.00 billion |
| CAGR | CAGR of 3.1% From 2023 to 2030 |
| Base Year | 2022 |
| Forecast Period | 2023-2030 |
| Historical Data | 2019-2021 |
| Report Scope & Coverage | Market Size, Segments Analysis, Competitive Landscape, Regional Analysis, DROC & SWOT Analysis, Forecast Outlook |
| Key Segments | Nickel Metal Hydride (NiMH) Battery Market Size, Share & Segmentation, By Component (Electrode, Cathode, Anode, Electrolyte), By Battery Type (A, AA, AAA, C, D, 9V, Others), By Size (Small, Large, By Sales Channel), By Sales Channel (OEM, Aftermarket), By Vertical (Automotive, Consumer Electronics, Healthcare, Industrial, Residential, Commercial), By Region, and Global Forecast for 2023-2030 |
| Regional Analysis/Coverage | North America (US, Canada, Mexico), Europe (Eastern Europe [Poland, Romania, Hungary, Turkey, Rest of Eastern Europe] Western Europe] Germany, France, UK, Italy, Spain, Netherlands, Switzerland, Austria, Rest of Western Europe]), Asia Pacific (China, India, Japan, South Korea, Vietnam, Singapore, Australia, Rest of Asia Pacific), Middle East & Africa (Middle East [UAE, Egypt, Saudi Arabia, Qatar, Rest of Middle East], Africa [Nigeria, South Africa, Rest of Africa], Latin America (Brazil, Argentina, Colombia Rest of Latin America) |
| Company Profiles | Energizer Holdings, Inc. (US), Panasonic Holdings Corporation (Japan), Duracell (US), VARTAAG (Germany), FDK Corporation (Japan), BYD Company Limited (China), Primearth EV Energy Co., Ltd. (Japan), GP Batteries International Limited (China) |
| Key Drivers | •Emergency power backup solutions are becoming more popular in sectors with high stakes. |
| Market Restrains | •NiMH batteries are expensive |