Report Scope & Overview:
Mid Wave Infrared MWIR Sensors Market size was valued at USD 236.8 billion in 2022 and is expected to grow to USD 553.63 billion by 2030 and grow at a CAGR of 11.2% over the forecast period of 2023-2030.
The global market for mid-wave infrared (MWIR) sensors has been divided into Both high operating temperature (HOT) and cooled mid-wave infrared (MWIR) sensors are available. The market for Mid-Wave Infrared (MWIR) sensors with high operating temperatures (HOT) is anticipated to expand quickly over the forecast period. This report divides the Mid-Wave Infrared (MWIR) Sensor's market into two categories based on application: Aerospace & Defense and Commercial. Over the anticipated timeframe, a sharp increase in the commercial segment is anticipated. The commercial sector was further divided into non-destructive testing, gas leak detection, semiconductor inspections, industrial inspections, and others. The Aerospace & Defense segment is further divided into three categories enhanced Missile Warning Systems (MWS), Missile Seekers, Unmanned Aerial Vehicles (UAV), Enhanced Flight Vision Systems (EFVS), and Others.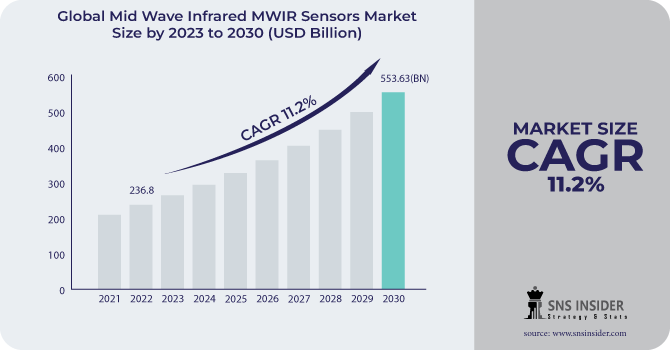 KEY DRIVERS:
Longer Range Than LWIR For MWIR (Mid-Wave Infrared) Cooled Thermal Imaging Surveillance
Sometimes referred to as cooled thermal cameras, medium-wave infrared thermal cameras are able to detect small targets at enormous distances, which makes them perfect for long-distance uses during bad weather. The MWIR, the medium-wave infrared (LWIR) band, which spans 3 to 5 micrometres in the electromagnetic spectrum, is where infrared light is captured variety. MWIR (Mid-wave Infrared) cameras, sometimes referred to as cooled thermal imaging cameras, use an integrated cryogenic cooler to lower the temperature of the thermal image core to -196°C (-321°F) in order to increase its sensitivity and precision of the thermal picture. Humidity has less of an effect on MWIR systems than LWIR for the majority of target ranges systems, which makes them perfect for uses like vessel traffic and coastal surveillance.
Technological Advancements Like Artificial Intelligence and Turbulence Mitigation (Al)
RESTRAIN:
Strict guidelines for the import and export of cameras
OPPORTUNITY:
Superior MWIR for Unmanned Aerial Vehicle (UAV) Deployment
Any object that is hotter than absolute zero radiates infrared light. Since an object's radiation output increases with temperature, infrared sensors installed on unmanned aerial vehicles (UAVs) can detect temperature variations and use the information to produce an image. Infrared (IR) cameras are installed on the same autonomous vehicle payload in order to record both thermal and visual data during the same flight or journey. In order to minimize the effects of vibrations, abrupt impacts, and motions during the image acquisition process, the cameras are usually paired with a multi-axis gimbal. Numerous drone producers provide a complete thermal mapping system that consists of a UAV imaging payload, and gimbal stabilization. Unmanned infrared imaging systems can be used to monitor and search for people in the interest of security, law enforcement, and search and rescue, as well as for animals in the interest of wildlife preservation. IR imaging systems can also be used to track the flow of thermal energy in residential or commercial buildings, as well as to find gas leaks and insulation issues. A UAV equipped with a payload of an infrared imaging camera can also quickly and effectively check for defects in large banks of solar panels.
High performance for use on unmanned aerial vehicles
CHALLENGES:
Increasing interest in high-efficiency MWIR Sensors for Applications in Gas Monitoring
Their performance may be affected by natural processes and excessive air turbulence. A dust-free and low-humidity environment is required for more accurate measurements. Although they are unable to discriminate between objects with identical temperature ranges, infrared sensors are capable of gathering infrared images that support object temperat ure fluctuations. This results in errors in a range of circumstances.
IMPACT ANALYSIS
IMPACT OF ONGOING RECESSION
The COVID-19 pandemic has presented the MWIR sensor industry with various challenges. The ability of pandemics to foster creative behavior and social formations affects sensor demand and consumption. Across the industry, the quantity of sensors and sensor components has increased. MWIR sensors have seen a lot of use in the industrial market in recent years. Because of this, FLIR Systems has expanded its product line to include a new mid-wave infrared (MWIR) thermal camera. The FLIR RS8500 MWIR camera combines a telescope and a mid-wave infrared detector. Its purpose is to facilitate the acquisition of data on distant and hot targets in challenging circumstances. Suitable for a wide range of additional applications as well. The Neutrino has been introduced by Teledyne FLIR, a division of Teledyne Technologies Incorporated. The latest model in the Neutrino IS series of mid-wavelength infrared (MWIR) camera modules with integrated continuous zoom (CZ) lenses is the Neutrino LC CZ 15-300, unveiled by Incorporated. The ITAR-free Neutrino IS series offers size, weight, power, and cost (SWaP+C) advantages to original equipment manufacturers (OEM) and system integrators for airborne, unmanned, C-UAS, security, ISR, and targeting applications. It is designed for integrated systems that require crisp, long range, SD, or HD MWIR imaging. Slower demand growth has nearly happened as a result of COVID-19's negative impact on economic activity. Declining industrial production led to a reduction in the creation of sensors. As the world faces the same threat, consumers and businesses are embracing new technology and realizing its benefits. Sensor technologies have played a pivotal role in the Internet of Things.
MARKET SEGMENTATION
By Sensors Product
Gamepads) Joysticks/ Controllers
Gaming Keyboards
Gaming Mouse
Headsets
Surfaces
Virtual Reality (VR) Devices
Cooling Fans
Web Camera
Others
By Device Type
PC (Desktop and Laptop)
Smartphones
Gaming Consoles
By Distribution Channel
By End-user
Casual Gaming
Professional Gaming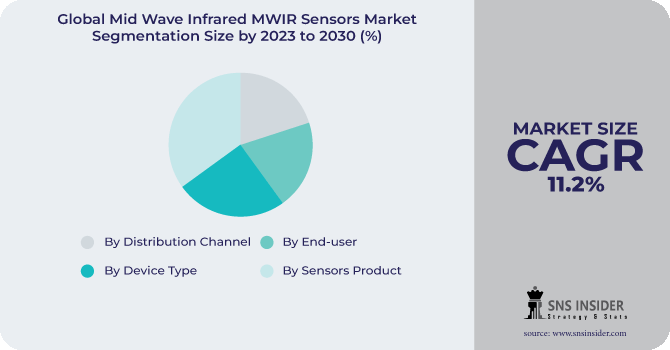 REGIONAL ANALYSIS
The market for MWIR sensors in North America held the largest revenue share in 2021. Growing applications for motion sensing, security, and surveillance, particularly in the commercial, residential, and defense sectors, are driving revenue growth in the region's market.
The North American market's revenue growth is being greatly aided by the presence of multiple manufacturers in the region as well as an increase in high-value investments in research and development projects. Furthermore, the market expansion in the European region is probably going to be driven by the use of infrared sensors for drones and unmanned aerial vehicles. The US leads the world in UAV development and holds a dominant market share. The US Department of Transportation (DOT) has given priority to (DOT) has made approving UAVs (unmanned aerial vehicles) for use in commerce a top priority. Based in the nation, AeroVironment Inc., Boeing, and Uber Technologies Inc. are all heavily involved in the UAV industry. In the US, contractors employ thousands of civilian UAV operators to fly and maintain UAVs. Approximately 400 to 500 pilots, 400 to 500 ground support personnel, and up to four UAVs are needed for a single 24-hour combat air patrol (CAP). As a result, it is anticipated that the US UAV market will propel MWIR in North America. Furthermore, North America's MWIR market is driven by the UAV market in Canada. For example, licensed aircraft pilots holding the necessary Transport Canada licenses own and operate Canadian unmanned aerial vehicles (UAVs). The Canadian Center was funded by investments made by Transport Canada.
REGIONAL COVERAGE:
North America
Europe
Eastern Europe

Poland
Romania
Hungary
Turkey
Rest of Eastern Europe

Western Europe

Germany
France
UK
Italy
Spain
Netherlands
Switzerland
Austria
Rest of Western Europe
Asia Pacific
China
India
Japan
South Korea
Vietnam
Singapore
Australia
Rest of Asia Pacific
Middle East & Africa
Middle East

UAE
Egypt
Saudi Arabia
Qatar
Rest of Middle East

Africa

Nigeria
South Africa
Rest of Africa
Latin America
Brazil
Argentina
Colombia
Rest of Latin America
KEY PLAYERS
Some of key players of Mid Wave Infrared MWIR Sensors Market are SemiConductor Devices, Teledyne FLIR LLC, Lynred, Leonardo S.p.A., GSTIR, Silent Sentinel, Ascendent Technology Group, Excelitas Technologies Corp, Opto Engineering, New Infrared Technologies (NIT), L3Harris Technologies, Inc., Sierra-Olympia Tech, InfraTec GmbH and other players are listed in a final report.
SemiConductor Devices-Company Financial Analysis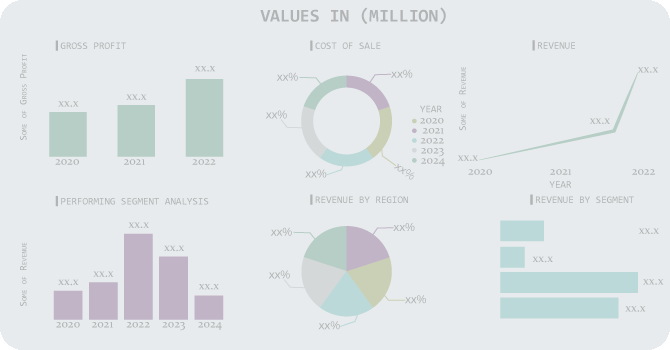 RECENT DEVELOPMENT
The newest model in the Neutrino IS series of mid-wavelength infrared (MWIR) camera modules with integrated continuous zoom (CZ) lenses, the Neutrino LC CZ 15-300, was released by Teledyne FLIR in August 2022. Developed for integrated solutions that need clear, lengthy.
New full High-Definition (HD) cooled Mid-Wave Infrared (MWIR) thermal lenses have been added to Silent Sentinel's product line as of July 2022. By adding HD-cooled MWIR thermal lenses with 1280 x 1024 resolution and 10m pixel pitch as standard, Silent Sentinel has increased the scope of its standard-definition product line and greatly enhanced the range performance of its camera platform offering.

Mid Wave Infrared MWIR Sensors Market Report Scope:

| | |
| --- | --- |
| Report Attributes | Details |
| Market Size in 2022 | US$ 236.8 billion |
| Market Size by 2030 | US$ 553.63 billion |
| CAGR | CAGR of 11.2% From 2023 to 2030 |
| Base Year | 2022 |
| Forecast Period | 2023-2030 |
| Historical Data | 2019-2021 |
| Report Scope & Coverage | Market Size, Segments Analysis, Competitive Landscape, Regional Analysis, DROC & SWOT Analysis, Forecast Outlook |
| Key Segments | By Sensors Product (Gamepads) Joysticks/ Controllers, Gaming Keyboards, Gaming Mouse, Headsets, Surfaces, Virtual Reality (VR) Devices, Cooling Fans, Web Camera, Others), By Device Type (PC (Desktop and Laptop), Smartphones, Gaming Consoles), By Distribution Channel (Online, Offline), By End-user (Casual Gaming, Professional Gaming) |
| Regional Analysis/Coverage | North America (US, Canada, Mexico), Europe (Eastern Europe [Poland, Romania, Hungary, Turkey, Rest of Eastern Europe] Western Europe] Germany, France, UK, Italy, Spain, Netherlands, Switzerland, Austria, Rest of Western Europe]), Asia Pacific (China, India, Japan, South Korea, Vietnam, Singapore, Australia, Rest of Asia Pacific), Middle East & Africa (Middle East [UAE, Egypt, Saudi Arabia, Qatar, Rest of Middle East], Africa [Nigeria, South Africa, Rest of Africa], Latin America (Brazil, Argentina, Colombia Rest of Latin America) |
| Company Profiles | SemiConductor Devices, Teledyne FLIR LLC, Lynred, Leonardo S.p.A., GSTIR, Silent Sentinel, Ascendent Technology Group, Excelitas Technologies Corp, Opto Engineering, New Infrared Technologies (NIT), L3Harris Technologies, Inc., Sierra-Olympia Tech, InfraTec GmbH |
| Market Opportunities | •Superior MWIR for Unmanned Aerial Vehicle (UAV) Deployment •High performance for use on unmanned aerial vehicles |
| Market Challenges: | •Increasing interest in high-efficiency MWIR Sensors for Applications in Gas Monitoring |