REPORT SCOPE & OVERVIEW:
The Semiconductor Lead Frame Market size was valued at USD 3.22 Billion in 2022 and is expected to grow to USD 5.53 Billion by 2030 and grow at a CAGR Of 7 % over the forecast period of 2023-2030.
The demand for semiconductor lead frames has increased significantly over the past few years. Lead frames are a crucial part of semiconductor packaging because they provide a surface on which to attach and connect the device. With a growing need for smaller, quicker, and more In electronic gadgets, the market for semiconductor lead frames has been steadily growing. In the semiconductor industry, lead frames are thin, metal structures used to support and connect electrical components. It offers an electrical signal's conductive conduit between the semiconductor chip and the outside world. Typically, lead frames are composed of copper, iron-nickel, or copper alloys with several coating possibilities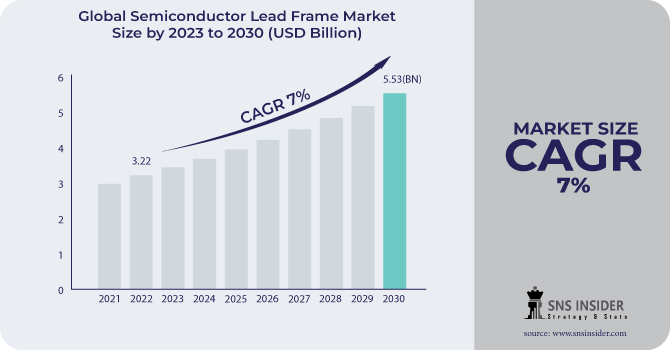 To get more information on Semiconductor Lead Frame Market - Request Free Sample Report
The market for semiconductor lead frames is anticipated to increase rapidly. The market is expanding as a result of elements such as the rising demand for miniature electronic devices, the expanding use of cutting-edge packaging techniques, and the brisk growth of the semiconductor sector. The market is also growing as a result of improvements in lead frame materials and designs, new applications, and other factors.
MARKET DYNAMICS
KEY DRIVERS:
Expansion of Car Electronics

Increasing Demand for Consumer Electronics

Demand for consumer electronics is rising, supporting market expansion.
The demand for consumer electronics has grown dramatically over time, and consumers now require the newest technologies with faster internet accessibility. The need for lead frames has expanded as a result of the growing market penetration of consumer electronics brought on by digitization, an increase in living standards, and luxury goods. The growth of 5G and global mobile networks over the past year has led to additional breakthroughs in the chipset and semiconductor industries, which are being driven by smartphones.
RESTRAIN:
The world has suffered from shortages and supply chain disruptions, with logistical operations and a lack of trade activity being the main contributing factors. Lead frames, which are utilized in practically all smartphones and other components, were destroyed as a result of these circumstances. Additionally, producers are searching for alternatives as a result of rising prices for raw commodities like copper. While the need for more modern packaging materials has arisen due to technological improvements, leading businesses to lack the resources necessary to integrate and adapt to new goods.
OPPORTUNITY:
The need for electronic gadgets and technical innovation is driving consistent expansion in the global semiconductor sector. Given that every semiconductor chip needs a lead frame, the increase in semiconductor production presents a potential for lead frame makers.
CHALLENGES:
The market is divided into discrete devices, integrated circuits, and other categories depending on the application.
Lead frames are now being used more frequently in Integrated Circuits (ICs) of smartphones, tablets, and other electronic devices, which are widely used in consumer electronics and car infotainment systems. IC has benefits including small size, affordability, and simple heat dissipation. Due to these benefits, the product is simpler to use and the lead frame market's expansion of integrated circuits is disrupted. The use of discrete devices that are single ICs and have short response times has been enabled in the digital age by loT operational tools and industrial applications. Moreover, numerous uses of lead frames in medical devices and remote.
IMPACT ANALYSIS
IMPACT OF COVID-19
The COVID-19 Pandemic, Supply Chain & Manufacturing Disruption Limited Market Proliferation. The economic and industrial environment has been impacted by the COVID-19 pandemic's unusual appearance. The main participants are encountering supply chain snags and obstacles throughout the entire working process, which leads to monetary losses. Manufacturing bottlenecks have been caused by a lack of semiconductors combined with rising raw material prices.
In comparison to the time before the pandemic, the demand for semiconductors is considerably lower, and the supply chain's laminar flow has allowed manufacturers to concentrate on technological advancements like 3D printing PCB boards. The Semiconductor reports that the increased use of electronic devices and network subscriptions are to blame for the sharp 15.8% increase in post-pandemic semiconductor sales.
IMPACT OF RUSSIAN UKRAINE WAR
The war between Russia and Ukraine could make problems with the semiconductor supply chain and the chip market worse. The business during the past two years due to scarcity. The supply of particular raw materials needed in the production of semiconductors, such as neon and palladium, is the area of most immediate concern. While the consequences of inflation and indirect supply-chain effects seem to be controllable in the short term, the possibility of effects over the long term has not yet been identified and will depend on how things develop.
Impacts on semiconductor output in the short term are anticipated to be moderate. However, chipmakers and consumers will be impacted by the war's implications on raw material pricing, supply-chain restrictions, and general uncertainty. Companies should be ready for more serious supply-chain effects if the war persists, though.
It is urged that businesses reassess all of their business continuity plans, look for other suppliers of neon and palladium, and employ advance pricing to guard against price changes on other essential materials.
IMPACT OF ONGOING RECESSION
The global economic downturn is having an impact on the Semiconductor or chip industry. In addition. Spending on semiconductor fabs (or chipmaking units) is declining as a result of a decline in global demand from users of electronics and other chips by over 30%. A slowdown in chip demand in India could cause the anticipated investments in semiconductor manufacturing worth Rs 90,000 crore to be postponed. Consumer electronics, which has been hit by the financial crisis, are increasingly driving the semiconductor business. Layoffs have occurred in semiconductor manufacturing and design divisions across the globe. Start-ups that are short on funds may suffer since it is difficult for them to obtain finance. If the parent firm decides to discontinue a specific product line or business unit globally, the captive in India will also be affected.
KEY MARKET SEGMENTS
By Material Type
Copper Lead Frames

Copper Alloy Lead Frames

Iron-Nickel Lead Frames

Others
By Packaging Technology
Through-Hole Technology

Surface-Mount Technology

Flip-Chip Technology

Others
By Application
Consumer Electronics

Industrial Electronics

Telecommunication

Others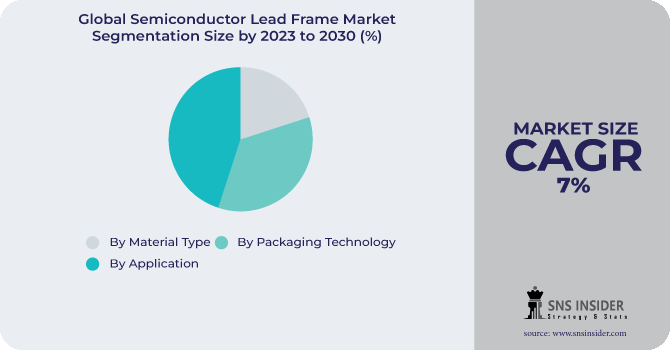 Need any customization research on Semiconductor Lead Frame Market - Enquiry Now
REGIONAL ANALYSIS
North America is anticipated to dominate the market during the forecast period. Due to the growing demand for connected devices, the adoption of connected devices, the advancement of supportive government policies, and initiatives to increase domestic semiconductor component production in this region, Furthermore, market research and insights show that the majority of important firms in the semiconductor sector are spending a significant amount of money to grow the semiconductor facility in this area.
The Asia Pacific region is predicted to experience significant growth in the lead frame market Due to a robust supply chain of semiconductor devices from major nations like Taiwan and South Korea, Additionally, the growth of discrete devices, logic circuits, and circuits in Taiwan, Japan, China, and India has boosted the sales of electronic products. In the consumer electronics, automotive, industrial, and commercial sectors, the devices are widely used.
REGIONAL COVERAGE:
North America
Europe
Germany

UK

France

Italy

Spain

The Netherlands

Rest of Europe
Asia-Pacific
Japan

South Korea

China

India

Australia

Rest of Asia-Pacific
The Middle East & Africa
Latin America
Brazil

Argentina

Rest of Latin American
KEY PLAYERS
The Major players are Mitsul High-tec, Inc. (Japan), Shinko Electric Industries Co, Ltd. (Japan), Chang Wah Technology Co., Ltd (China), Haesungds (Korea), ASMPT (Singapore), Ningbo Hualong Electronics Co., Ltd (China), Wuxi Huajing Leadframe Co., Ltd (China), QPL Limited (Hong Kong), SDI Group, Inc. (Taiwan), Dynacraft Industries Sdn Bhd (Malaysia)and others are listed in the final report.
Haesungds (Korea)-Company Financial Analysis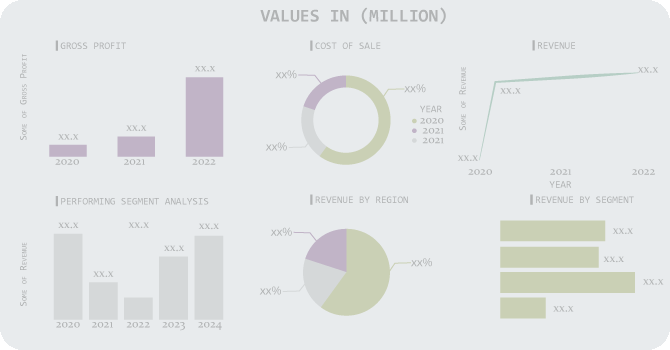 RECENT DEVELOPMENT
In February 2022, Dentons and Mitsui High-Tec announced plans to construct a factory in Poland to produce generator and motor parts for electric and hybrid vehicles.

October 2021: Shinko decided to engage in growth areas since the increasing use of Al and IoT will broaden the market's use cases for semiconductors.

In October 2021, Dai Nippon Printing Co., Ltd. created a dependable manufacturing plant that produces semiconductor chips and high-definition silver-plated lead frames.
Semiconductor Lead Frame Market Report Scope:
Report Attributes
Details
Market Size in 2022
US$ 3.22 Bn
Market Size by 2030
US$ 5.53 Bn
CAGR
CAGR of 7 % From 2023 to 2030
Base Year
2022
Forecast Period
2023-2030
Historical Data
2020-2021
Report Scope & Coverage
Market Size, Segments Analysis, Competitive Landscape, Regional Analysis, DROC & SWOT Analysis, Forecast Outlook
Key Segments
• By Material Type (Copper Lead Frames, Copper Alloy, Lead Frames, Iron-Nickel Lead Frames, Others)
• By Packaging Technology (Through-Hole Technology, Surface-Mount Technology, Flip-Chip Technology, Others)
• By Application (Consumer Electronics, Automotive Electronics, Industrial Electronics, Telecommunication, Others)
Regional Analysis/Coverage
North America (USA, Canada, Mexico), Europe
(Germany, UK, France, Italy, Spain, Netherlands,
Rest of Europe), Asia-Pacific (Japan, South Korea,
China, India, Australia, Rest of Asia-Pacific), The
Middle East & Africa (Israel, UAE, South Africa,
Rest of Middle East & Africa), Latin America (Brazil, Argentina, Rest of Latin America)
Company Profiles
Mitsul High-tec, Inc. (Japan), Shinko Electric Industries Co, Ltd. (Japan), Chang Wah Technology Co., Ltd (China), Haesungds (Korea), ASMPT (Singapore), Ningbo Hualong Electronics Co., Ltd (China), Wuxi Huajing Leadframe Co., Ltd (China), QPL Limited (Hong Kong), SDI Group, Inc. (Taiwan), Dynacraft Industries Sdn Bhd
Key Drivers
• Expansion of car Electronics
• Increasing Demand for Consumer Electronics
• Demand for consumer electronics is rising, supporting market expansion
Market Opportunities
• 5G technology expansion
• Growing Semiconductor Production