REPORT SCOPE & OVERVIEW
The Semi-insulating silicon carbide wafer market size was valued at USD 430.3 million in 2022 and is expected to grow to USD 1753.80 million by 2030 and grow at a CAGR Of 19.3 % over the forecast period of 2023-2030.
A semiconductor consisting of silicon and carbon is known as a SiC wafer. SiC wafer features include high-temperature resistance, semiconductors, thermal management materials, and insulating material. It is created by melting raw materials such as sawdust, quartz sand, and petroleum coke. Devices like refrigerators, microwaves, power electronics, and LED lighting fixtures can all be used it. The substance is a semiconductor used to create power devices. As a result of its use in SG communication networks and electric vehicles to supply high power, high voltage, and high-frequency devices, semi-insulating silicon carbide wafer market growth is currently being pushed. There are two different sizes of Silicon Carbide Wafer: 4 and 6 inches. Four-inch SiC wafer features include insulating.
To get more information on Semi-insulating silicon carbide wafer Market - Request Free Sample Report
MARKET DYNAMICS
KEY DRIVERS:
For innovations, Prominent firms are investing much in research and development.

Large-scale R&D and SiC Wafer production investments are likely to speed up product demand.
The use of SiC wafers in electric vehicles and fifth-generation telecommunications equipment has led to an increase in demand for them. Companies are making significant investments in the construction of cutting-edge manufacturing facilities to accommodate this rising demand. For instance, as part of its long-term expansion strategy, Wolfspeed, a wideband semiconductor business, has announced plans to invest USD 1 billion in a SiC production manufacturing factory that will boost its wafer fabrication capacity by up to 30 times. Furthermore, because of its polytypic crystal structure and extremely high thermodynamic characteristics, the manufacture of SiC is thought to be a complex and expensive procedure. To introduce innovative products, prominent firms are investing much in research and development.
RESTRAIN:
Silicon carbide wafers are a type of single-crystal wafer made by cutting, grinding, cleaning, polishing, and other procedures of silicon carbide crystals. However, because SiC is hard and fragile, crystallization and processing of SiC require greater energy, higher temperatures, and longer times. Furthermore, it is challenging to inspect "4H-SiC" (the most popular SiC) for a surface flaw that can influence final component yield or epitaxial development due to its high transparency and refractive index. SiC is extremely fragile while being the toughest substance known to man, making it challenging to create tiny components for semiconductors. Due to all of these factors, SiC wafers are three times as expensive as silicon wafers.
OPPORTUNITY:
The market is divided into two types, 4 Inch SiC Wafer and 6 Inch SiC Wafer. The market is projected to be dominated by 6 Inch SiC Wafer. Its exceptional heat resistance, large thermal capacity, high-speed bandwidth, and efficiency are credited with this. It aids in boosting the productivity of companies that make power devices. Furthermore, during the projection period, 4 Inch SiC Wafer is anticipated to increase steadily. because of qualities including insulation, improved electronic capabilities, and resistance to corrosion, erosion, and oxidation.
CHALLENGES:
Quality Control

Material homogeneity
Producing SiC wafers with consistent material properties across large-diameter wafers is difficult. Device performance and yield can be impacted by variations in material homogeneity. Manufacturers continue to face technological difficulties in consistently fabricating large-diameter semi-insulating SiC wafers with good material uniformity.
IMPACT ANALYSIS
IMPACT OF COVID-19
Market hindrance has increased as a result of issues with manufacturing and the procurement of raw materials. Global economies have been affected by the COVID-19 pandemic. This has caused both developed and developing nations to experience setbacks. Additionally, the market is contracting and is having trouble supporting the global economy in some different industries. Sales of semiconductor materials and the supply chain for silicon carbide wafers have been disrupted by the pandemic's fluctuating raw material purchases and restrictions on the cross-border movement of these commodities. Radiofrequency (RF) chip manufacturers in the United States, such as Skyworks and Qorvo, experienced a 6% decline in demand during the epidemic. The silicon carbide wafer business, nevertheless, continued to preserve a leading position in semiconductor technology, which are essential for many other industries, including the automotive and aerospace sectors. While the lockdown during CoVID-19 created some immediate difficulties, it also helped to shape the long-term prospects for SiC wafers in consumer electronics and the automotive sector.
IMPACT OF RUSSIAN UKRAINE WAR
It is possible that the semiconductor shortfall, which was anticipated to lessen by mid-2022, will worsen. Russia striking Ukraine will worsen the situation because both Russia and Ukraine are suppliers of components used in semiconductor fabrication. The industry is under pressure globally, and there are concerns that this could lead to manufacturing challenges that would increase supply limitations and semiconductor price increases. By using very precise procedures and equipment, wafers are converted into semiconductors by businesses like ASML of the Netherlands, Tokyo Electron of Japan, and Applied Materials of the US. Russia is the top producer of palladium in terms of components. The benefits of palladium for memory and sensing devices. In addition, it produces some other essential raw materials for semiconductors, such as scandium, a rare-earth metal. On the other hand, neon gas is one of Ukraine's top exports. The most crucial step in creating chips involves etching circuit patterns into silicon wafers using a highly pure gas.
IMPACT OF ONGOING RECESSION
The economic downturn is having an impact on the Semiconductor or chip industry. In addition. Spending on semiconductor fabs (or chipmaking units) is declining as a result of a decline in global demand from users of electronics and other chips by over 30%. A slowdown in chip demand in India could cause the anticipated investments in semiconductor manufacturing worth Rs 90,000 crore to be postponed. Consumer electronics, which has been hit by the financial crisis, are increasingly driving the semiconductor business. Layoffs have occurred in semiconductor manufacturing and design divisions across the globe. Start-ups that are short on funds may suffer since it is difficult for them to obtain finance. If the parent firm decides to discontinue a specific product line or business unit globally, the captive in India will also be affected.
KEY MARKET SEGMENTS
By Type
4-inch SiC Wafer

6-inch SiC Wafer
By Application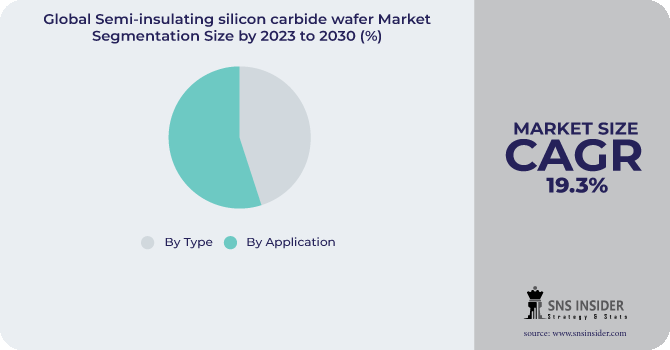 Need any customization research on Semi-insulating silicon carbide wafer Market - Enquiry Now
REGIONAL ANALYSIS
In 2022, the Asia-Pacific semi-insulating SiC wafer market was dominated. The market for semi-insulating silicon carbide wafers is expanding in the Asia Pacific area as a result of the uptake of high-end technological gadgets. Increased demand for semiconductors is being driven by the rising demand for consumer devices like smartphones and laptops in the area.
North America will have the largest CAGR growth over the projection period. Because there are so many key companies in the region, like Wolfspeed, Inc. and II-VI Incorporated, it is predicted that Furthermore, the semi-insulating silicon carbide wafer market has been expanding due to the presence of modern manufacturing facilities and established supply chains in North America, and this trend is expected to continue throughout the forecast period. To further support the nation's semiconductor industry, the US government passed the CHIPS Act of 2022. The act seeks to improve domestic semiconductor manufacture and design, strengthen national security and economy, and fortify American chip supply networks.
REGIONAL COVERAGE:
North America
Europe
Germany

UK

France

Italy

Spain

The Netherlands

Rest of Europe
Asia-Pacific
Japan

South Korea

China

India

Australia

Rest of Asia-Pacific
The Middle East & Africa
Latin America
Brazil

Argentina

Rest of Latin American
Key Players:
The Major Players are WOLFSPEED, Inc., Coherent Corporation, STMicroelectronics, ROHM Co, Ltd., SHOWA DENKO KK., SICC Co, Ltd., SK siltron Co. Ltd., TankeBlue Co, Ltd., CETC Solar Energy Holdings Co, Ltd., Synlight and other players are listed in the final report.
RECENT DEVELOPMENT
For high-voltage, high-frequency, and high-temperature devices in diverse industrial applications, Onsemi introduced its new 1700 V EliteSiC industrial silicon carbide (SiC) solutions in January 2023.

In May 2022, Wolfspeed, a business recognized for its silicon carbide (SiC) power electronics solutions, and Rhombus Energy Solutions, a business specializing in EV charging and power conversion technology, announced a partnership. By utilizing Wolfspeed's cutting-edge SiC technology, this alliance seeks to increase the efficiency, power density, and quicker charging times of Rhombus products.
Semi-insulating silicon carbide wafer market Report Scope:
Report Attributes
Details
Market Size in 2022
US$ 430.3 Mn
Market Size by 2030
US$ 1753.80 Mn
CAGR
CAGR of 19.3 % From 2023 to 2030
Base Year
2022
Forecast Period
2023-2030
Historical Data
2020-2021
Report Scope & Coverage
Market Size, Segments Analysis, Competitive Landscape, Regional Analysis, DROC & SWOT Analysis, Forecast Outlook
Key Segments
• By Type (4-inch SiC Wafer, 6-inch SiC Wafer)
• By Application (Power Devices, Electronics, and Optoelectronics, Wireless Infrastructure, and Others)
Regional Analysis/Coverage
North America (USA, Canada, Mexico), Europe
(Germany, UK, France, Italy, Spain, Netherlands,
Rest of Europe), Asia-Pacific (Japan, South Korea,
China, India, Australia, Rest of Asia-Pacific), The
Middle East & Africa (Israel, UAE, South Africa,
Rest of Middle East & Africa), Latin America (Brazil, Argentina, Rest of Latin America)
Company Profiles
WOLFSPEED, Inc., Coherent Corporation, STMicroelectronics, ROHM Co, Ltd., SHOWA DENKO KK., SICC Co, Ltd., SK siltron Co. Ltd., TankeBlue Co, Ltd., CETC Solar Energy Holdings Co, Ltd., Synlight
Key Drivers
• For innovations, Prominent firms are investing much in research and development.
• Large-scale R&D and SiC Wafer production investments are likely to speed up product demand.
Market Opportunities
• Increasing Demand in the EV Sector Will Cause the 6-Inch SiC Wafer to Hold a Significant Market Share