Report Scope & Overview:
The Robot Operating System Market size was valued at USD 580.6 million in 2022 and is expected to grow to USD 1576.58 million by 2030 and grow at a CAGR of 13.3% over the forecast period of 2023-2030.
As software development for such robots faces multidisciplinary hurdles, the desire for autonomous robots is driving the use of open-source ROS. Robotics and automation accounted for 65.1% of technology adoption in 2021, according to the Industrial Annual Report, 2022, and are predicted to reach 73% by 2025. As a result of these robots unique operational behaviour and patterns, demand for them is growing significantly. Additionally, they are smaller and perfectly oriented and instructed to carry out jobs without mistakes and delays in action. It is becoming more and more necessary with regard to situations like less hospitable to humans and higher temperature, pressure, and dangerous locations that are difficult to access.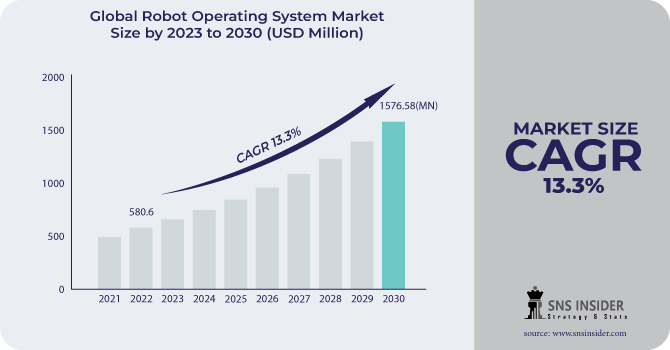 Prior to introducing their robot to the actual world, they enable the creators to stimulate their robot in any scenario. Easy adoption at a lower cost of commercially available hardware and software modules is required in research work. A robot operating system reduces the complexity of software engineering while creating robotics projects. The integrated framework and toolkits for robotics development found in ROS speed up software development and help with redistribution. These standards let scientists and developers integrate robot operating systems into their progress and research into robots.
Get PDF Sample Report on Robot Operating System Market - Request Sample Report
KEY DRIVERS:
The introduction of new digital technology by manufacturers has led to improvements in worker safety, reliability, and quality of product, as well as shorter lead times and cheaper operating costs. Industrial automation and the use of ROS provide a number of benefits. In a manufacturing context, ROS automation can seem like a daunting strategy to implement, but it is probably more possible than ever and can pack a powerful punch to increase a firm's competitive advantage.
RESTRAIN:
High Installation Cost

Low-Volume Manufacture
OPPORTUNITY:
Although Open Robotics paved the way for ROS 2.0, ROS and ROS-Industrial continue to be a great alternative for the creation of a variety of new technology robotic applications, products, and services. The new ROS framework increased the digitalization of production environments through the Industrial Internet of Things (IloT), the Cloud, and Artificial Intelligence. ROS 2.0 is designed to handle multi-robot systems, real-time control, enhanced security, and more in addition to being cross-platform compatible, opening the door to more complex industrial applications. Furthermore, it is essential to promote and implement the use of ROS since advanced ROS will continue to include a combination of intelligent robots with dynamic trajectories, sensor fusion, and other advanced capabilities.
CHALLENGES:
The use of technology, engineering, and science to construct robots or machines that can replace or replicate Robotics is the imitation of humans. Robots have long been a source of fascination in popular culture, particularly R2-D2, Prime Optimus, and WALL-E. Usually, these huge, humanoid representations of robots seem to be parodies of the real thing, but they might be more than that more extensive than we realize. The mechanical and electrical limitations do not preclude the possibility of a device like R2-D2 in the future robots are developing cognitive skills. Artificial intelligence (Al) and machine learning (ML) developments have made it possible for robotics are becoming more prevalent in most facets of daily life thanks to the Internet of Things (loT), big data, and robotics. technological robots use rose among consumers and enterprises.
IMPACT OF RUSSIAN UKRAINE WAR
Since Vladmir Putin gave the order for Russian soldiers to invade Ukraine illegally one year ago, the results have been catastrophic. According to Western politicians and the Ukrainian military, 100,000 Russian and 13,000 Ukrainian service members have died thus far. According to NBC News, more than 7,000 civilians, including at least 400 children, perished as a result of the fighting in Ukraine in the previous year. Although much of the fighting has occurred on the actual battlefield, there has also been a technological conflict, ranging from cyberattacks and disinformation to the financial effects on the global IT sector. Additionally, technology has been essential in helping Ukrainians reconstruct their reclaimed area and maintain contact with the outside world.
The pace and scope of the Internet and cyberattacks' effects on the battle are unparalleled, with Many refer to it as the "first cyber world war" of the twenty-first century. Kyiv-based Director of RETN Ukraine and Black Sea Region Head Olena Lutsenko provided a passionate and incisive talk on how the backbone network provider had kept Ukraine connected during the war at Capacity Europe in October 2022. Lutsenko had described the way 1,350 hacks and 22% of Ukraine's fiber network's damage or destruction registered in 2022's first half. In 2022, 2,194 cyberattacks were reported, according to Yuriy Schygol, the head of Ukraine's State Service for Protecting Special Communications and Information, who claimed that seven new virus kinds had been discovered.
IMPACT OF ONGOING RECESSION
At this moment, practically everyone is probably facing delays because of problems with the supply chain. Suppliers of robotics and automation are similar. Because deliveries are being continually delayed, lead times are at best unpredictable. Are things improving? Depending on who you ask, there is a widespread agreement that things aren't going to get better any time soon. Even while the delivery of raw materials is starting to improve, manufacturers still have a sizable backlog to deal with, which will exacerbate our supply chain problems. Long lead times are delaying deployment dates for those who have finally decided to implement robotics and automation in their processes, further delaying the time needed to relieve their output. RPA has shown to be a resilient system that can withstand the challenges posed by the pandemic and the workplace in the future, even though it is still outsourced employment. RPA systems have demonstrated that they can function with the same capabilities regardless of the economy because their foundation is based on cutting-edge technologies. In addition, RPA techniques function more quickly and efficiently than traditional outsourcing while also being less expensive. Leaders of businesses that succeed throughout the recession concentrate on long-term earnings and growth rather than letting the current circumstances sway their decisions. Many of these executives are not typically in a rush to drastically downsize their workforce when faced with difficulties.
MARKET SEGMENTATION
By Robot Type
Articulated Robots

Parallel Robots

Cartesian Robots

Collaborative Robots

Autonomous Mobile Robots
By Application
Pick and Place

Plastic Injection and Blow Molding

Printed Circuit Board Handling and Information Communication and Technology

Testing & Quality Inspection

Metal Stamping and Press Trending

Computer Numerical Control Machine Tending

Co-Packaging and End of Line Packaging

Mapping and Navigation

Inventory Management

Home Automation & Security

Personal Assistance
By End-User Industry
Automotive

Electrical & Electronics

Metal & Machinery

Plastic, Rubber, and Chemicals

Food and Beverages

Healthcare

Warehousing & Logistics

Domestic & Personal Robotics

Others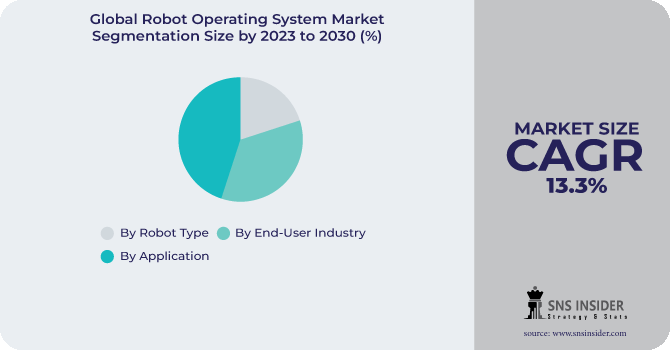 Get Customized Report as per your Business Requirement - Request For Customized Report
REGIONAL ANALYSIS
North America now maintains the greatest market share for robot operating systems. This is due to the fact that the manufacturing sector is well-established in this area. In Canada and the United States of America, this is particularly true. In Mexico, it's also increasingly accurate. Canada and the United States of America are both in the manufacturing process known as Industry 4.0. The second phase of referred to as smart manufacturing. Industrial robots must be used because it involves several complex operations that have machine learning capabilities.
Over the projected period, the Asia Pacific region is expected to witness the fastest growth in the robot operating system market. The Advanced Remanufacturing and Technology Center (ARTO), which leads the ROS-Industrial Consortium Asia Pacific, focuses on developing and integrating robot operating systems in accordance with the relevant application in industry. Both the volume and the number of robots has shown tremendous increase in the Asia-Pacific region. It is anticipated to expand at the fastest rate throughout the forecast period due to the manufacturing industries' rising adoption of automation and the region's deployment of industrial robots. A number of nations, including China, Japan, Thailand, and South Korea, produce industrial and commercial robots in large quantities. Due to the extensive use of robotics in the electronic manufacturing industry in China and India, and the industries producing cars.
REGIONAL COVERAGE:
North America
Europe
Eastern Europe

Poland

Romania

Hungary

Turkey

Rest of Eastern Europe

Western Europe

Germany

France

UK

Italy

Spain

Netherlands

Switzerland

Austria

Rest of Western Europe
Asia Pacific
China

India

Japan

South Korea

Vietnam

Singapore

Australia

Rest of Asia Pacific
Middle East & Africa
Middle East

UAE

Egypt

Saudi Arabia

Qatar

Rest of Middle East

Africa

Nigeria

South Africa

Rest of Africa
Latin America
Brazil

Argentina

Colombia

Rest of Latin America
KEY PLAYERS
Some of key players are ABB Ltd. (Switzerland), FANUC (Japan), KUKA AG (Germany), Yaskawa Electric Corporation (Japan), Denso (Japan), Microsoft (US), Omron Corporation (Japan), Universal Robotics (Denmark), Clearpath Robots (Canada), and iRobot Corporation (US), and other players are listed in final report.
ABB Ltd. (Switzerland)-Company Financial Analysis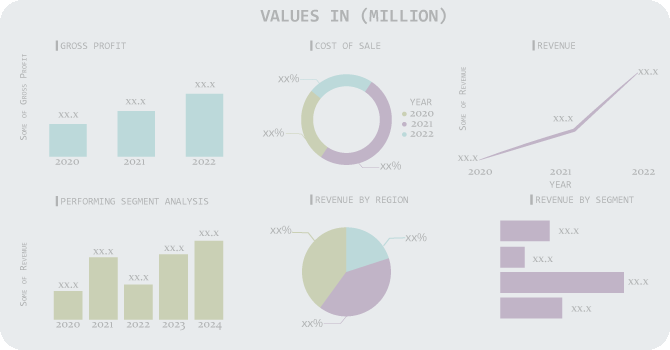 RECENT DEVELOPMENT
Clearpath Robotics will introduce Husky ObserverTM in March 2023. This completely integrated system is intended to speed up inspection solutions. With the Husky's new configuration, technology companies and robotics developers will be able to quickly design new inspection solutions. Robot operating systems fully support it, and the robot can be used to program sophisticated autonomous systems.

The new CRX-5iA, CRX-20iA/L, and CRX-25iA collaborative robots were unveiled by FANUC in March 2022. The most recent CRX cobots add to FANUC's line of CR and CRX cobots, which now includes 11 cobot model variations to handle goods weighing 4 to 35 kg.
Robot Operating System Market Repport Scope:
Report Attributes
Details
Market Size in 2022
US$ 580.6 million
Market Size by 2030
US$ 1576.58 million
CAGR
CAGR of 13.3% From 2023 to 2030
Base Year
2022
Forecast Period
2023-2030
Historical Data
2019-2021
Report Scope & Coverage
Market Size, Segments Analysis, Competitive Landscape, Regional Analysis, DROC & SWOT Analysis, Forecast Outlook
Key Segments
By Robot Type (Articulated Robots, SCARA Robots, Parallel Robots, Cartesian Robots, Collaborative Robots, Autonomous Mobile Robots), By Application (Pick and Place, Plastic Injection and Blow Molding, Printed Circuit Board Handling and Information Communication and Technology, Testing & Quality Inspection, Metal Stamping and Press Trending, Computer Numerical Control Machine Tending, Co-Packaging and End of Line Packaging, Mapping and Navigation, Inventory Management, Home Automation & Security, Personal Assistance), By End-User Industry (Automotive, Electrical & Electronics, Metal & Machinery, Plastic, Rubber, and Chemicals, Food and Beverages, Healthcare, Warehousing & Logistics, Domestic & Personal Robotics, Others)
Regional Analysis/Coverage
North America (US, Canada, Mexico), Europe (Eastern Europe [Poland, Romania, Hungary, Turkey, Rest of Eastern Europe] Western Europe] Germany, France, UK, Italy, Spain, Netherlands, Switzerland, Austria, Rest of Western Europe]), Asia Pacific (China, India, Japan, South Korea, Vietnam, Singapore, Australia, Rest of Asia Pacific), Middle East & Africa (Middle East [UAE, Egypt, Saudi Arabia, Qatar, Rest of Middle East], Africa [Nigeria, South Africa, Rest of Africa], Latin America (Brazil, Argentina, Colombia Rest of Latin America)
Company Profiles
ABB Ltd. (Switzerland), FANUC (Japan), KUKA AG (Germany), Yaskawa Electric Corporation (Japan), Denso (Japan), Microsoft (US), Omron Corporation (Japan), Universal Robotics (Denmark), Clearpath Robots (Canada), and iRobot Corporation (US)
Market Opportunities
•Increased manufacturer ROS adoption
Market challenges
•Trends in Technology
•Need to operate industrial grade equipment safely