Report Scope & Overview:
The IoT Connected Machines Market size was valued at USD 145.96 billion in 2022 and is expected to grow to USD 606.98 billion by 2030. The market is projected to experience a remarkable Compound Annual Growth Rate (CAGR) of 19.5% from 2023 to 2030.
The world of technology has witnessed a remarkable advancement with the advent of IoT-connected machines. These machines, equipped with sensors and internet connectivity, have revolutionized various industries by enabling seamless communication and data exchange between devices. The impact of IoT-connected machines spans multiple sectors, including manufacturing, healthcare, transportation, and agriculture. In the manufacturing industry, for instance, these machines have streamlined production processes by enabling real-time monitoring of equipment performance, predictive maintenance, and inventory management. This not only enhances operational efficiency but also reduces downtime and costs.
In recent years, the IoT Connected Machines Market has witnessed exponential growth, driven by the increasing demand for smart and interconnected devices across various sectors like Industry 4.0, advancement in manufacturing sector. One of the key drivers behind the growth of the IoT Connected Machines Market is the ability to collect and analyze vast amounts of data generated by these interconnected devices. This data provides valuable insights into machine performance, maintenance requirements, and overall operational efficiency. By leveraging this information, businesses can make informed decisions, optimize their processes, and reduce downtime, ultimately leading to cost savings and improved customer satisfaction.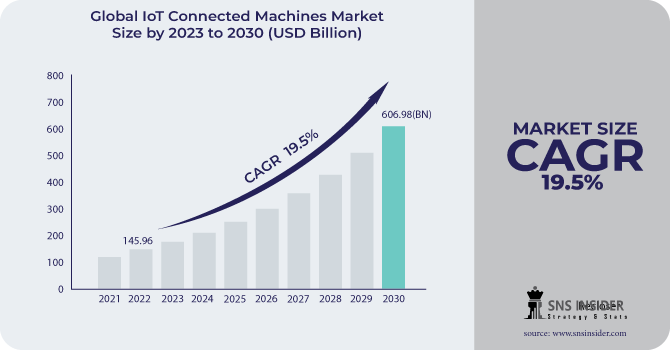 To Get More Information on IoT Connected Machines Market - Request Sample Report
Moreover, the IoT Connected Machines Market offers numerous benefits, including predictive maintenance, remote monitoring, and real-time analytics. These capabilities enable businesses to proactively identify and address potential issues before they escalate, minimizing disruptions and maximizing uptime. Additionally, remote monitoring allows for efficient management of machines and devices, regardless of their physical location, resulting in improved operational efficiency and reduced travel costs. Furthermore, the IoT Connected Machines Market has paved the way for innovative business models and revenue streams. With the ability to remotely monitor and control machines, companies can offer value-added services such as equipment leasing, pay-per-use models, and performance-based contracts. This shift from traditional product-centric approaches to service-oriented solutions opens up new opportunities for revenue generation and customer engagement.
Market Dynamics
Drivers
Cost Efficiency associated with IoT-connected machines

Enhanced Productivity of IoT-connected machines
The ability of IoT-connected machines to collect and analyze vast amounts of data in real-time has revolutionized the way businesses operate. By leveraging this data, organizations can make informed decisions, improve operational efficiency, and enhance productivity.
Restrain
With the proliferation of connected devices, the risk of cyber threats and data breaches has become a major concern. Ensuring the security and privacy of data transmitted between connected machines is crucial to maintain trust and prevent potential vulnerabilities.
Opportunities
The fourth industrial revolution with the integration of digital technologies into manufacturing processes

Increasing adoption of IoT-connected machines in the healthcare industry
The healthcare sector has witnessed a significant surge in the utilization of Internet of Things (IoT) technology. This has led to the integration of IoT-connected machines, which are revolutionizing the way healthcare services are delivered.
One of the key advantages of IoT-connected machines in the healthcare industry is their ability to monitor and track patient health remotely. Through the utilization of wearable devices and smart sensors, healthcare providers can continuously monitor vital signs, such as heart rate, blood pressure, and glucose levels, without the need for patients to be physically present at medical facilities. This not only improves patient comfort but also allows for early detection of any abnormalities or potential health risks, enabling timely intervention and treatment. Furthermore, IoT-connected machines facilitate the automation of various healthcare processes, leading to increased accuracy and reduced human error. For instance, smart medication dispensers can be programmed to dispense the correct dosage of medication at the right time, minimizing the risk of medication errors. Similarly, IoT-enabled medical equipment, such as imaging devices and surgical robots, can enhance precision and improve surgical outcomes.
Challenges
Impact of Russia-Ukraine War:
The conflict between Russia and Ukraine is a multifaceted and ever-changing situation, which has both positive and negative effects on the IoT market. On one side, the war's influence on the electronic chip market, technological interoperability, inflation rate, and availability of IT staff could potentially hinder the sector's progress. However, on the other side, there is a possibility for the conflict to stimulate growth in certain areas of the IoT market, such as electric vehicles, renewable energy, and cybersecurity. This could open up new avenues for market players and lead to a robust recovery post-war. As per our research, the year 2022 witnessed a remarkable surge in IoT connections, with an impressive 19% increase in global numbers. This surge propelled the total count of active IoT endpoints to a staggering 14.7 billion. Looking ahead to 2023, we predicted a further 17% growth, resulting in a staggering 17.19 billion active endpoints worldwide. As the demand for IoT-connected machines continues to rise, the market for these products is experiencing significant growth.
Impact of Recession:
The increasing adoption of the Internet of Things (IoT) in the retail industry is creating new opportunities for business resilience, especially during the economic downturn. With the current macroeconomic challenges causing significant market volatility, retailers cannot afford any operational errors that could jeopardize customer satisfaction. A single negative experience can lead a consumer to permanently disengage from a brand. This emphasizes the crucial role of purpose-built IoT solutions in enhancing operational efficiency, quality, and ultimately, customer satisfaction. The key to achieving this lies in connectivity, as isolated solutions only yield stagnant outcomes.
In order to navigate through a recession, IoT connectivity becomes essential in preventing costly equipment repairs and operational downtime. During periods of economic downturn, it is crucial for every member of the team to contribute to the success of the overall enterprise. However, retailers are currently facing difficulties in retaining employees. According to a study conducted by McKinsey & Company, almost half of frontline retail workers and 62% of retail managers contemplate leaving their jobs within three to six months of being hired. This is where IoT connectivity emerges as the ultimate tool for empowering employees and fostering their engagement in the workplace.
Market segmentation
By Component
I/O Modules

IoT Gateways

IoT Sensors

Others
By Industry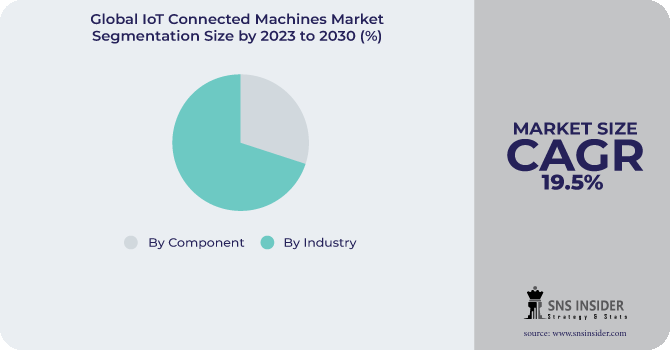 Need any customization research on IoT Connected Machines Market - Enquiry Now
Regional Analysis
North America dominated the IoT Connected Machines Market in 2022. The US is the dominating country that contributes majorly to the growth of this market in North America. It is projected that by 2025, North America alone will witness a staggering 5.6 billion IoT connections. This exponential growth highlights the immense potential and widespread adoption of IoT technology in the region. This surge in IoT adoption can be attributed to the numerous benefits it offers, such as enhanced operational efficiency, improved decision-making capabilities, and increased productivity. By leveraging IoT technology, businesses can streamline their processes, optimize resource allocation, and gain valuable insights from the vast amount of data generated by connected devices. Moreover, the US has been at the forefront of IoT innovation, with its advanced infrastructure, robust technological ecosystem, and supportive regulatory framework. These factors have created a conducive environment for the rapid growth and widespread adoption of IoT technology within the country.
In 2022, approximately 35% of organizations in North America and Europe have already embraced IoT technology as an integral part of their business operations. Furthermore, an additional 13% of these organizations have plans to integrate IoT technology within the coming year.
Asia Pacific is projected to grow with the highest CAGR during the forecast period of 2023-2030. There are several key reasons behind the anticipated growth of the Asia Pacific region in the IoT Connected Machines Market. Firstly, the region boasts a large and rapidly expanding population, coupled with a rising middle class. This demographic shift is driving increased demand for connected devices and smart technologies, creating a fertile ground for the IoT market to flourish. Furthermore, Asia Pacific is witnessing significant advancements in infrastructure development, particularly in terms of telecommunications and internet connectivity. This infrastructure expansion is facilitating the seamless integration of IoT technologies, enabling businesses and consumers to leverage the benefits of connected machines.
Moreover, governments across the Asia Pacific region are actively promoting digital transformation and Industry 4.0 initiatives. These initiatives aim to enhance productivity, efficiency, and competitiveness across various sectors, including manufacturing, healthcare, transportation, and agriculture. As a result, there is a growing adoption of IoT solutions and connected machines to optimize operations and drive innovation.
REGIONAL COVERAGE:
North America
Europe
Eastern Europe

Poland

Romania

Hungary

Turkey

Rest of Eastern Europe

Western Europe

Germany

France

UK

Italy

Spain

Netherlands

Switzerland

Austria

Rest of Western Europe
Asia Pacific
China

India

Japan

South Korea

Vietnam

Singapore

Australia

Rest of Asia Pacific
Middle East & Africa
Middle East

UAE

Egypt

Saudi Arabia

Qatar

Rest of the Middle East

Africa

Nigeria

South Africa

Rest of Africa
Latin America
Brazil

Argentina

Colombia

Rest of Latin America
Key Players
The major key players are IBM Corporation, Siemens AG, Honeywell International Inc., Intel Corporation, General Electric Company, Hitachi Ltd., PTC Ltd., ABB Ltd., Rockwell Automation, Schneider Electric, and other key players mentioned in the final report.
Siemens AG-Company Financial Analysis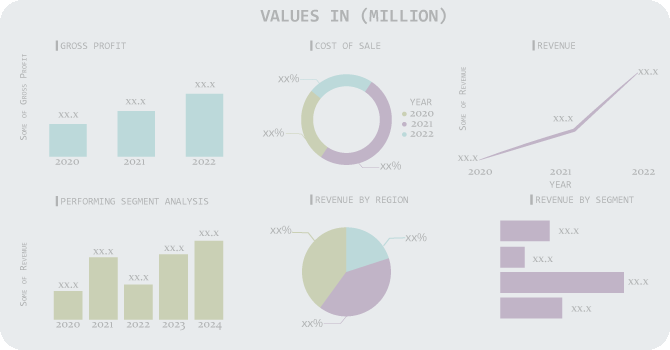 Recent Development:
In March 2023, Siemens announced the launch of Connect Box, a smart IoT solution designed to manage smaller buildings.

In April 2022, Honeywell received the 2022 IoT Evolution Industrial IoT Product of the Year Award.
IoT Connected Machines Market report scope:
Report Attributes
Details
Market Size in 2022
US$ 145.96 Bn
Market Size by 2030
US$ 606.98 Bn
CAGR
CAGR of 19.5% From 2023 to 2030
Base Year
2022
Forecast Period
2023-2030
Historical Data
2020-2021
Report Scope & Coverage
Market Size, Segments Analysis, Competitive Landscape, Regional Analysis, DROC & SWOT Analysis, Forecast Outlook
Key Segments
• By Component (I/O Modules, IoT Gateways, IoT Sensors, and Others)
• By Industry (Retail, Aerospace & Defense, Automotive, Healthcare, Logistics & Transportation, Manufacturing, Oil & Gas, Power and Utilities, and Others)
Regional Analysis/Coverage
North America (US, Canada, Mexico), Europe (Eastern Europe [Poland, Romania, Hungary, Turkey, Rest of Eastern Europe] Western Europe] Germany, France, UK, Italy, Spain, Netherlands, Switzerland, Austria, Rest of Western Europe]). Asia Pacific (China, India, Japan, South Korea, Vietnam, Singapore, Australia, Rest of Asia Pacific), Middle East & Africa (Middle East [UAE, Egypt, Saudi Arabia, Qatar, Rest of Middle East], Africa [Nigeria, South Africa, Rest of Africa], Latin America (Brazil, Argentina, Colombia Rest of Latin America)
Company Profiles
IBM Corporation, Siemens AG, Honeywell International Inc., Intel Corporation, General Electric Company, Hitachi Ltd., PTC Ltd., ABB Ltd., Rockwell Automation, Schneider Electric
Key Drivers
• Cost Efficiency associated with IoT-connected machines
• Enhanced Productivity of IoT-connected machines
Market Opportunities
• The fourth industrial revolution with the integration of digital technologies into manufacturing processes
• Increasing adoption of IoT-connected machines in the healthcare industry